No. 12, Park Village West, Camden, London. Listed Building. The office of John Nash. c.1834-37. Photographs and text 2008 by Jacqueline Banerjee. [You may use these images without prior permission for any scholarly or educational purpose as long as you (1) credit the photographer and (2) link your document to this URL or cite it in a print document. Click on the images to enlarge them.]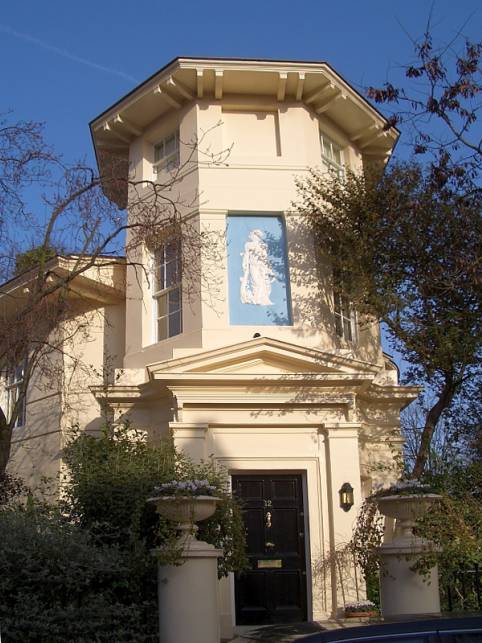 Front view of the tower.
Standing just at the turn of the road as it leads back into Albany Street, this is the most eye-catching house in Park Village West. Roberts and Godfrey describe it as having "a charming Italianate design with a three-storey octagonal tower towards the road." They point out that the eaves "are finely drawn and of wide projection, the low pitch giving an umbrella-like top to the tower, which is skilfully banded at each floor and dressed with appropriate classical treatment, with pilasters, entablature and pediment to its prominent doorway." One of the early residents was Dr James Johnson, to whom several of these houses (nos. 12, 13 and 14) had originally been leased in 1837. He had been physician-in-ordinary to William IV, wrote medical books — and had attended Nash ("Park Village, Camden"; Roberts and Godfrey). He had earlier lived at no. 13.
A similar transition was made by a later resident of no. 13. This was the artist William Powell Frith. Frith's barrister brother Charles was already living at no. 14 when the artist and his young family moved into no. 13 in September 1847, just before the birth of his second daughter Jane Ellen (Cissie). Frith then rented the more impressive no. 12 in November 1848, using one of the tower rooms as a schoolroom for his growing family. Another was perhaps used as a nursery. He continued to have his studio next door. Frith's biographer Vivien Knight writes, "The move reflects his growing popularity and income," and quotes an earlier biographer's description of Park Village West as "quiet and retired, yet in half a minute you could see the omnibuses go up and down the street"(i.e., Albany Street at the end of the road). After inheriting money from his uncle and mother, Frith was finally able to buy a larger house in Bayswater in 1852 (Knight 7ff.).
Related Material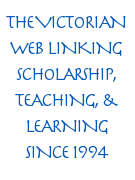 Sources
Camden Council. "Listed Building Details". Viewed 28 May 2008.
Knight, Vivien. "The Private Life of William Powell Frith." In William Powell Frith: Painting the Victorian Age. Ed. Mark Bills and Vivien Knight. New Haven and London: Yale Univ. Press, 2006. 1-27.
Roberts, J. R. Howard, and Walter H. Godfrey, eds. "Park Village West." Survey of London, Vol. 21 (1949). British History Online. Viewed 28 May 2008.
---
Last modified 23 October 2015