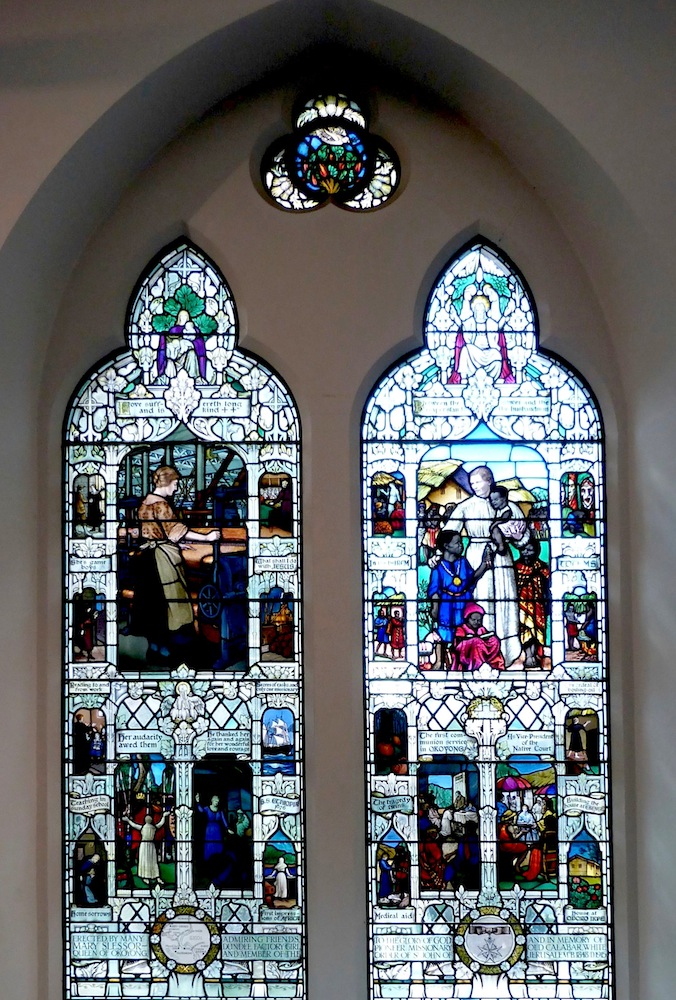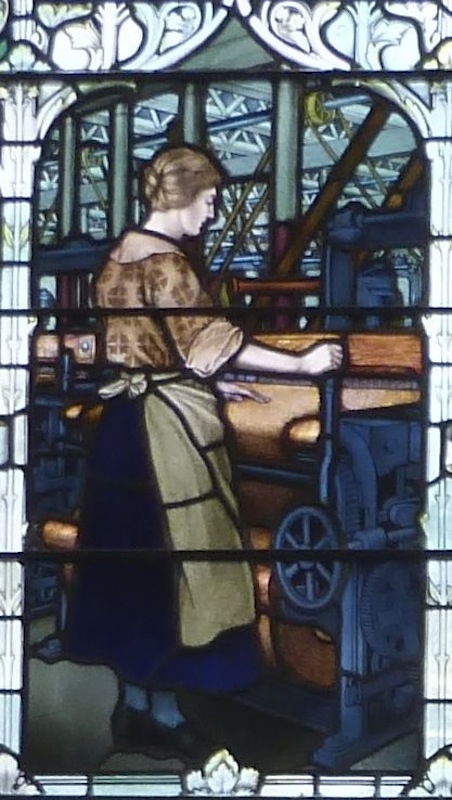 Left: The whole window. Right: On the left, Mary Slessor in her early days in a Dundee mill.
The Mary Slessor Window by William Aikman (1868-1959), in the McManus: Dundee's Art Gallery and Museum, Scotland. Aikman, who was born in Edinburgh, had done his apprenticeship with Ballantine and Son, and designed for James Powell & Sons before establishing his own studio in 1913. Having settled in England, he taught at Camberwell School of Art after World War I, becoming a founder member of the British Society of Master Glass Painters in 1921. The McManus window was installed in 1923 (see Gifford 113). [Click on all the images to enlarge them.]
It traces the remarkable story of local heroine Mary Mitchell Slessor (1848–1915) through a series of captioned stained glass panels. Slessor was the daughter of a Scottish shoemaker and his wife, who was a weaver. Her family moved to Dundee in search of work in 1859. Here began, at the age of eleven, the young girl's hard existence in the mills: the information panel in the museum tells us that Aikman's left-hand panel shows her at work in Baxter's jute mill. Slessor's father was an alcoholic who died young, so Slessor was soon the family's main support. Largely self-taught, and active in the local United Presbyterian church, she volunteered as a teacher at the Queen Street mission, and after the death of a younger brother — and at a time of missionary zeal after the death of David Livingstone — she sailed for Duke Town, Calabar, as a teacher in 1876.
Left: Slessor's early experiences, from teaching in Sunday School, setting out as the sole missionary on the S.S. Ethiopa in 1876, and amazing the tribespeople by her courage. Right: Receiving the first communion in Okoyong, and as Vice-President of the native court in Okoyong.
In her role as a missionary worker, Slessor lived in native areas among the tribesfolk, sending most of her pay back home to her family, and taking none of the usual westerners' precautions for her health. She once got engaged to a much younger Scottish missionary, Charles Morrison, but the engagement was broken off when the Mission Board refused to allow him to join her there. However, she had an adopted family: she took in a number of sets of twins, since twins were considered unnatural by the local Efik people. They believed that "the father of one of the infants was an evil spirit, and that the mother had been guilty of a great sin" (Livingstone 84; this early biographer gives all too much detail about the gruesome fate that awaited them). Worried about leaving the children during her infrequent visits to Scotland, Slessor started bringing them with her. One little girl, Janie, was christened in Dundee in 1883 (see Birkett).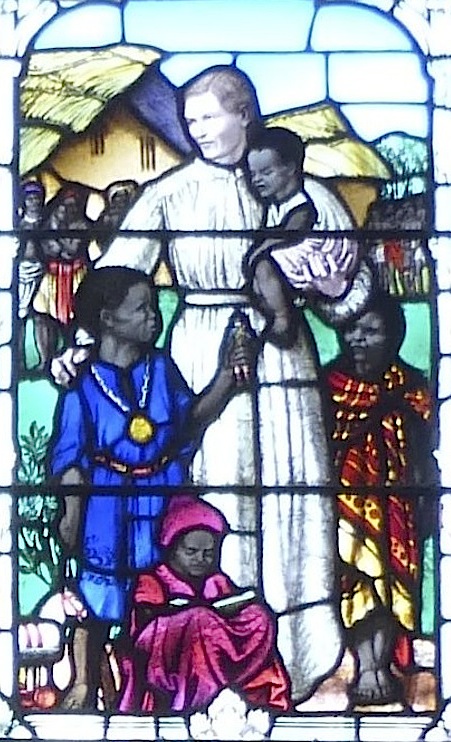 Slessor was first given a position in the native court in 1892, and in 1905 became vice-president of Ikot Obong native court. Described rather amusingly by D. J. Birkett as a "natural meddler with an iron will," she found the role useful, and used it with great success to ensure that women were treated fairly.
The explorer Mary Kingsely visited Slessor and was deeply impressed by her:
This very wonderful lady has been eighteen years in Calabar; for the last six or seven living entirely alone, as far as white folks go, in a clearing in the forest near to one of the principal villages of the Okyon district, and ruling as a veritable white chief over the entire Okyon district Her great abilities, both physical and intellectual, have given her among the savage tribe an unique position, and won her, from white and black who know her, a profound esteem. Her knowledge of the native, his language, his ways of thought, his diseases, his difficulties, and all that is his, is extraordinary, and the amount of good she has done, no man can fully estimate. Okyon, when she went there alone — living in the native houses while she built, with the assistance of the natives, her present house — was a district regarded with fear by the Duke and Creek Town natives, and practically unknown to Europeans. It was given, as most of the surrounding districts still are, to killing at funerals, ordeal by poison, and perpetual internecine wars. Many of these evil customs she has stamped out, and Okyon rarely gives trouble to its nominal rulers, the Consuls in Old Calabar, and trade passes freely through it down to the sea-ports.
This instance of what one white can do would give many important lessons in West Coast administration and development Only the sort of man Miss Slessor represents is rare. There are but few who have the same power of resisting the malarial climate, and of acquiring the language, and an insight into the negro mind, so perhaps after all it is no great wonder that Miss Slessor stands alone, as she certainly does. [74]
Disliking the fanfare that greeted her as the so-called "Queen of the Okyong" on her trips to Britain, Slessor stayed in Africa even when she became older and infirm, in the same native area that she had done so much to improve. Birkett tells us that in 1913, "she received the order of St John of Jerusalem. She died 13 January 1915 and was buried in Calabar."
The window relates her story admirably in a variety of scenes, and may remind us of the secular stained glass windows of Stephen Adam, who had also been apprenticed to Ballantine and Son, and who also often focussed on the subject of work.
Photographs and text by Jacqueline Banerjee. [These images may be used without prior permission for any scholarly or educational purpose as long as you (1) credit the photographer and the McManus and (2) link your document to this URL in a web document or cite it in a print one. Click on the images for larger pictures.]
Related Material
Bibliography
Birkett, rev. D. J. "Slessor, Mary Mitchell (1848–1915), missionary." Oxford Dictionary of National Biography. Online ed. Web. 3 November 2016.
Gifford, John. Dundee and Angus (The Buildings of Scotland). New Haven and London: Yale University Press, 2012.
Kingsley, Mary H. Travels in West Africa: Congo Français, Corisco and Cameroons. London: Macmillan, 1897. Internet Archive. Web. 18 September 2013.
Livingtone, W. P. Mary Slessor of Calabar, Pioneer Missionary. 7th ed. London: Hodder and Stoughton, 1916. Internet Archive. Contributed by Cornell University Library. Web. 3 November 2016.
"William Aikman (1868-1959)." Gwydir Lliw yng Nghymru: Stained Glass in Wales. Web. 3 November 2016.
---
Last modified 10 March 2017