Commentary by J. Oswald Reeves (1917)
There is one artist represented in the exhibition, however, who has gone further in achievement than any of his fellows, and whose work illus- trates more clearly than any of the foregoing how a genuine Celtic character marks the best Irish Applied Art. Harry Clarke, of Dublin, exhibits drawings for reproduction, stained glass, and cartoons for stained-glass windows. . . . . Writing about the stained glass, Mr. Thomas Bodkin has well said: "The windows which Mr. Harry Clarke has designed and executed for the Collegiate Chapel of the Honan Hostel at Cork are a very notable achievement. Nothing like them has been produced before in Ireland. The sustained magnificence of colour, the beautiful and most intricate drawing, the lavish and mysterious symbolism, combine to produce an effect of splendour which is overpowering. . . . The wide-eyed Bridget with her lamp and spray of oak, and the timid red calf that cowers beside her, and the saints and angels, all so individual, that throng the background and the borders, leave me groping for adequate words with which to describe the wonder." And he adds, " The Honan Hostel will become a place of pilgrimage, for lovers of great art at least."
A craftsman, however, is equally impressed by other and just as admirable quaUties. These windows reveal a conception of stained glass that stands quite alone. The remarkable power of expressing the subject is not greater than that shown in solving all the problems of design and application to a window, nor greater than the extraordinary command of all the technical resources of the art. There has never been before such mastery of technique, nor such apphcation of it to the ends of exceeding beauty, significance, and wondrousness. No one has ever before shown the great beauty that can be obtained by the leads alone, nor the mysterious beauty and "liveness" that each piece of glass receives at the hands of this artist, nor the jewelled gorgeousness of "pattern" that may be given to a window that teems with subject-interest and meaning. These windows accept their " architectural place " to a fine degree, with an ease and certainty that would suggest that rendering of subject held no temptations to pictorial excess. They are windows essentially, but in no small sense, and their qualities are not to be found on looking into the glass. The light as it passes through them is marvellously transformed, not alone by the colour, etc., but by ingenuity of individual craftsmanship.
Works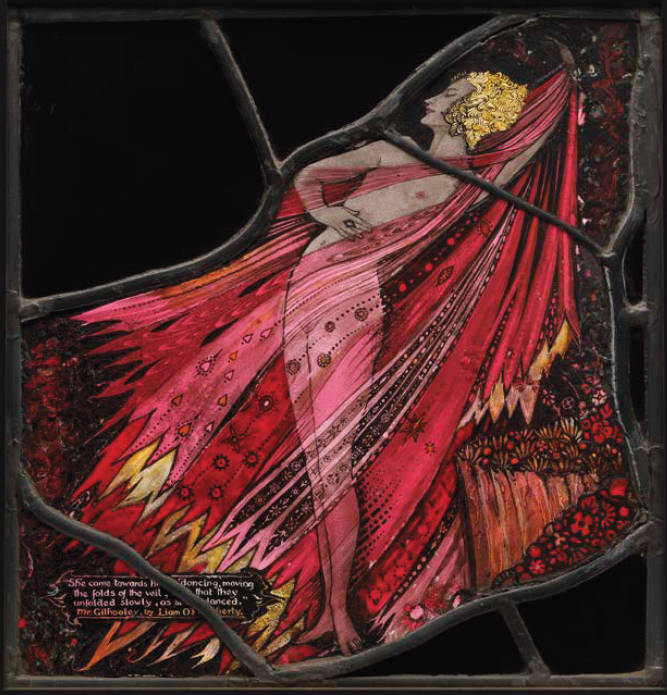 Clarke as book illustrator
References
Reeves, P. Oswald. "Irish Arts and Crafts." The Studio 72 (1917): 15-22. Internet Archive version of a copy in the University of Toronto library. Web. 25 May 2013.
---
Last modified 9 November 2019