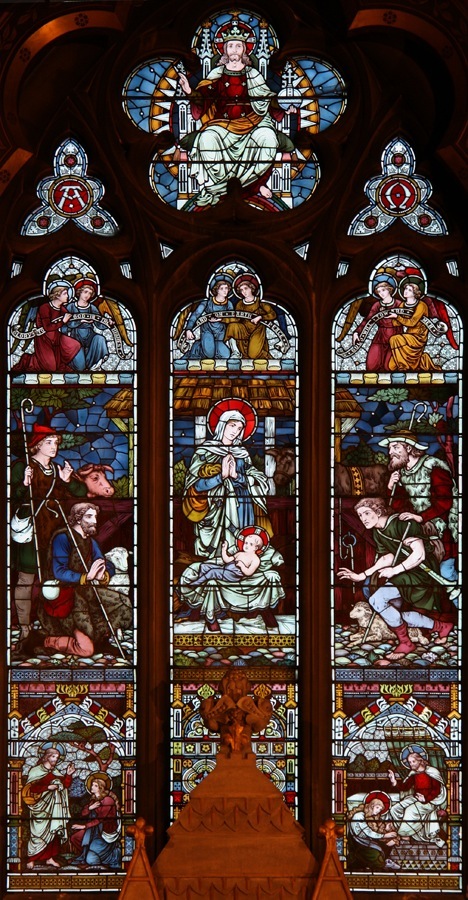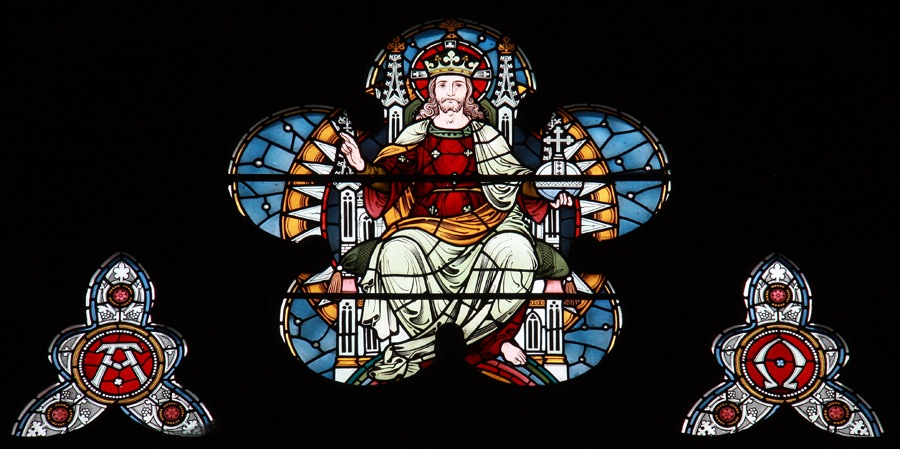 Left: Whole window. Right: Christ in Majesty presiding in the topmost and largest tracery light, with Alpha and Omega in the tracery on either side below. [Click on these and the following images to enlarge them.]
East window in William Butterfield's St Mary Magdalene, Enfield, designed by Butterfield and made up by Heaton, Butler and Bayne (see "The Chancel Glass" and Eberhard). This was among the original windows installed in c.1883, and it is well-known that Butterfield cartooned stained-glass windows, and "liked to get his own way" in every detail of his buildings (Cheshire 25). The windows are certainly in his style — a bold style "conceived as integral to his polychromatic interiors, creating mosaic effects with complex leading and jewel-like colour," and "influenced by the growing taste for the Pre-Raphaelite artists Giotto and Fra Angelico" (Hill).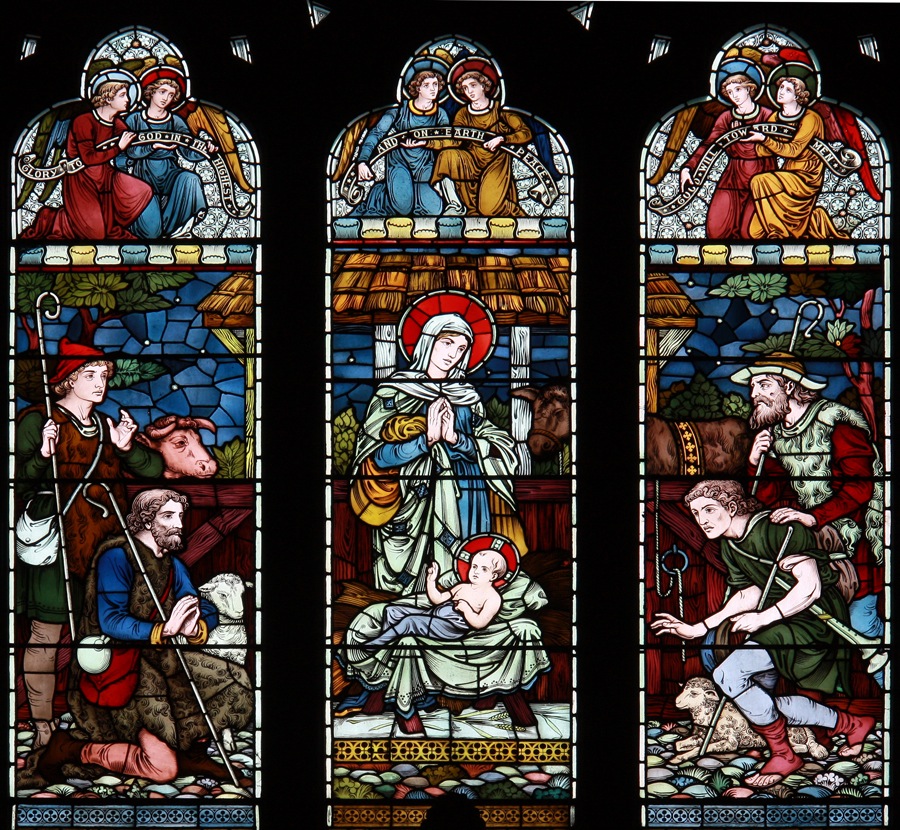 The central scenes of the window.
Here, angels bear the good tidings of Jesus's birth ("Glory to God in the Highest / And on Earth Peace/ Goodwill toward Men"), above the Nativity episode in the centre, with an ass looking on, and shepherds at either side. With each pair of shepherds is a sheep, and an ox peers across from the left.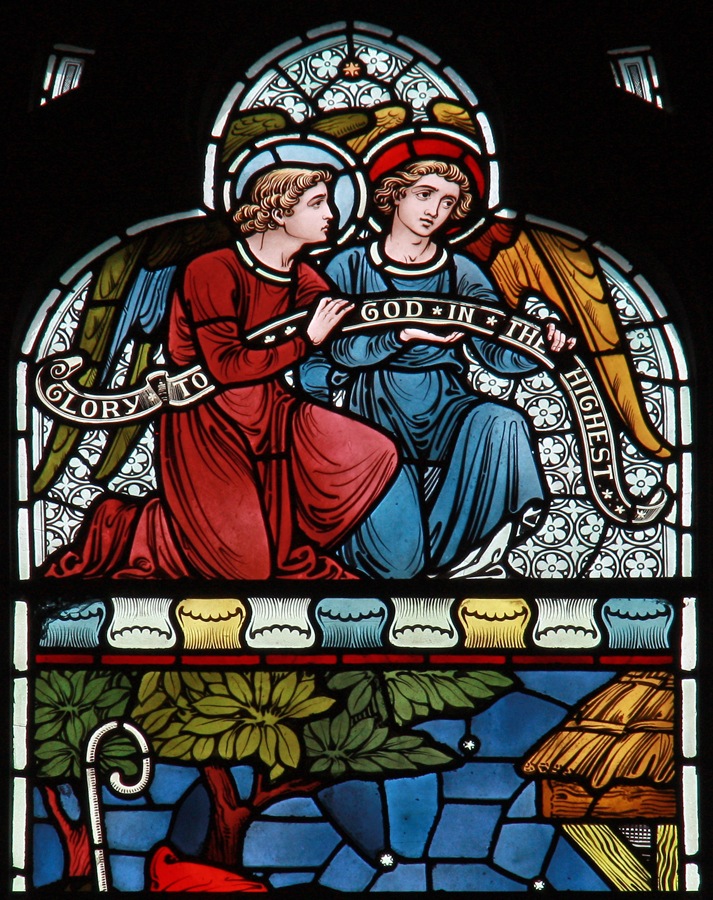 Closer views of the angels above the two side panels.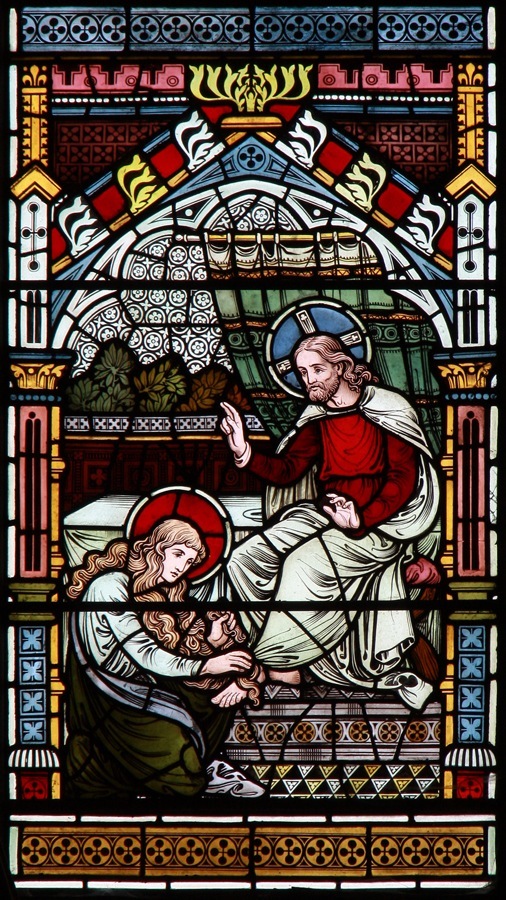 Scenes on the lower side panels.
These two scenes feature Mary Magdalene, to whom the church is dedicated. Mary Magdalene is often identified with the woman in the gospels who washes Jesus's feet with her tears and dries them with her hair (e.g. see Luke 7, 37-38). On the left she is shown with her Pre-Raphaelite locks engaged in just such an action. On the right is the well-known Noli me tangere scene, depicting the moment when Mary Magdalene meets the risen Christ in the garden. "Jesus saith unto her, Touch me not; for I am not yet ascended to my Father" (John 20, 17).
As for the stained glass firm with which Butterfield was working here, Clement Heaton (1824-82) had died by now, but the two younger partners, James Butler (1830-1913) and Robert Turnill Bayne ((1837-1915) were joined by his son, Clement John Heaton (1861-1940), who stayed for just three or four years. The firm continued under other descendants of the partners until 1953.
Photographs by John Salmon, and captions and commentary by Jacqueline Banerjee. You may use these images without prior permission for any scholarly or educational purpose as long as you (1) credit the photographer and (2) link your document to this URL in a web document or cite it in a print one.
Sources
"Architects and Artists H." Sussex Parish Churches. Web. 5 July 2015.
"The Chancel Glass."
St Mary Magdalene
. Web. 5 July 2015.
Cheshire, Jim. Stained Glass and the Voictorian Gothic Revival. Manchester: Manchester University Press, 2004.
Eberhard, Robert. "Stained Glass Windows at St Mary Magdalene." Church Stained Glass Windows. Web. 5 July 2015.
"Heaton, Butler & Bayne (1852-1953)." Gwydir Lliw Nghymru: Stained Glass in Wales. Web. 5 July 2015.
Hill, Rosemary. "Butterfield, William (1814-1900), architect and designer." Oxford Dictionary of National Biography. Online ed. Web. 5 July 2015.
---
Created 5 July 2015