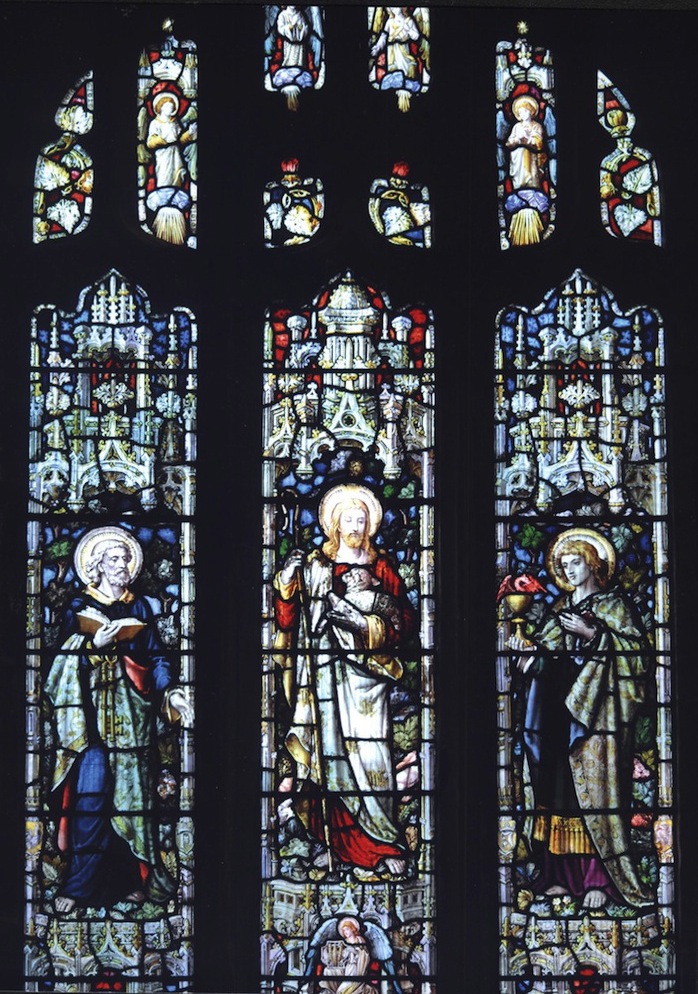 The Pharmacist's Window, by John J. Jennings in St Cybi's Church, Holyhead, Anglesey, North Wales. Installed in the south wall of the south aisle, the window was in memory of Theophilus Roberts, a pharmacist "at Medical Hall" and a Sunday School superintendent who died on 5 May 1904. Jennings' signature can be clearly seen just under this date. Jesus as the Good Shepherd, holding a little wooly lamb, is flanked by St Peter with his keys on the left, and St John with a chalice on the right. St John is often seen with a chalice, and it has various possible Biblical meanings; but this one has a little red dragon emerging from it. While it is tempting to see this as a reference to the Welsh dragon, the main association is likely to be with the legend of the poisoned chalice: when given such a chalice to drink from, St John had blessed it, and the poison had gone away from it in visible form. Here, it may have special reference to the powers of a pharmacist to provide antidotes and cures. [Click here to see a window showing St John with the poisoned chalice in Pugin's St Augustine, Ramsgate.]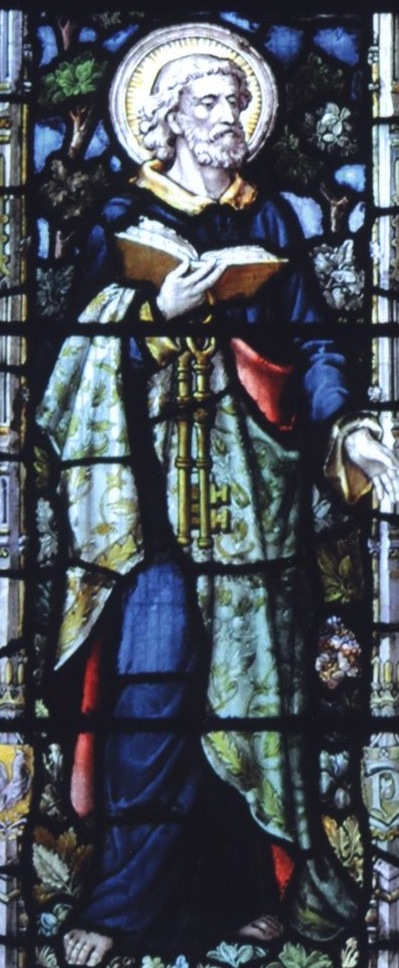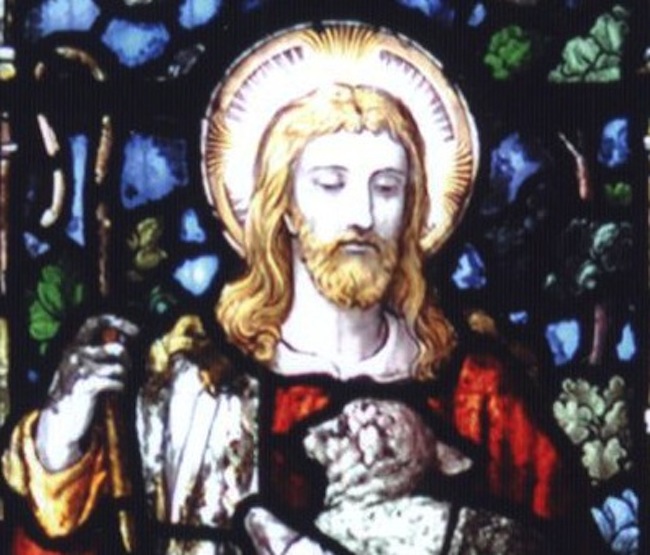 St Peter has some splendid keys and looks especially dignified, in contrast to St John, who is shown (here as elsewhere) as a young man. Jesus is seen in a conventional way, too, holding a shepherd's crook. But this choice also gains meaning in the Welsh agricultural context: it is pleasing to see the lamb, a very realistic one, being held protectively close. Although the window is signed by Jennings, it seems likely on stylistic grounds that it was actually designed by Edward Arthur Fellowes Prynne, who is known to have been used by Jennings.
Related Material
Photographs taken by Dennis Eaton and kindly sent in by Dr J. Ken Roberts. Text and formatting by Jacqueline Banerjee. [You may use this image without prior permission for any scholarly or educational purpose as long as you (1) credit the photographer and (2) link your document to this UR or cite the Victorian Web in a print one. Click on the images to enlarge them.]
Sources
"Church of St. Cybi, Holyhead, Anglesey." Stained Glass in Wales / Gwydr Lliw yng Nghymru. Web. 29 October 2015.
Roberts, Dr. J. K. The History of St Cybi's Church. Holyhead: Anglesey County Council, 2008.
---
Created 29 October 2015