hrigley & Hunt came into being when Arthur Hunt (1848-1917), a builder's son, took over the Lancaster decorating firm of Shrigley & Hudson in 1870, becoming its manager in 1873. The firm had a history going back to the 1770s, when it was run first by Thomas Shrigley, and then by his son of the same name. But it was Hunt, who, having been apprenticed to Heaton, Butler & Bayne, introduced stained glass into its repertoire. Henry Holiday was designing Heaton, Butler & Bayne's widows then, and Hunt was keen to introduce similarly "lighter, more natural and intelligible interpretations of biblical and other narratives in stained glass" ("Shrigley & Hunt"). This was all very much in tune with current developments, as Gothic Revival principles evolved into the Arts and Crafts ideals of William Morris, with their emphasis not only on "honest" craftsmanship but on accessibility.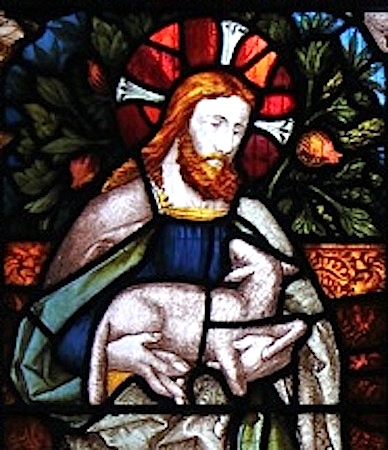 Such was the firm's standing under Hunt that, in the late nineteenth century, it "ranked among the leading designers and manufacturers of stained glass in Britain, rivalling the better-known contemporaries such William Morris and Company, or James Powell of Whitefriars" (Waters). The chief designers in this period, and well into the twentieth century, were Henry Holiday's pupil, Carl Almquist (1848-1924), and Edward Holmes Jewitt (1849-1929), who carried on Morris's principles, and were influenced too by Burne-Jones and the Pre-Raphaelites.
Almquist had a studio in London, and, as well as the local architectural firm of Paley and Austin — itself a great enterprise then — the firm designed for some of the most important architects of the day, including G. F. Bodley, Richard Norman Shaw and Alfred Waterhouse. Their output has been put at "over 50 stained glass windows in churches and chapels in Lancaster, over 500 in Lancashire, and 5,000 in Great Britain, Ireland and abroad" (Boutin 46). They also received many private commissions, as Hunt developed the domestic side of the stained glass business. After Hunt died in 1917, the firm continued up until the death of its new head, Joseph Fisher (1911-82). — Jacqueline Banerjee
Works of Shrigley & Hunt
Sources
"Almquist, Carl." V & A: Search the Collection. Web. 17 October 2016.
Armstrong, Barrie, and Wendy Armstrong. The Arts and Crafts Movement in the North West of England: A Handbook. Wetherby: Oblong Creative, 2005.
Boutin, Suzanne. "The Rise and Fall of the Stained Glass Trade in Nineteenth Century Lancaster." Aspects of Lancaster: Discovering Local History. Ed. Sue Wilson. Barnsley: Wharncliffe Books (Pen and Sword Publishers), 2002. 41-52.
Harrison, Martin. Victorian Stained Glass. London: Barrie and Jenkins, 1980.
"Shrigley & Hunt (1874-1982)." Gwydir Lliw Nghymru: Stained Glass in Wales. Web. 17 October 2016.
Waters, William. Extract from Stained Glass from Shrigley & Hunt of Lancaster and London (2003). Regional Heritage Centre, Lancaster. Web 17 October 2016.
---
17 October 2016