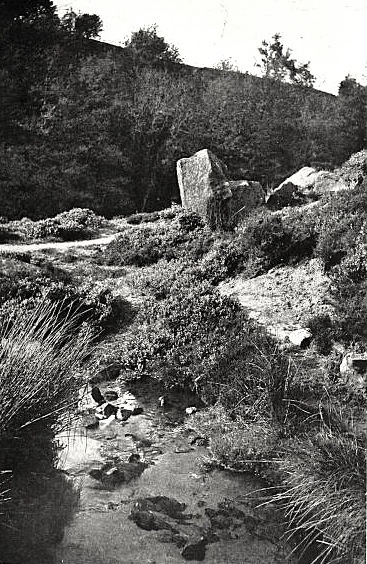 The Brontë children loved the moorland around their home. Elizabeth Gaskell wrote that Charlotte, Emily and Anne Brontë "used to walk upwards toward the 'purple-black' moors, the sweeping surface of which was broken by here and there a stone quarry; and if they had strength and time to go far enough they reached a waterfall, where the beck fell over some rocks into the bottom." She says that "[t]hey seldom went downwards through the village. They were shy of meeting even familiar faces, and ever scrupulous about entering the house of the very poorest uninvited" (125). She adds, however, that "they never faced their kind voluntarily, and always preferred the solitude and freedom of the moors" (125).
According to Nick Holland, the "waterfall can be a spectacular sight after heavy rain, and Emily and Anne loved to sit here and watch the water thundering by. The stone where they sat has been worn naturally into a chair-like appearance and is now known as the Brontë Seat" (64). It is interesting that Holland omits Charlotte here. He is perhaps stressing the closeness of the two younger sisters. But Gaskell, with her focus on the elder sister it, identifies it as "Charlotte Brontë's Seat" (facing p. 336).
The Brontë Bridge. Source: Gaskell, facing p. 126. This is a small clapper (stone-slab) bridge. It crosses a valley stream "below the moors near Haworth" and is close to the waterfall and stone "seat" ("The Brontë Bridge"). It looks much neater in more recent pictures.
Image acquisition and text by Jacqueline Banerjee. You may use this image without prior permission for any scholarly or educational purpose as long as you (1) credit the source, and (2) link your document to this URL in a web document or cite it in a print one. Click on the first image, or on the link below, for the review in which this image appeared, of Holland's book on Anne Brontë; click on the other images to enlarge them.
Related Material
Bibliography
"The Brontë Bridge." Brontë Country. Web. 7 December 2017.
Gaskell, Elizabeth Cleghorn. The Life of Charlotte Brontë. With an introduction and notes by Clement K. Shorter. New York and London: Harper & Bros., 1900. Internet Archive. Contributed by the Library of Congress. Web. 7 December 2017.
Holland, Nick. In Search of Anne Brontë. 2016: rpt. Stroud, Gloucester: The History Press, 2017.
Wood, Butler, ed. Charlotte Brontë, 1816-1916; a centenary memorial, prepared by the Brontë society, with a foreword by Mrs. Humphry Ward and 3 maps and 28 illustrations. New York: Dutton, 1918. Internet Archive. Contributed by University of California Libraries. Web. 7 December 2017.
---
Created 3 December 2017