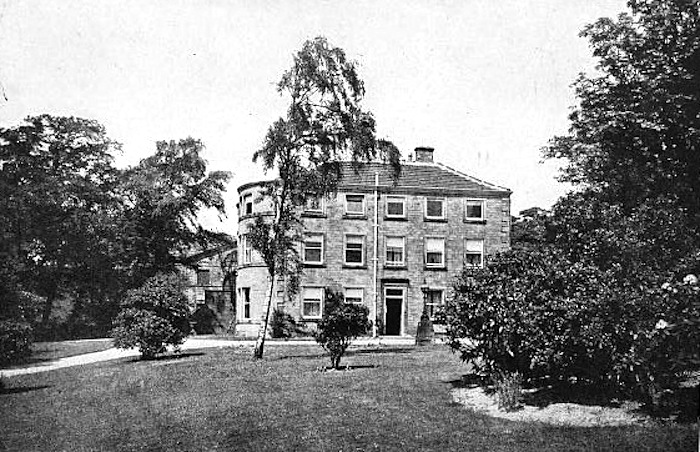 Roe Head. Source: Gaskell, facing p.288. Elizabeth Gaskell explains that Roe Head school, Mirfield, where Charlotte Brontë went as a pupil on 17 January 1831, was "a cheerful, roomy country house, standing a little apart in a field, on the right of the road from Leeds to Huddersfield." Her description of it is detailed and accurate:
Three tiers of old-fashioned semicircular bow windows run from basement to roof; and look down upon a long green slope of pasture land, ending in the pleasant woods of Kirklees, Sir George Armitage's park. Although Roe Head and Haworth are not twenty miles apart, the aspect of the country is as totally dissimilar as if they enjoyed a different climate. The soft, curving and heaving landscape round the former gives a stranger the idea of cheerful airiness on the heights, and of sunny warmth in the broad green valleys below.
The school had only opened in 1830, and was run by Margaret Wooler and three of her five sisters. Gaskell describes Margaret Wooler herself "kind, motherly" and "a native of the district" (101) and Charlotte was happy there as a pupil. This is where she met her lifelong friends, Ellen Nussey" and Mary Taylor, and Margaret Woolner herself became a close and indispensable adviser and friend. Bob Duckett describes her as "the wise counsellor and kindly confidante that the young woman needed" (51).
Much can be said about the influence of Roe Head on all three Brontë sisters. Charlotte left it in 1832, but returned to teach there in 1835, bringing Emily as a pupil. Emily, characteristically, was much less happy away from home. She was "unsuited to the life of a pupil, even in a benign environment such as Roe Head," says Nick Holland (78). She left after only three months, after which Anne came. Anne made such good progress that at the end of her first year she won a prize for good conduct: Isaac Watts's The Improvement of the Mind (see Holland 82). But she was greatly disturbed by the Calvinistic doctrines that she encountered there, and became ill, not returning to school after the Christmas holidays of 1837-38.
The school was relocated that year (1838), and Charlotte resigned, probably in May (Barker 289). Teaching had not appealed to her at all, and her health too was suffering. Offered the role of headship in 1841 after Miss Wooler's retirement, she decided not to accept it (see Duckett 49-50). The next really important phase of her life would be the trip to Brussels.
Image acquisition and text by Jacqueline Banerjee. You may use this image without prior permission for any scholarly or educational purpose as long as you (1) credit the source, and (2) link your document to this URL in a web document or cite it in a print one. Click on the image to enlarge it.
Bibliography
Barker, Juliet. The Brontës. London: Weidenfeld and Nicolson, 1994.
Duckett, Bob. "A Mother and Her Sustitutes." In The Brontës in Context, ed. Marianne Thormählen. Cambridge: Cambridge University Press, 2012. 44-52.
Gaskell, Elizabeth Cleghorn. The Life of Charlotte Brontë. With an introduction and noted by Clement K. Shorter. New York and London: Harper & Bros., 1900. Internet Archive. Contributed by the Library of Congress. Web. 3 December 2017.
---
Created 7 December 2017