Mona Caird's literary output is considerable and consistent in subject matter and feminist message. Altogether she published seven novels, a collection of short stories, a number of polemical essays and letters to the press. She began writing stories and plays in her early childhood. As a New Woman writer she moved freely between fiction, nonfiction, journalism and travel writing, concentrating mainly on marriage and women's rights issues, later also on animal rights, vivisection and eugenics. In 1883 and 1887, respectively, she published her first two novels, Whom Nature Leadeth and One That Wins under the pseudonym Noel G. Hatton, but they were hardly noticed by critics. These two novels foreshadowed the main feminist concerns of her subsequent fiction and nonfiction. In 1888, she published an article, 'Marriage', in the Westminster Review, which caused a stir and prompted the emergence of the great marriage debate in the press. Caird argued that traditional male-dominated marriage was a failure and called to improve this institution. She contended that marriage should not be treated in terms of duty and sacrifice, but primarily as a contract between equals who may dissolve it at the will of either spouse. The article also encouraged Caird and other New Woman writers to publish further essays and novels on this topic. In 1889, Caird published The Wing of Azrael, a three volume novel about an oppressed wife, Viola Sedley, who murders her sadistic husband and then commits a suicide. The novel incorporated many of her views on the status of women and the problems with late-Victorian marriage which she presented in her famous article.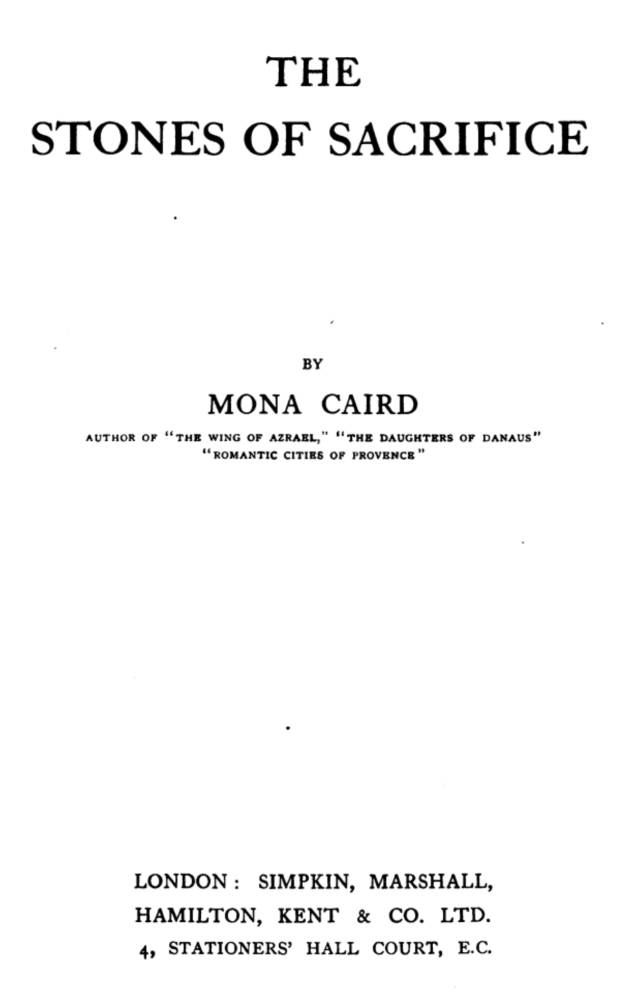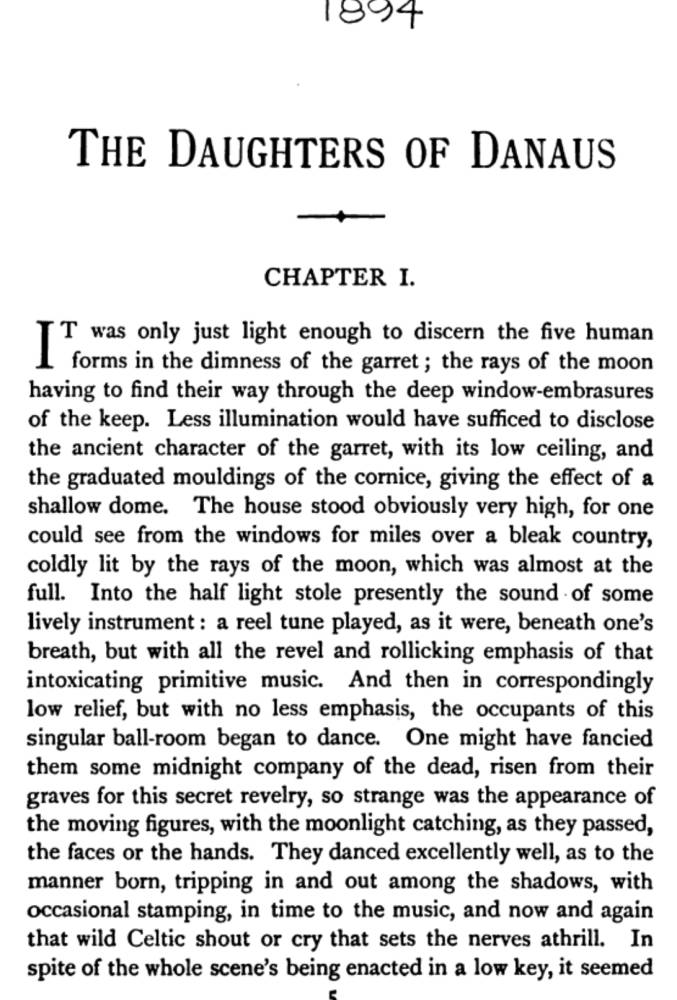 The title-page of one of Caird's novels and the first chapter of another. [Click on images to enlarge them.]
In 1891, Mona Caird published a novella entitled A Romance of The Moors, which was another contribution to the late-Victorian debate on the marriage question and anticipated the major themes of New Woman fiction. The writer's alter ego in the story, a widowed artist, Margaret Ellwood, advises a young couple to become independent and self-sufficient persons. Caird also published two other short stories. The first, 'For Money or for Love', (1889), set in a Scottish estate, deals with blackmail and revenge, and has no relevance to the marriage debate. The second, entitled 'The Yellow Drawing Room' (1892), resumes the problem of gender inequities. The beautiful and independent New Woman, Vanora Haydon, 'defies the attempt to confine her to a masculine aesthetic' (Heilmann 2004: 213) by having her drawing room painted in a 'brilliant yellow' colour, which was associated with decadence and emancipation. Her decision dismays the conservative male narrator, Mr St. Vincent, who, attracted by her fine looks, unsuccessfully attempts to conform her to his idea of submissive femininity. Although both Vanora and St. Vincent are drawn to each other, the young woman refuses to submit to his dominating masculinity.
In 1894, Caird published her most successful novel, The Daughters of Danaus, which recounts the story of an independently minded and highly spirited woman, Hadria, who wants to become a composer, but is thwarted by her mother's illness and an undesired marriage. The novel suggests that the life of a Victorian middle-class married woman was oppressive and unfulfilling due to unbearable male dominance. In 1894, W. T. Stead in the Review of Reviews recognised Mona Caird as one of the founders of a new literary genre, the 'Modern Woman novel', which was later labelled the 'New Woman novel' or 'New Woman fiction' (Sinclair xiv). In 1898, Caird published The Pathway of the Gods, a novel set in modern Rome which tells the story of a failed romance between the expat painter and aesthete, Julian Ford, and the ambiguous New Woman, Anna Carrington, who used to be a feminist activist in London, but later went to Rome where she works as a governess-chaperon.
The majority of Caird's feminist fiction was published in the late nineteenth century, but in the early 20th century, she published two more novels. The Stones of Sacrifice (1915), which recounts the dilemma of Claudia Temple, whether she should conform to the traditional model of self-effacing womanhood (Heilmann 1996: 85) or to start an independent and active existence. Eventually, the heroine chooses the latter option, enters into an unconventional, 'individualistic marriage' which allows her to maintain independence, personal freedom, and a unique identity, separate from her husband. Despite marital autonomy, both spouses start 'an anti-militaristic, pro-humanitarian group of political radicals called the Alternatives (who can even boast of something like a green programme)' (Heilmann 1996: 86). The novel also bears references to vivisection. Caird's last novel, The Great Wave (1931) appears to be thematically distinct from her earlier feminist fiction. It is a social science fiction, set in pre-World War One Germany, which foreshadows the rise of Nazism. It strongly condemns the policies of negative eugenics and warns about the emergence of a brute totalitarian power which aims at the genetic improvement of population by preventing the reproduction of the unfit individuals. Alongside with the main concern of the novel, i.e. eugenics and human rights, Caird also exposes her views on female emancipation.
Conclusion
Mona Caird was one of the most militant and active New Woman writers who had radical views on the patriarchal institution of marriage and motherhood. In her feminist essays and novels, Caird, along with other New Woman writers, challenged the Victorian conceptions of femininity, filial duty, marriage and domesticity. She criticised large families and multiple pregnancies, which subordinated women and thwarted their personal development. She believed that maternity does not exclusively define womanhood. Caird was an important forerunner of women's rights as well as animal rights and anti-vivisection movements. Her ideas about gender equality and personal freedom provided impetus for the second-wave feminism in Europe and the United States.
Bibliography
Bland, Lucy. Banishing the Beast: English Feminism and Sexual Morality, 1885–1914. Harmondsworth: Penguin, 1996.
____. The Daughters of Danaus. Gutenberg Project.
____. The Wing of Azrael. Montreal: John Lovell & Son, 1889.
____. Romantic Cities of Provence. New York: Charles Sbribner's Sons and London: T. Fisher Unwin, 1906.
Gates, Barbara T. Kindred Nature: Victorian and Edwardian Women Embrace the Living World. Chicago: University of Chicago Press, 1998.
Gullette, Margaret Morganroth. Afterword, in Mona Caird, Daughters of Danaus. New York: The Feminist Press, 1989, 493-534.
Heilmann, Ann. New Woman Strategies: Sarah Grand, Olive Schreiner, Mona Caird. Manchester and New York: Manchester University Press, 2004.
___. 'Mona Caird (1854–1932): Wild Woman, New Woman, and Early Radical Feminist Critic of Marriage and Motherhood', Women's History Review, 5 (1996), 67–95.
Sinclair, May. The Creators. Edited by Lyn Pykett. Birmingham: The University of Birmingham Press, 2004.
Stead, William Thomas. 'Mrs. Mona Caird in a New Character', Review of Reviews, 1893(7).
Youngkin, Molly. Feminist Realism at the Fin de Siecle: The Influence of the Late-Victorian Woman's Press on the Development of the Novel. Columbus: Ohio State University Press, 2007.
---
Last modified 20 February 2019