Carlyle's knowledge of Political Economy
Chris R. Vanden Bossche, Professor of English, University of Notre Dame

Chapter 1, note 6, of the author's Carlyle and the Search for Authority, which the Ohio State University Press published in 1991. It appears in the Victorian web with the kind permission of the author, who of course retains copyright. indicates a link to material not in the original print version.
Carlyle's knowledge of economic theory should not be underestimated. In the early 1820s, he translated the article on "Political Economy" by Simonde de Sismondi — one of the earliest critics of industrial capitalism — for
Brewster's Edinburgh Encyclopedia
. Carlyle's critique of
laissez-faire
appeared as early as 1831 when he wrote: "the principle of Laissez-faire is fast verging...to a consummation. Let people go on, each without guidance, each striving only to gain advantage for himself, the result will be this: Each, endeavouring by I competition' to outstrip the others, will endeavour by all arts to manufacture an article (not better) only cheaper and showier than his neighbour" (
TNB
, 206; see also
WR
, 24;
SR
, 159;
HGL
, 5;
CL
, 5: 183-84).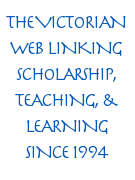 ---
Contents last modified 5 October 2001