... the name was enough to delight those who secretly, or not so secretly, considered Dickens to be rather vulgar. "Ah, Charlie, if this don't prove to posterity that you might have been a Tennyson and were a D'Orsay...." So Robert Browning wrote to Elizabeth Barrett, and he went on, "... when you remember what the form of sponsorship is, to what it pledges you in the Church of England — and then remember that Mr D is an enlightened Unitarian — you will get a curious notion of the man, I fancy...." (Dickens, in other words, was a little on the vainglorious rather than the literary side, and his professed religious beliefs were indecisive if not hypocritical.) [Ackroyd, pp. 494-495]
Alfred D'Orsay Tennyson Dickens, or "Sampson Brass" and "Skittles" (28 October 1845 — 2 January 1912)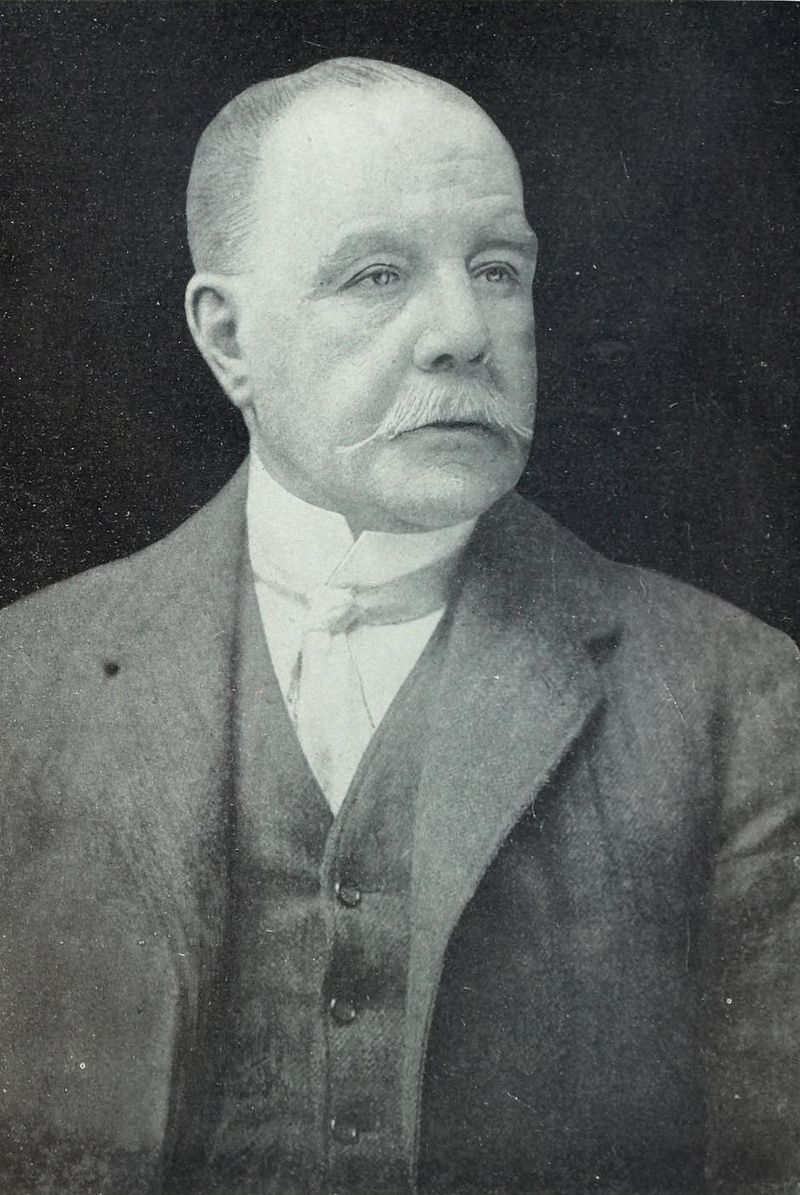 Portrait of Alfred D'Orsay Tennyson Dickens.Source: Wikipedia (public domain).
Alfred D'Orsay Tennyson Dickens, the sixth child and fourth son of Charles and Catherine Dickens, was named after the soon-to-be English poet laureate and the French dandy who served as his godfathers. Again, Dickens was blatantly attempting to cement his personal association with other prominent Victorians. His nicknames for the boy were less pretentious: Sampson Brass was an untrustworthy lawyer in The Old Curiosity Shop, and Skittles simply referred to the game, often played in pubs. Apparently, there was something in the child's face that made Dickens think of it.
Living in the shadow of the Great Man was as daunting for Alfred as for his brother Frank. He too failed in a number of professional and vocational choices, including careers in the military, medicine, and business. After failing the entrance examination into the British Army cadet corps, Alfred spent several years studying the import-export business in a China House in London. Inevitably, with a taste for fashionable clothing he ran up debts by using his father's name at various London tailors. Having now failed at whatever he had put his hand to, Alfred accepted his father's gift of an Australian sheep farm in June 1865. He departed for Australia from Paddington Station at age nineteen, leaving numerous unpaid bills in his wake.
Apparently Dickens saw Alfred as something of a plodder, "steady and hard-working, though not in the least brilliant," but hoped he would escape his older brothers' tendency towards idleness, dissipation, and debt by making something of himself far from home. His younger brother shortly joined him on the sheep farm. Fortunately, his father's hopes were realised. Over the next forty-five years Alfred fully adjusted to life "down under." When his own farm failed as a result of prolonged drought, he became manager of Corona station, which lay on the border of New South Wales and South Australia. Then, when his father died in 1870, leaving him a modest inheritance, Alfred used it to buy the sheep station at Wangagong, near Forbes.
Having put his earlier failures behind him, Alfred, like Dickens's Wilkins Micawber, was now well established in Australia. He married "The Belle of Melbourne," Augusta Jessie Devlin (1849-78), in Toorak, Victoria. The couple had two daughters, Kathleen Mary (1874-1951) and Violet Georgina (1875-1952). Jessie Dickens died after being severely injured in a carriage accident on 14 December 1878, when the pony pulling the vehicle suddenly bolted. Shortly afterward, when Alfred, now a widower, moved to Melbourne, Edward Dickens persuaded him to found a joint business: a stock and station agency, "E.B.L. Dickens and Partners."
In later life, after his father's death in 1870, Alfred capitalised on his continuing popularity and began touring Australia to lecture on him. He then departed for Europe and the United States, to discuss his father's life and read selections of his works to a wider audience. However, in 1912, at the start of an American reading tour to celebrate the Dickens Centenary, he was stricken as he strolled through the Astor Hotel in New York City. He died of "acute indigestion," and was buried in Manhattan's Trinity Church Cemetery on 14 April 1912. His sister, Kate Perugini, had been contacted in London, and thought it advisable for the funeral and burial to take place in America instead of Britain.
The grave of Alfred Dickens in Trinity Church Cemetery in Manhattan. Source: Wikipedia (public domain).
His funeral was attended by members of the American Dickens League, the Dickens Centenary Committee, and several other literary societies on 14 April 1912. In 1935 the children of the Church School of the Chapel of the Intercession conducted a fund-raising drive to erect a permanent headstone of Vermont granite on his grave. The lettering on the headstone is the same as that used on the grave-marker of Charles Dickens himself in Poets' Corner, Westminster Abbey.
Related Materials
Bibliography
Ackroyd, Peter. Dickens. London: Sinclair-Stevenson, 1990.
Davis, Paul. Charles Dickens A to Z: The Essential Reference to His Life and Work. New York: Facts On File, 1999.
Hawksley, Lucinda Dickens. Charles Dickens. Dickens' Bicentenary 1812-2012. San Rafael, California: Insight, in association with the Charles Dickens Museum, London, 2012.
Schlicke, Paul (ed.). The Oxford Readers's Companion to Dickens. Oxford: Oxford U. P., 1999.
Slater, Michael. Charles Dickens. New Haven and London: Yale University Press, 2009.
Tomalin, Claire. Charles Dickens: A Life. New York: Penguin, 2011.
Witt, Emily. "Daddy Issues: On the Worthless Brood of Charles Dickens. Review of Great Expectations: The Sons and Daughters of Charles Dickens (FSG, 256 pp., $25) by Robert Gottlieb". Online version available from The Observer. Web. 12/04/12.
---
Created 3 September 2019