Adapted from Chapter 3 of the author's book, Literary Surrey (Headley Down: John Owen Smith, 2005). Photograph, of a relief of Richard Jefferies on a wooden memorial plaque in Surbiton Public Library, by the author. You may use the image without prior permission for any scholarly or educational purpose as long as you (1) credit the photographer and (2) link your document to this URL or cite the Victorian Web in a print one.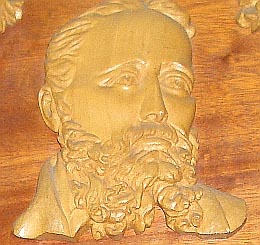 Richard Jefferies, nature writer and novelist, was born at Coate Farm near Swindon in 1848. He loved the local Wiltshire downland, and this love informed the best-known of the nineteen books published during his lifetime, Bevis: The Story of a Boy (1882), a slightly fictionalised account of his life outdoors as boy, and The Story of My Heart: An Autobiography (1883), his cri de coeur against the modern mechanistic age.
The son of an impoverished farmer, Jefferies was a lonely and introspective child, who would stretch out alone on the grass to feel the earth enfolding him:
I thought of the earth's firmness — I felt it bear me up; through the grassy couch there came an influence as if I could feel the great earth speaking to me. I thought of the wandering air — its pureness, which is its beauty; the air touched me, and gave me something of itself. [The Story of My Heart, Chapter 1]
His paternal grandfather was a city bookbinder, but there were few books at the farm. Nevertheless, he read whatever he could get hold of: Edward Thomas wrote of his "rich, untrained intelligence" (118). He also kept detailed field notes. Like many a visionary, he was often thwarted by the practicalities of life. In his teens, he set out to go to Russia with a cousin, but the two only managed the channel crossing. They failed again when they tried to set sail for America from Liverpool.
Now a writing career beckoned. Jefferies became a reporter for the North Wiltshire Herald in 1866, moving on to the Wiltshire and Gloucestershire Standard in 1868. His first national publications were letters to the Times on the hot topic of rural labourers, and three unsuccessful novels followed. He married a local girl, Jessie, in 1874. In late 1877, with Jessie and their baby son Harold, he moved to Surbiton close to the Surrey-London boundary, to be nearer the hub of literary England.
The Surbiton years were momentous ones. The couple's next child, a daughter called Jessie after her mother (but known by her second name, Phyllis), was born, and Jefferies began to make his name at last. His new surroundings defined him, both to himself and others, as a country writer. The timing was perfect. Roger Scruton, the contemporary English philosopher, explains: "the rural documentary had become the most popular form of non-fiction among the reading public — a position that it has retained to this day" (235). Articles drawing on Jefferies' Wiltshire experiences were snapped up by the Pall Mall Gazette, then published in book form as The Gamekeeper at Home in 1878, to be followed by similar collections of essays, like Wild Life in a Southern County (1879) and Round About a Great Estate (1880). Also published in these years was the popular Wood Magic: A Fable (1881), introducing his child-hero, Bevis. Bevis itself came out in three volumes in 1882, the year in which he left Surbiton and, after a summer in Exmoor, settled for a while in Brighton. Articles about the Surbiton area were reprinted in the popular Nature near London (1883), although the last chapters of the book refer to Beachy Head, Ditchling Beacon and other Sussex landmarks.
Little time was left to him. He lost his third child, Oliver, to meningitis in 1886 and was now himself increasingly plagued by the various symptoms of tuberculosis. Writing became such an effort that he had to dictate his later work to his wife. He could only console himself by outlining his own mission: "Because my heart beats feebly to-day, my trickling pulse scarcely notating the passing of time, so much the more do I hope that those to come in future years may see wider and enjoy fuller than I have done; and so much the more gladly would I do all that I could to enlarge the life that shall be then" (290).
In 1887, at the age of 38, Jefferies died at Goring-on-Sea on the south coast. There, where he had only been living a matter of months, "Jefferies House" now stands on "Jefferies' Lane." He was buried at the Broadwater Cemetery in Worthing. The Jefferies Society, one of the earliest to be set up for a Victorian writer, is still very active. In the days of his health, a tall, stooped, bearded figure trekking across country with his notebook in hand, Jefferies had been the very epitome of an English nature-loving eccentric. He continues to alert a dedicated band of readers to the small, unnoticed wonders that lie about us in our daily lives: "You do not know what you may find each day; perhaps you may only pick up a fallen feather, but it is beautiful, every filament. Always beautiful!" (299).
Related Material
References
Jefferies, Richard. Landscape with Figures: An Anthology of Richard Jefferies's Prose. Ed. Richard Maby. Harmondsworth: Penguin, 1983.
Scruton, Roger. England: An Elegy. London: Chatto & Windus, 2000.
Thomas, Edward. Richard Jefferies. London: Faber, 1978.
---
Last modified 4 February 2020