Biographical Materials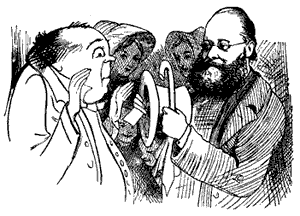 Works
Nonsense verse and prose (introduction)

The Book of Nonsense

, 1846

Nonsense Songs, Stories, etc.

, 1871

More Nonsense Pictures, etc

, 1872

Laughable Lyrics: A Fresh Book of Nonsense

, 1873

Illustrations (needed)
Bibliography
Barton, Anna. "Deliberate Nonsense: At the Eccentric Centre of the Nineteenth Century." TLS (16 August 2019): 26.
Noakes, Vivien. Edward Lear, The Life of a Wanderer. Boston: Houghton-Mifflin, 1968.
Pezzera, Candace. How Pleasant to Know Mr Lear: Watercolors from Rhode Island Collections. Exhibition catalogue. Providence: Museum of Art, Rhode Island School of Design, 1982.
Levi, Peter. Edward Lear: A Life. London: Tauris, 2013.
Lodge, Sara. Inventing Edward Lear. Cambridge: Harvard University Press, 2019.
Lodge . . . is the first to identify Lear's Nonconformist faith as a crucial interpretive context for his work. She argues that an early nineteenth-century dissenting upbringing, with its focus on an appreciation of the natural world as a manifestation of divine grace, helps to explain Lear's interest in animal and bird life. . . . But Lodge is also keen to assert the gleeful impiety of Lear's nonsense. Lear, she tells us, hated sermons, disliked the clergy and was frequently enraged by the church services that he (infrequently) attended. — Barton
Travellers beyond the Grand Tour. London: The Fine Art Society, 1980.
Uglow, Jenny. Mr Lear: A Life of Art and Nonsense. London: Faber, 2017.
Williams, James. Edward Lear. Liverpool: Liverpool University Press, 2019.
---
Last modified 5 November 2019