Wilde's tribute to the young author who had only very recently committed suicide appeared in November 1889, and can be found in Woman's World, Vol. 3 (1890): 51-52. Wilde had been editor of this high-end monthly magazine since 1887 (see "Entering The Woman's World: Oscar Wilde as Editor of a Women's Magazine"). A copy of this particular volume is available in the Internet Archive, and contains a great deal of interesting material. This piece has been prepared for the Victorian Web by Jacqueline Banerjee.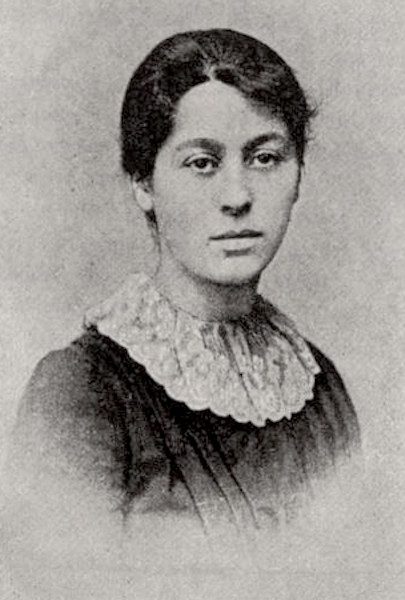 From a photograph by Montabone, Florence (published at the top of the tribute).
THE gifted subject of these paragraphs, whose distressing death has brought sorrow to many who knew her only from her writings, was born at Clapham and spent the greater part of her short and outwardly outwardly uneventful life in Clapham. Her family was Jewish, but she herself, as she grew up, gradually ceased to hold the orthodox doctrines of her nation. retaining, however, a strong race feeling. At a very early age she showed a marked turn for writing, and some of her childish verses, still preserved, are both correct and original. During the years 1880 and 1881 she was a student at Newnham College, Cambridge, and while still in residence published her first volume of verse, Xantippe. The modest little paper-covered book, which contains only thirty pages, was published in Cambridge, and was, we believe, never advertised. Its merit, however, attracted a good deal of attention, and the whole edition was sold out. "Xantippe," the longest and most important poem, had been written three years earlier, and had already appeared (in May, 1880) in the University Magazine. Xantippe on her death-bed relates the disappointment of her life, beginning with her love for her husband, and her longing to share his thoughts:—
I guided by his wisdom and his love,
Led by his words and counselled by his care,
Should lift the shrouding vale from things which be,
And at the flowing fountain of his soul
Refresh my thirsting spirit.

But Socrates wanted no such companion or disciple in his wife, and gradually her love turned to bitterness:—
Then faded that vain fury: hope died out;
A huge despair was stealing on my soul:
A sort of fierce acceptance of my fate —
He wished a household vessel — well! 'twas good For he should have it..............
.............till at last I grew
As ye have known me — eye exact to mark
The texture of the spinning; ear all keen
For aimless talking when the moon is up
And ye should be a sleeping; tongue to cut,
With quick incision, thwart the merry words
Of idle maidens.
This poem — surely a most remarkable one to be produced by a girl still at school — is distinguished, as [51/52] nearly all Miss Levy's work is, by the qualities of sincerity, directness, and melancholy. In expression it is less simple and lucid than some of her later verse, far leas so for instance, than the two short poems which we publish in this issue; but its spirit is the same, and no intelligent critic could fail to see the promise of greater things.
A Minor Poet, and other Verse, published in 1884, showed a distinct advance. This, too, is but a thin volume, with no single superfluous line in it. The two epitaphs with which it closes, and the dedication "to a dead poet" with which it opens, are perhaps the most perfect and complete things in it; these, if they stood alone, would be enough to mark their writer as a poet of no mean excellence.
A third volume of poems was nearly ready for publication at the time of her death, and is to appear immediately. Some of the pieces to he included in it have appeared already in various papers and magazines, and two or three of these are among her very best work.
Her prose work consists almost entirely of fiction. The few magazine articles which she wrote are good of their kind, but they lack that special individuality which makes the value of her other writing. Of her short stories, two or three are slight and careless, written from a very superficial stratum of thought or feeling, and produced with the utmost facility. Of these stories she herself was the first to speak slightingly, and she would never have sanctioned their republication. But even these are marked by a strong vitality. They are careless, but not dull; they show how much the touch of the real artist tells, even in second-rate work. But besides these there a few other short stories which are by no means second-rate. Among those may be named "Cohen of Trinity,""Eldorado at Islington," "Addenbroke," "Wise in her Generation" — one of her latest, which we give in our present number — and "The Recent Telepathic Occurrence at the British Museum." This last is a good example of Miss Levy's extraordinary power of condensation. The story occupied only about a page of this magazine, and it gives the whole history of a wasted and misunderstood love. There is not so much as a name in it, but the relation of the man and woman stands out vivid as if we had known and watched its growth.
Miss Levy's two novels, The Romance of a Shop and Reuben Sachs, were both published last year. The first is a bright and clever story, full of sparkling touches; the second is a novel that probably no other writer could have produced. Its directness, its uncompromising truth, its depth of feeling, and, above all, its absence of any single superfluous word, make it, in some sort, a classic. Like all her best work it is sad, but the sadness is by no means morbid. The strong undertone of moral earnestness, never preached, gives a stability and force to the vivid portraiture, and prevents the satiric touches from degenerating into mere malice. Truly the book is an achievement.
To write thus at six-and-twenty is given to very few; and from the few thus endowed their readers may safely hope for yet greater things later on. But "later on" has not come for the writer of Reuben Sachs, and the world must forego the full fruition of her power. The loss is the world's, but perhaps not hers. She was never robust; not often actually ill, but seldom well enough to feel life a joy instead of a burden; and her work was not poured out lightly, but drawn drop by drop from the very depth of her own feeling. We may say of it that it was in truth her life's blood.
The Promise of Sleep
ALL day I could not work for woe,
I could not work nor rest;
The trouble drove me to and fro,
Like a leaf on the storm's breast.
Night came, and saw my sorrow cease:
Sleep to the chamber stole;
Peace crept about my limbs, and peace
Fell on my stormy soul.
And now I think of only this —
How I again may woo
The gentle Sleep, who promises
That Death is gentle too.
Amy Levy
---
Created 24 November 2018