By the beginning of the Victorian era, the epistolary novel had gone out of fashion. Only a handful of examples appear between Anne Brontë's The Tenant of Wildfell Hall in 1848, and Bram Stoker's Dracula in 1897, and the former uses letters as a framing device (see Davies xiiff.) while the latter includes such a variety of sources (diaries, journals, letters, a newspaper cutting, a ship's log, even telegrams) that it really heralds a new age of narrative pastiche. Yet all the major writers of the Victorian period exploit the narrative potential of the letter, and the window it opens on both its sender's and its recipient's psychology. George Meredith is no exception. He frequently interpolates or refers to letters in his novels. Deployed in various contexts and in his usual highly self-conscious way, these letters may just seem part of the novels' general "fecundity and intricacy of imaginative design" (Beer 30). But their effect in The Ordeal of Richard Feverel is more specific than that. As well as conveying information and varying the point of view, they reveal the perils that subvert communication — a theme with which Meredith would become increasingly preoccupied.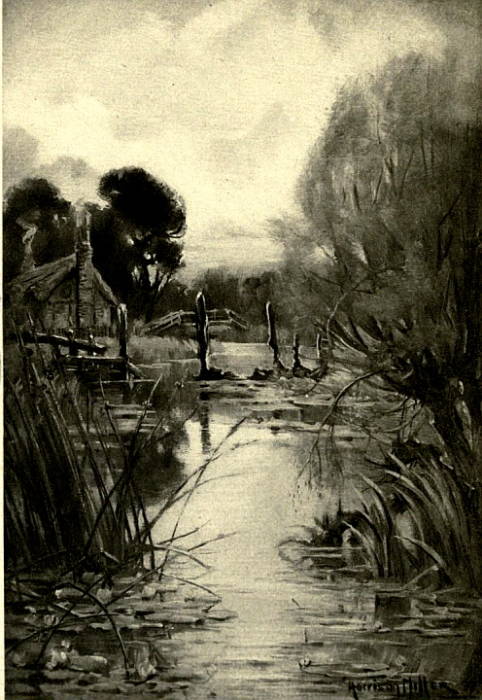 "The Old Weir," frontispiece for the Scribner ed.of 1900. It is in such a setting, "above green-flashing plunges of a weir," with lilies swaying among the reeds, that Richard meets Lucy in later adolescence (127). However, Harrison Miller has depicted rather a heavy, even slightly spooky scene — perhaps intended to have an ominous note. [Click on the thumbnail for a larger image].
Letters in this novel surprise by their sheer quantity. In the opening chapter of the original edition, "[s]howers of the enthusiastic rose-pink" descend on Raynham Abbey, the Feverel family home (11). These are the letters on pastel, scented notepaper that arrive for Sir Austin after he publishes a collection of his aphorisms in a book entitled, always in capitals, THE PILGRIM'S SCRIP. Their colour confirms that they have been penned by sentimentalists, women who have either failed to register the depth of the misogyny indicated by the aphorisms, or mistakenly suppose they can cure him of it. This is a sign of things to come. Letters fly back and forth throughout the narrative, often either betraying or causing similar confusion. For instance, after young Richard instigates the burning of Farmer Blaize's ricks, his first push against his father's "System" of education for him, the boy receives "hourly" missives from his anxious co-conspirator Ripton Thompson (99). Rip wants to know whether they should flee justice, but his febrile messages are mistaken for love-letters by his puzzled mother and sisters. At length his youngest, prettiest sister Letitia manages to get hold of a reply. Transcribed in full, it contains Richard's breathless account of how the ploughman Tom Bakewell was acquitted of starting the fire. Letty is bemused, and has to read the letter three times to make sense of it. Comically, despite the boy's evident scorn for girls at this stage ("wherever there is mischief there are girls I think"), she reacts rather like Sir Austin's new fans, becoming "deeply smitten with the careless composer" (101-3).
When letters arrive with such frequency, their non-appearance assumes significance too. In Richard's over-heated adolescence, Arson does eventually lead to Amor. Once he falls in love, his correspondence with Farmer Blaize's niece Lucy starts promisingly, in every sense. "Dearest, may I hope for a letter?" asks Lucy, at the end of a tryst. "By eleven tomorrow. And I?" responds the love-lorn Richard. Unhesitatingly, Lucy replies, "Oh you will have mine, Richard" (183). But her confidence is misplaced. A farmer's niece is no part of Sir Austin's plan for his son; a further complication is that Lucy is a Roman Catholic. Efforts to separate the couple start the very next day, when Richard is tricked into going to London. For two weeks, Lucy's "sweet little notes" sustain him (200). Then suddenly they stop. She has been pressured into giving him up, and dispatched to the institution, perhaps a convent, where she was educated. Not knowing this, Richard panics. "I haven't had a letter for a week. How is she? Where is she?" he demands (206).
Even when letters are duly written and read by the appropriate parties, true communication is not guaranteed. This lack of communication may be due to reticence on the part of the sender, or obtuseness on the part of the recipient — or, indeed, both. Lady Blandish, Sir Austin's friend and neighbour, is one of those who have put pressure on Lucy. But she has been unable to help sympathising with the girl, the more so because of Lucy's obviously sincere love for Richard. When the older woman reports the interview in a letter to Sir Austin, she assures him that Lucy will renounce Richard "and sacrifice herself for his sake." But then she adds unexpectedly and cryptically, "Are we so bad?" She also begs Sir Austin to join her in foiling Farmer Blaize's plan to marry this refined and genuinely committed young person to his crude son. "I hope I have really been doing right," she says anxiously, going on to raise uncomfortable but vague questions about the need to be "sure of one's cause," and the advisability of inspecting "the machinery of wisdom," before subtly challenging his infallibility by an aphorism of her own: "When a wise man makes a false step, will he not go further than a fool?" The last part of her letter seems to be about her reading, but here too she talks about self-centeredness, "complacency", and "stubbornness". For example, she criticises the "sneering essence" of Gibbon's writings, saying, "I cannot escape the thought that he is always thinking of himself." She concludes by expressing her doubts about Mrs Grandison, the mother of the girl Sir Austin now has in mind for his future daughter-in-law, a woman with her own blinkered view of how children should be brought up (202-3). Lady Blandish is clearly worried about the way Sir Austin is conducting himself, but feels able to criticise her mentor only very indirectly. Something of this does come across to Sir Austin:
He trifled with the letter for some time, rereading chosen passages as he walked about the room, and considering he scarce knew what. There are ideas language is too gross for, and shape too arbitrary, which come to us and have a definite influence upon us, and yet we cannot fasten on the filmy things and make them visible and distinct to ourselves, much more to others. Why did he twice throw a look into the glass in the act of passing it? Why did he for a moment stand with erect head facing it?
Sir Austin scrutinises himself, finds himself dignified in appearance, but gazes with wide eyes, "as one who looks at this essential self through the mask we wear." Nevertheless, he is unable to grasp what lies between the lines of the letter. He is primarily concerned with Lady Blandish's view of him, so neither his reflection nor his reflections tell him anything worthwhile. It is left to the narrator to remark cynically on his lack of a sense of humour: "a good wind of laughter had relieved him of much of the blight of self-deception, and oddness, and extravagance; had given a healthier view of our atmosphere of life: but he had it not" (203-4). Without such a corrective, Sir Austin cannot see that he might be wrong to interfere in his son's relationship. All Meredith is here already, in this one brief episode: his faith in the good sense of women; his concern with the elusiveness of meaning; and above all his lifelong conviction that self-importance and self-deception must be swept away by the comic principle, an idea he would later explore in his Essay on Comedy.
As it is, Sir Austin manages to put the letter out of his mind and continues to be obtuse. Richard's duplicitously dutiful letters to him from London, when he is planning his secret marriage, strike his father as "rather monotonous and spiritless," but arouse no suspicion in him. On the contrary: "The letters of a healthful physique!" he crows, thinking Richard has got over the "Apple Disease" of his wayward first love, after the debacle of his earlier attempt at a reunion with Lucy. "Complacently he sat and smiled, little witting that his son's Ordeal was imminent and that his son's Ordeal was to be his own" (275).
Note on the Edition
Details of both Penguin and Scribner's editions of the novel are given below, but the references in this essay are all to the former. Only the frontispiece comes from the latter. The Penguin edition is preferred because it follows the first edition of the novel, as published originally by Chapman & Hall in 1859, before Meredith condensed the first four chapters into one. He may have done this to dilute their eighteenth-century flavour, to reduce the stress on Sir Austin's misogyny, or perhaps in response to criticisms of Sir Austin's "System." Some critics approve the revisions, seeing the original beginning as "a false start" (Stevenson 39); others disagree: "Ideally one should read the text of the first edition" (Bartlett 21). In general, the first edition seems preferable, because so much was lost in the revisions, including the details of Lady Feverel's visit to Richard's bedside in childhood — and the "rose-pink" showers of letters discussed in this essay.
Related Material
Works Cited
Bartlett, Phyllis. George Meredith. London: Longman's, 1963.
Beer, Gillian. Meredith: A Change of Masks: A Study of the Novels. London: Athlone, 1970.
Davies, Stevie. Introduction. The Tenant of Wildfell Hall. By Anne Brontë. London: Penguin Classics, 1996. vii-xxx.
Meredith, George. The Ordeal of Richard Feverel: A History of Father and Son. Ed. Edward Mendelson. London: Penguin Classics, 1998.
_____. The Ordeal of Richard Feverel: A History of Father and Son. Revised ed. New York: Scribner's, 1900. Available here
Stevenson, Richard C. The Experimental Impulse in George Meredith's Fiction. Lewisburg: Bucknell University Press, 2004.
Stoker, Bram. Dracula. Ed. Maurice Hindle. London: Penguin Classics, 2004.
---
Last modified 7 July 2010