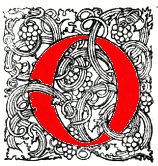 n July 28, 1866 Beatrix Potter, the world-renowned children's author was born in London to wealthy parents. Helen Potter, the author's mother, had social ambitions for her family (Taylor 10-17) that Beatrix did not share. Her illness and few friends led to a rather isolated childhood until her brother Bertram was born in 1872. As they grew older, Beatrix and Bertram both enjoyed sketching and drawing from nature; Beatrix would become famous through her picture books, while Bertram, in later life, maintained himself as an artist and a farmer. Potter's parents engaged a governess and tutors for Potter's education until 1885, when she turned 19 (Lear 42-45, 67). After her education, Potter sought different ways in which to gain financial and personal freedom.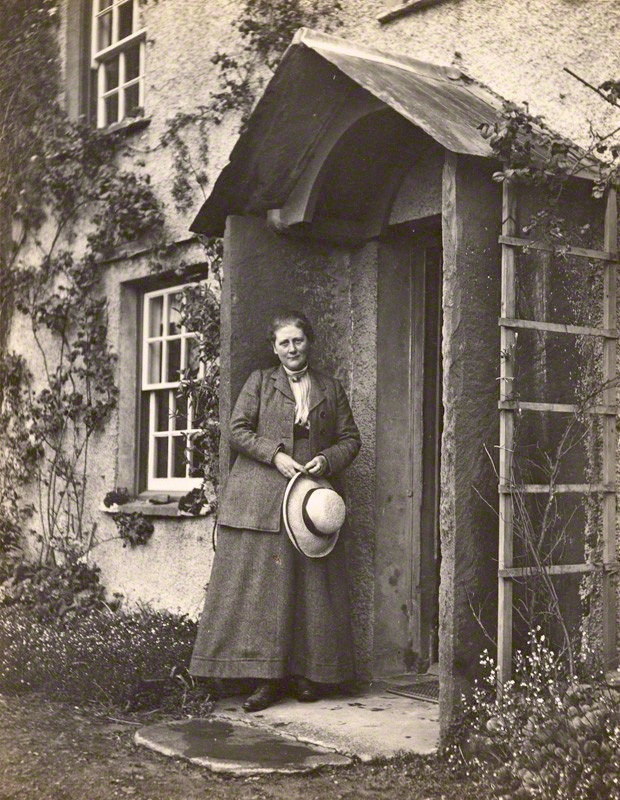 Beatrix Potter (Mrs Heelis), by Charles G.Y. King; vintage snapshot print, May 1913.
© National Portrait Gallery, London — P1825. [Click on image to enlarge it.]
Before devoting herself to writing, Beatrix Potter continued to draw, and the focus of her sketches turned to fungi, which she studied and drew intensively between 1892 and 1897. Potter conducted research and tried to present her work to the scientific community but encountered indifference from the scientific community, which has largely been attributed to Potter not being taken seriously because she was a woman. Linda Lear, one of Potter's biographers, observes that Potter's lack of formal training and laboratory resources (giving her the status of an amateur) may have played an additional role in the scientific community's disregard of her work (112-14). In 1897, after submitting a paper to the Linnean Society and withdrawing it a few months later, Potter's focus shifted again. As Lear points out, Potter had never stopped drawing animals and had drawn illustrations for various children's stories (127-28). Now, Potter made a concentrated effort to combine her artistic talents with stories. In the midst of looking for publishers, Potter self published The Tale of Peter Rabbit (1901), and the story became so popular that it was in its fifth edition in 1903 (Lear 152). In the midst of privately printing her work, Potter did find a publishing house, Frederick Warne, which published The Tale of Peter Rabbit in 1902. Over the course of the next ten years, the company published at least one book by Potter every year, and she had a long-standing business relationship with the firm.
Potter's connection to this publisher had a great effect upon her personal life. Working closely on her books with one of the editors, Norman Warne, developed into a deep friendship, which turned into romance and Warne's proposal of marriage in the summer of 1905. Potter accepted Warne despite her parents' vehement opposition, but he died of leukemia on August 25, 1905 (Lane 134-38). During her friendship with Warne, Potter had also grown close to his sister Millie, and their friendship continued throughout Potter's life (Taylor 105). Potter also knew other members of the family including Warne's nieces and felt a deep loyalty to the company. When one of Warne's other brothers, Harold Warne, was arrested for fraud in 1917, Potter helped the firm by writing Appley Dapply's Nursery Rhymes and creating two new painting books based on her characters (Lear 284-88).
Potter proved to be a savvy businesswoman, and she capitalized on the popularity of her children's stories by creating associated merchandise – toys, board games, and wallpaper to name a few (Taylor 96, 98). Potter showed active involvement in the production of her work and insisted that prices for her books be kept low (Lear 148, Taylor 76). Revenue from her work helped Potter buy Hill Top farm in the village of Near Sawrey in the Lake District. From this first purchase in 1905, Potter continued to acquire land whenever she could. Potter began to work closely with a solicitor, William Heelis, who helped Potter in finding and purchasing land. In a manner similar to the way Potter's relationship had grown with Warne, her friendship with Heelis deepened into love (Lane 191, Lear 248, 249-250). Potter married Heelis in 1913, and while she continued to write and draw, her attention turned increasingly to farming and the preservation of the Lake District. After the death of Potter in 1943 and Heelis in 1945, their estate went to the National Trust.
Potter's works for children have generated interest in a variety of readers, and her drawings have been noted for their accuracy. Her letters (both business and personal) make clear that she worked on her drawings with painstaking care. Potter displayed the same attention to the wording of her text and to the finer details of production. Her stories not only gained her an audience in Britain, but an international one as well. Likewise, Potter's works have retained their appeal for modern audiences.
Critical attention to Potter's tales has covered a range of topics from the role clothing or food play (see Scott and Evans) to issues of property, gender, and class, about which Nicolas Blomley and Suzanne Rahn have written. Potter's treatment of life in the country quietly acknowledges that animals eat each other and that humans also consume animals. Peter Rabbit's father famously ends up as rabbit pie, and two puppies eat Jemima Puddle-duck's precious eggs (to say nothing about the attempt on her life by a fox). Potter's characters frequently appear in several stories, and stories frequently refer to one another.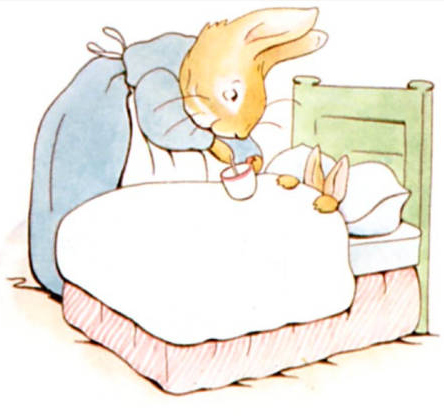 Title-page vignette of Peter Rabbit in which Peter's mother gives him a dose of camomile tea while her other children "have bread and milk and blackberries for supper." [Click on image to enlarge it.]
For example, in The Tale of Benjamin Bunny Peter overhears his mother calling to one of her daughters to fetch some camomile. At the end of The Tale of Peter Rabbit, Peter is dosed with camomile, and in Benjamin Bunny the reader discovers Peter's reaction to this particular treatment. At the mention of camomile in the latter work, Potter's narrator dryly states: "Peter said he thought he might feel better if he went for a walk" (21). This quiet (under)statement and dry humor are characteristic of much of Potter's works and may explain, at least in part, her continued appeal.
Bibliography
Blomley, Nicholas. "The Boundaries of Property: Lessons from Beatrix Potter." Canadian Geographer 48.2 (2004): 91-100. EBSCO. Web. 15 July 2014.
Evans, Heather A. "Kittens and Kitchens: Food, Gender, and the Tale of Samuel Whiskers." Victorian Literature and Culture 36.2 (2008): 603-623. JSTOR. Web. 22 June 2014.
Kutzer, M. Daphne. "A Wilderness Inside: Domestic Space in the Work of Beatrix Potter. The Lion and the Unicorn 21.2 (1997): 204-214. Project Muse. Web. 4 January 2013.
Lane, Margaret. The Magic Years of Beatrix Potter. London and NY: Frederick Warne, 1978, 1979. Print.
Lear, Linda. Beatrix Potter: A Life in Nature. NY: St. Martin's Press, 2007. Print.
Potter, Beatrix. The Tale of Benjamin Bunny. NY: Frederick Warne & Co., Inc., 1932. Print.
Rahn, Suzanne. "Tailpiece: The Tale of Two Bad Mice." Children's Literature 12 (1984): 78-91. Project Muse. Web. 4 January 2013.
Scott, Carole. "Clothed in Nature or Nature Clothed: Dress as Metaphor in the Illustrations of Beatrix Potter and C. M. Barker. Children's Literature 22.1 (1994): 70-89. Project Muse. Web. 4 January 2013.
Taylor, Judy. Beatrix Potter: Artist, Storyteller and Countrywoman. London and NY: Frederick Warne, 1986, 1987. Print.
---
Last modified 16 July 2014