You may use the images added to this review without prior permission for any scholarly or educational purpose as long as you (1) credit the source and (2) link your document to this URL in a web document or cite the Victorian Web in a print one. — JB [Click on the images to enlarge them, and for more information where available.]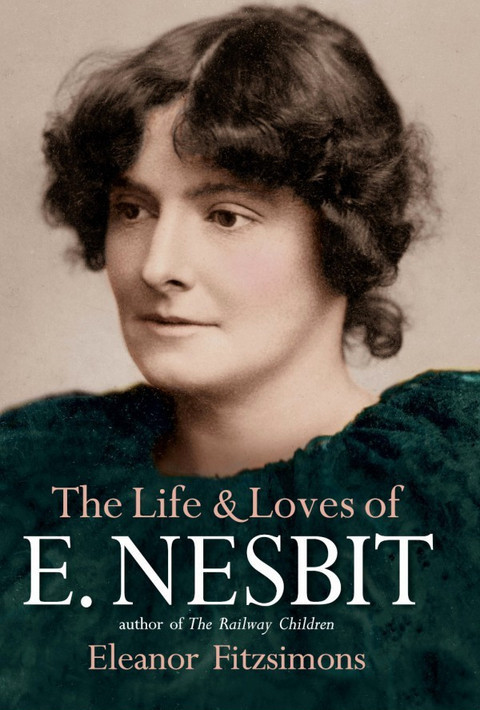 Just below the title, the dust-jacket of this biography carries the words "author of The Railway Children," as if to acknowledge that potential readers may not all be aware of the subject's identity. Edith Nesbit began to publish in the middle of the 1880s when she was still in her 20s. She published rather less from the beginning of the First World War until her death in 1924. Pretty well all the work for which she is remembered was produced around the first decade of the twentieth century — The Story of the Treasure Seekers (1899), The Wouldbegoods (1901), Five Children and It (1901), The Phoenix and the Carpet (1904), The Story of the Amulet (1906) and, of course, also published in 1906, the memorably filmed story of the "railway children": two sisters and a brother leading an impoverished life in the north with a father wrongfully imprisoned, and a mother writing and selling stories to house and feed her family. Despite the popularity of this novel, much the greater part of Nesbit's work has been unread for a century or more, although several of her other stories for children continue to be cherished now, as they were by earlier readers as widely different as C. S. Lewis and Noel Coward.
There were two full-length biographies of E. Nesbit (never Edith in her books) before Eleanor Fitzsimons set to work. Doris Langley Moore's was the first. Her E. Nesbit was published in 1933, close enough to Nesbit's death for her to have been able to draw on the memories of her friends and children. When Julia Briggs published A Woman of Passion — The Life of E. Nesbit 1858-1924 in 1987, she went out of her way to acknowledge the debt owed to Mrs Moore by anyone writing about Nesbit. Her book was nearly five hundred pages in all, covering her subject's writing in depth, and including a family tree, numerous footnotes and a full bibliography. Fitzsimons has written a somewhat shorter book, justifying her project in part because the 1933 and 1987 biographies are now out of print, also because of Nesbit's appeal to younger readers, and because so many features of her life are unexpected and interesting. As the wording of the title itself indicates, Fitzsimons looks at people who were close to her for part of her life — the "Loves" — as well as covering her own personality and achievements.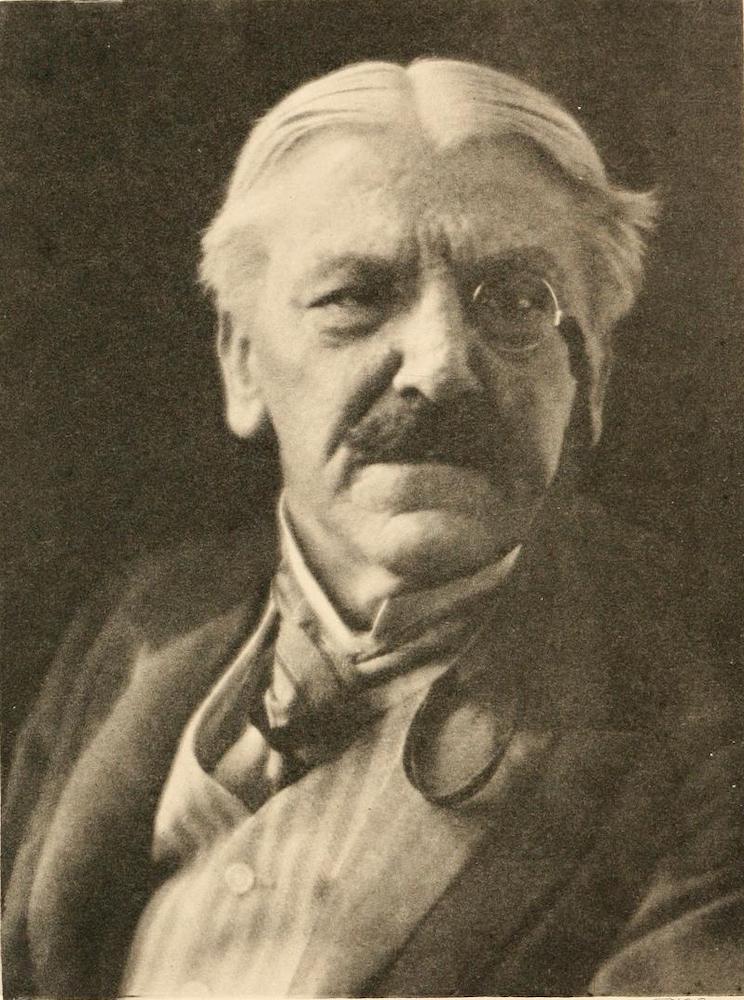 Hubert Bland. Source: photographic frontispiece to Bland's collected Essays.
In her introduction, Fitzsimons rightly says that Nesbit's life was "just as extraordinary as anything found in the pages of her books" (xii). To start with, she was seven months pregnant when she married Hubert Bland in 1880 at a registry office. The marriage remained unconventional. Until his mother died in 1893, Hubert spent a considerable part of every week with her rather than in the family home. This made it easier for him to pursue relationships with other women. Edith clearly knew what was going on, most obviously because two of his children who were presented to the world as Edith's were actually his children with Alice Hoatson. In due course, Alice came to live with them, helping to run the house and look after Hubert's three children with Edith, alongside the two to whom she had given birth. Which of their friends understood these complex relationships is less clear. Certainly, for most of their childhoods, all five children thought that Edith was their mother.
Edith's tolerance was remarkable. Looking back, her close friend and confidante, Ada Breakell, "could not recall her friend ever saying a word against [Hubert], nor complaining about the infidelities he took so little trouble to conceal" (54-55). Later in life, Hubert and Edith were both loosely connected to the Catholic Church but this didn't go as far as a commitment to conventional morality. Edith's relationships with men may not have been as close physically as Hubert's with women, but they mattered greatly to her. When she was younger she had close friendships with H. G. Wells and G. B. Shaw. As she got older she kept up friendships with several younger men who were less distinguished than Wells and Shaw. Perhaps the best explanation for her tolerance of Bland's infidelities is that she loved him throughout their marriage and that the unconventional features of his behaviour were part of what she loved.
H. G. Wells and G. B. Shaw, with both of whom Nesbit had close friendships, drawn by E. Harries. Source: Hopkins, facing 160).
In their early years the couple were heavily involved in the development of the Fabian Society. Fitzsimons describes her as "an enthusiastic Fabian from the start," subscribing to its stated aim of reconstructing society "in such a manner as to secure the general welfare and happiness" (65). Although they moved on to other interests, they retained the broad political values that led them to the Fabians. In Edith's case that was reflected in a consistent interest in supporting less well-off people living around their home. In politics as in other areas of her life she could be surprising. Perhaps because of Hubert's views she argued strongly against votes for women: "Edith held extraordinarily traditional views on gender, although she rarely fulfilled the role of a traditional woman herself" (227).
Nesbit was never rich or even securely comfortable. When she and her husband were at the peak of their success as writers they occupied a very large house in South London and entertained many friends every weekend. But they spent what they earned and never lived in a house they owned. As they got older, they had no capital and their income dwindled. Hubert died in early 1914 and Edith was reduced to taking "paying guests" (273) in her large house.
After Herbert's unexpected death, Edith made a successfully conventional and apparently happy second marriage in 1917 to a retired merchant navy engineer, Tommy Tucker. He was immensely practical. He didn't begin to share Nesbit's literary interests but he was on the political left. His determination to care for her whether or not she agreed to marry him makes this the most heartening of her many relationships with men. They moved down to Romney Marsh, bought two brick-built decommissioned huts which had been used by the Air Force and made them into their home. Edith was cared for to her death by her second husband. She died, possibly of lung cancer, at the age of 65 and left £660. Even in 1924 that was not much money for a writer some of whose books continue to be read with enthusiasm in the twenty-first century.
The Psammead (or sand-fairy), an illustration by H. R. Millar. Source: frontispiece to Five Children and It.
This latest biography of Nesbit will attract anyone who wants a relatively short and very readable account of her unusual life, and a flavour of the world of writers inclined to the left wing from the 1880s to the First World War. Anyone who has an appetite for a scholarly account which covers ground of less general interest might like to supplement it by searching for Julia Briggs's book in a library or on the internet.
Related Material
Bibliography
Book under Review: Fitzsimons, Eleanor. The Life and Loves of E. Nesbit. London: Duckworth, 2019. 337 + xiii pp. ISBN 9 780715 651469. £20.00.
[Illustration source] Bland, Hubert. Essays by Hubert Bland: "Hubert" of the Sunday Chronicle. Selected by E. Nesbit Bland. London: Max Goschen, 1914. Internet Archive. Contributed by University of California Libraries. Web. 16 February 2020.
[Illustration source] Hopkins, Robert Thurston. H. G. Wells: Personality, Character, Topography. New York: Dutton, n.d. Internet Archive. Contributed by Robarts Library, University of Toronto. Web. 16 February 2020.
[Illustration source] Nesbit, E. Five Children and It. New York: Dodd, Mead & Co., 1905. Project Gutenberg. Produced by Jason Isbell and the Online Distributed Proofreading Team. Web. 16 February 2020.
---
Created 16 February 2020