[An abstract of a presentation delivered at the July 1995 Symposium in Sante Fe, New Mexico, on the occasion of the world premiere of David Lang and Manuela Holterhof's opera about Ruskin, Modern Painters.]

ose La Touche has a mute role in David Lang's Modern Painters, and in fact to Ruskin she had become, by the age of eighteen, unreachable and silent. He once remarked that she had renounced him to become a saint. As a teenager Rose was obsessed with her health and with resolving the fine points of religious practice. Yet at ten she had been a playful and acute young girl. In this short paper, I want to revive Rose as Ruskin first knew her, in her early letters to him from 1858-61, and show the first hints of her growing remoteness.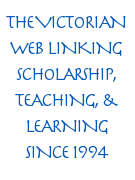 In her correspondence, Rose is the obliging pet of a famous critic, and he the most exigent of her tutors. As his pupil, she tries to see all of art and landscape through his eyes, and her world resonates Ruskin, just as his will echo Rose after she disappears. ("I want my Rose in my garden," Ruskin cries at the end of the opera.) Yet young Rose senses, in her relations with the finest English art critic, entanglement. In the role her own mother has coveted, she tries to appease a man of overwhelming imagination. Answering his own endearments with pet-names like "Archigosaurus" and "St. Crumpet," she displays a defensive and intimidated affection. "How can you wish to be a parrot — are you not our saint," she writes, trying to restore authority to a man who acts as her playmate. A slip of the pen (which I shall discuss) betrays her response to Ruskin's enormous desires for her innocence and docility, for the shelter of her parents, for his own childhood. Ruskin's courtship aggravated Rose's strained relations with her family, and her "spiritual crisis" of 1863 may have been a nervous breakdown. The author of Modern Painters lost his "pet," but he was able to color her (he sings) in "rocks and woods and clouds and air." As her early letters and diaries suggest, he had invested Rose with more significance than she could bear.
---
Last modified 1995