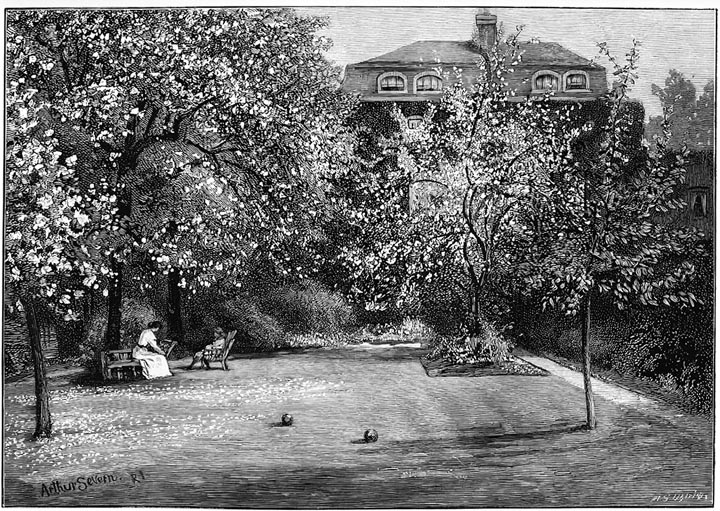 The Garden at Herne Hill. Source: Works, facing 35.36. Scanned image and text by George P. Landow [This image may be used without prior permission for any scholarly or educational purpose.]
Ruskkin opens "Herne-Hill Almond Blossoms," the second chapter of Praeterita, describing the house his parents obtained when he was a very young child, after which he describes its gardens — the first of many Paradises Lost we encounter in his autobigraphy:
It had front and back garden in sufficient proportion to its size; the front, richly set with old evergreens, and well-grown lilac and laburnum; the back, seventy yards long by twenty wide, renowned over all the hill for its pears and apples, which had been chosen with extreme care by our predecessor, (shame on me to forget the name of a man to whom I owe so much) and possessing also a strong old mulberry tree, a tall white-heart cherry tree, a black Kentish one, and an almost unbroken hedge, all round, of alternate gooseberry and currant bush; decked, in due season, (for the ground was wholly beneficent,) with magical splendour of abundant fruit: fresh green, soft amber, and rough-bristled crimson bending the spinous branches; clustered pearl and pendant ruby joyfully discoverable under the large leaves that looked like vine.
The differences of primal importance which I observed between the nature of this garden, and that of Eden, as I had imagined it, were, that, in this one, all the fruit was forbidden; and there were no companionable beasts: in other respects the little domain answered every purpose of Paradise to me; and the climate, in that cycle of our years, allowed me to pass most of my life in it. My mother never gave me more to learn than she knew I could easily get learnt, if I set myself honestly to work, by twelve o'clock. She never allowed anything to disturb me when my task was set; if it was not said rightly by twelve o'clock, I was kept in till I knew it, and in general, even when Latin Grammar came to supplement the Psalms, I was my own master for at least an hour before half-past one dinner, and for the rest of the afternoon.
My mother, herself finding her chief personal pleasure in her flowers, was often planting or pruning beside me, at least if I chose to stay beside her. I never thought of doing anything behind her back which I would not have done before her face; and her presence was therefore no restraint to me; but, also, no particular pleasure, for, from having always been left so much alone, I had generally my own little affairs to see after; and, on the whole, by the time I was seven years old, was already getting too independent, mentally, even of my father and mother; and, having nobody else to be dependent upon, began to lead a very small, perky, contented, conceited, Cock-Robinson-Crusoe sort of life, in the central point which it appeared to me, (as it must naturally appear to geometrical animals,) that I occupied in the universe.
References
Ruskin, John. Works, "The Library Edition." eds. E. T. Cook and Alexander Wedderburn. 39 vols. London: George Allen, 1903-1912.
---
Last modified 21 June 2007