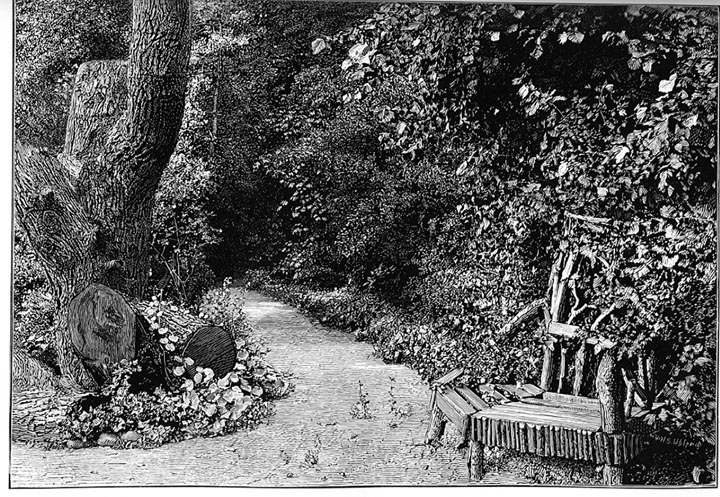 Ruskin's walk in the garden at Denmark Hill. Source: Works, facing 35.560. [Compare rear view] Scanned image and text by George P. Landow [This image may be used without prior permission for any scholarly or educational purpose.] In Praetrita Ruskin describes the grounds of Denmark Hill:
The house on Denmark Hill . . . stood in command of seven acres of healthy ground (a patch of local gravel there overlying the London clay); half of it in meadow sloping to the sunrise, the rest prudently and pleasantly divided into an upper and lower kitchen garden; a fruitful bit of orchard, and chance inlets and outlets of woodwalk, opening to the sunny path by the field, which was gladdened on its other side in springtime by flushes of almond and double peach blossom. Scarce all the hyacinths and heath of Brantwood redeem the loss of these to me, and when the summer winds have wrecked the wreaths of our wild roses, I am apt to think sorrowfully of the trailings and climbings of deep purple convolvulus which bloomed full every autumn morning round the trunks of the apple trees in the kitchen garden. [Chapter VIII, "The State of Denmark," 35.379-80]
References
Ruskin, John. Works, "The Library Edition." eds. E. T. Cook and Alexander Wedderburn. 39 vols. London: George Allen, 1903-1912.
---
Last modified 21 June 2007