The folowing extract retains the original spelling and punctuation. The numbers in brackets indicate page breaks in the print edition in order to enable users of VW to cite or locate the original page numbers [GPL].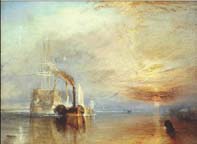 The Fighting Temeraire tugged to her last Berth to be Broken up, 1838 by Turner. Click upon picture for larger image and additional information.
If you are particularly anxious to know what is the best picture in the room, not the biggest (Sir David Wilkie's is the biggest, and exactly contrary to the best), I must request you to turn your attention to a noble river-piece by J. W. M. Turner, Esquire, R.A., "The Fighting Téméraire" — as grand a painting as ever figured on the walls of any Academy, or came from the easel of any painter. The old Téméraire is dragged to her last home by a little, spiteful, diabolical steamer. A mighty red sun, [273/274] amidst a host of flaring clouds, sinks to rest on one side of the picture, and illumines a river that seems interminable, and a countless navy that fades away into such a wonderful distance as never was painted before. The little demon of a steamer is belching out a volume (why do I say a volume? not a hundred volumes could express it) of foul, lurid, red-hot, malignant smoke, paddling furiously, and lashing up the water round about it; while behind it (a cold grey moon looking down on it), slow, sad, and majestic, follows the brave old ship, with death, as it were, written on her. I think . . .we ought not, in common gratitude, to sacrifice entirely these noble old champions of ours, but that we should have somewhere a museum of their skeletons, which our children might visit, and think of the brave deeds which were done in them. The bones of the Agammemnon and the Captain, the Vanguard, the Culloden, and the Victory ought to be sacred relics, for Englishmen to worship almost. Think of them when alive, and braving the battle and the breeze, they carried Nelson and his heroes victorious by the aape of Saint Vincent, in the dark waters of Aboukir, and through the fatal conflict of Trafalgar. All these things, my dear Bricabrac, are, you will say, absurd, and not to the purpose. Be it so; but Bowbellites as we are, we Cockneys feel our hearts leap up when we recall them to memory; and every clerk in Threadneedle Street feels the strength of a Nelson, when he thinks of the mighty actions performed by him.
It is absurd, you will say (and with a great deal of reason), for Titmarsh, or any other Briton, to grow so politically enthusiastic about a four-foot canvas, representing a ship, a steamer, a river, and a sunset. But herein surely lies thc power of the great artist. He makes you see and think of a great deal more than the objects before you; he knows how to soothe or intoxicate, to fire or to depress, by a few notes, or forms, or colours, of which we cannot trace the effect to the source, but only acknowledge the power. I recollect some years ago, at the theatre at Weimar, hearing Beethoven's "Battle of Vittoria," in which, amidst a storm of glorious music, the air of " God save the King" was introduced. The very instant it began, every Englishman in the house was bolt upright, and so stood reverently until the air was played out. Why so? From some such thrill of excitement as makes us glow and rejoice over Mr. Turner and his "Fighting Téméraire" which I am sure, when the art of translating colours into music or poetry shall be discovered, will be found to be a magnificent national ode or piece of music. [274/275]
I must tell you, however, that Mr. Turner's performances are the most part quite incomprehensible. to me; and that his other pictures, which he is pleased to call "Cicero at his Villa," "Agrippina with the Ashes of Germanicus," "Pluto carrying off Proserpina," or what you will, are not a whit more natural, or less mad, than they used to be in former years, since he has taken nature, or attempted (like your French barbers) to embellish it. . . . O ye gods ! why will he not stick to copying her majestical countenance, instead of daubing it with some absurd antics and fard of his own? Fancy pea-green skies, crimson-lake trees, and orange and purple grass — fancy cataracts, rainbows, suns, moons, and thunderbolts — shake them well up, with a quantity of gamboge, and you will have an idea of a fancy picture by Turner. It is worth a shilling alone to goand see " Pluto and Proserpina." Such a landscape! such figures! such a little red-hot coal-scuttle of a chariot! [275]
References
Thackeray, William Makepeace. "May Gambols; or, Titmarsh on the Picture Galleries." Ballads and Miscellanies. (Volume 13 in the "Biographical Edition" of Works.) London: Smith Elder, 1899. 419-445.
---
Last modified 29 November 2004