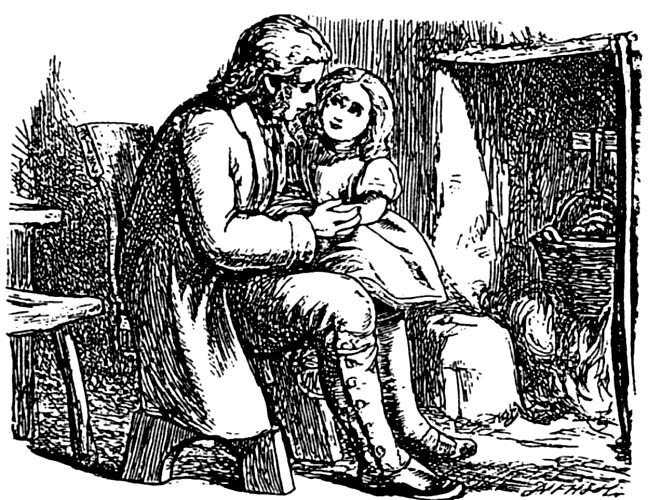 Little Christine [elsewhere Christina] from an engraving by the Brothers Dalziel in Hans Christian Andersen's Stories for the Household, trans. H.W. Dulcken (London: Routledge, 1866), p.484. Scanned image and text by Jacqueline Banerjee. [You may use this image without prior permission for any scholarly or educational purpose as long as you (1) credit the photographer and (2) link your document to this URL.]
Little Christina is a good example of the Romantic child in the Victorian period, though she only appears briefly at the end of the tale, and is reduced to a cosy domesticity there:
It is as warm and comfortable as if it were summer; sunshine is here, the kind that shines from a child's eyes. Though it is October, the lark still sings in the little girl's laughter. Here lives gaiety and winter is far away. Little Christina is on Ib's knee; he is both father and mother to her. Her real parents have disappeared, as dreams do to a grownup. The little farmhouse is cosy and neat....
They say Ib has a tidy sum put away, gold from the earth; he is rich, and he has his little Christina. [Trans. Haugaard 478]
This tale is also an example of the possible links between children's literature and literature for adults. The close association of the golden child and "gold from the earth" (a valuable armlet ploughed up by Ib in his field) and the way Ib's years of loneliness and desolation are banished by caring for Christina, are echoed in George Eliot's Silas Marner (1861). Needless to day, the novel greatly elaborates on such ideas, but here too the ending is bathed in sunlight and joy. Andersen's tale was first published in Danish in 1855, and subsequently translated into German before appearing in English; Eliot might well have come into contact with it before she started writing her novel. As an aunt to her sister's young children, she certainly recognized the value of children's books, drawing a delightful picture in Middlemarch of Mary Garth telling fairy stories to the younger Vincy children. Interestingly, Eliot did say in a letter of 24 February 1861 that Silas Marner came to her as "a sort of legendary tale" (Letters 3: 382). Andersen, who himself wished to reach an adult audience, was of course greatly admired by Victorians from Thackeray and Dickens to Elizabeth Barrett Browning, and certainly influenced Oscar Wilde in stories like "The Fisherman and The Soul."
Sources
Andersen, Hans Christian. The Complete Fairy Tales and Stories. Trans. Erik Christian Haugaard. New York: Anchor, 1983.
Eliot, George. The George Eliot Letters, ed. Gordon S.Haight. 9 Vols. New Haven: Yale Univ. Press, 1954-78.
---
Last modified 12 August 2007