Photographs by the present author, except for the last, which was taken by Ipshita Banerji. Thanks also to George Landow for his helpful comments on an earlier version of this piece, and to the British Library for allowing me to use the image from Sir Thomas Metcalfe's Reminiscences of Imperial Dehlie (1844), which appears in its Online Gallery. Please see their site for conditions of reuse. You may use the other images without prior permission for any scholarly or educational purpose as long as you (1) credit the photographer and (2) link your document to this URL in a web document or cite the Victorian Web in a print one. [Click on the images for larger pictures.]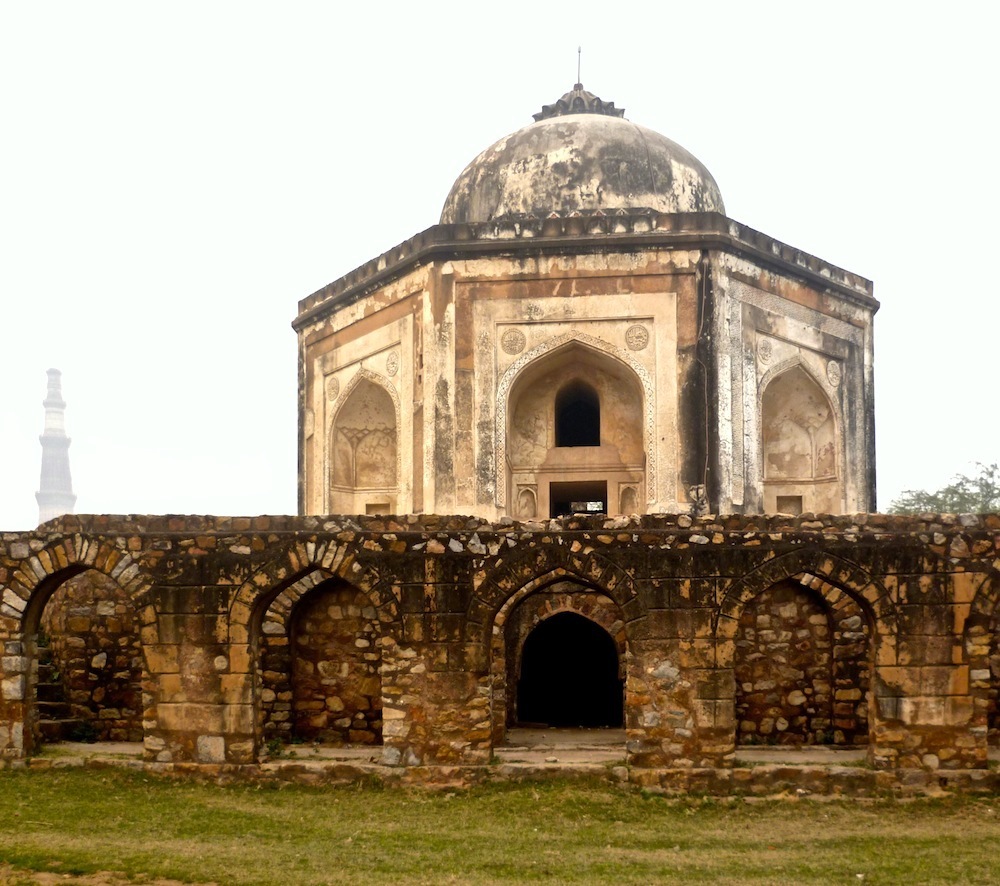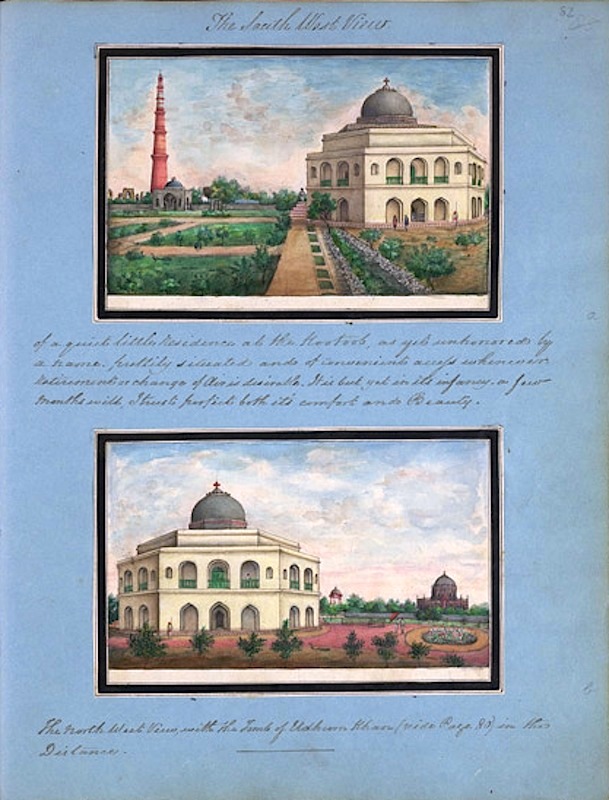 Left: The early seventeenth-century tomb of Muhammad Quli Khan, in the Mehrauli Archaeological Park, south west Delhi, in a recent photograph. Right: Sir Thomas Metcalfe's elaborate early Victorian conversion of the tomb into a summer retreat — his "Dilkusha" or "Heart's Delight" — as shown in his album, Reminiscences of Imperial Dehlie (1844). Note the Qtub Minar in the background.
Sir Thomas Metcalfe (1795-1853) came from a distinguished line of Anglo-Indian administrators. Son of a wealthy director of the East India Company, in 1835 he succeeded his elder brother Charles, who had been appointed acting-governor of India, as agent and civil commissioner in Delhi. In this capacity, he was responsible for the Company's dealings with the last Mughal Emperor, Bahadur Shah Zafar II, and also for the civil administration of the Delhi territory. Having worked his way up to this position since 1813, he already lived in great style. Metcalfe House, built in about 1830, was a magnificent mansion by the Jumna river in the north east of Delhi, long, low and surrounded by a verandah within rows of stately columns. Some of its living space had been tunnelled under the river-bed below the front verandah, to give refuge from the Delhi heat. Though not unknown elsewhere, this arrangement was "very unusual" in Delhi itself (Davies 143).
Still more unusual were the features of the retreat that Metcalfe later acquired in Mehrauli, a district in the south west of Delhi, close to the Qtub Minar. He himself described the elegant domed structure, with its good views and exquisite internal decorations, as "a quiet little residence at the Kootoob [the Qtub Minar, a twelfth-century tower], as yet unhonored by a name. Prettily situated and of convenient access whenever retirement or change of air is desirable." These were his words in an album prepared for his "Very Dear Girls" in 1844, when his daughters were at school in England, and which is inscribed on the first page, "Emily Annie Theophila Bayley. Her Father's Gift" (Bayley 87). He had commissioned a prominent local topographical artist Mazhar Ali Khan, and other Company artists whose work remained unsigned, to provide illustrations of Delhi monuments, and had then added his own handwritten commentaries on them. At this time, the second home described and illustrated here was evidently a recent project. He continues, "a few months will, I trust perfect both its comfort and beauty." The "quiet little residence" that he was busy "perfecting" was in fact the tomb of Muhammad Quli Khan, brother of Adham Khan, said to have been foster-brother to the great sixteenth-century emperor Akbar, and a general in his army.
The illustrations show that Metcalfe had greatly transformed the tomb already. The tomb, as it was before and is again now, is hexagonal in shape, with one ogee arch on each side. However, the watercolours show three ogee arches on each side of what had then been developed into a substantial two-storey building. Jan Morris explains that Metcalfe had added an "octagonal series of rooms," around the tomb's "cool core" (39). According to Emily, who was his eldest daughter, Metcalfe made no use of the ground floor "below which the tomb lay," and the living area on the higher level took the form of
a suite of rooms in the verandah surrounding the central hall above, which he used as a dining room.... and consisted of my Father's bedroom and library, a drawing-room and my bed-room, a tiny room called an oratory, and two entrance halls, east and west, which were reached by flights of steps from outside. [Bayley 146]
Morris adds that these "entrance halls on two sides ... gave the whole a consequential symmetry" (39).
Metcalfe was not the only British official to turn a Muslim tomb to his own purposes. The British Governor of Lahore was another who did so. This kind of conversion might strike us now as disrespectful of the dead, if not actually sacrilegious, but it appears not to have been seen like that then, at least by the British. In fact, says Sylvia Shorto, in an essay wittily entitled, "A Tomb of One's Own," they regarded it in a positive light, "as a means of saving endangered or derelict buildings" (159). At any rate, the original purpose of the quarters seems not to have bothered the new occupants. In 1844 Metcalfe's second home was clearly well on its way to earning the name with which he eventually "honoured" it — "Dilkusha" or "Heart's Delight."
For Metcalfe, an additional advantage was the retreat's convenient location, close to the Emperor's own summer retreat. The album page shown above presents two views of it. At the top is the south-west view, with the Qtb Minar in the distance. Below this is the north-west view, with the tomb of Adham Khan himself (Quli Khan's brother, mentioned above), in the distance.
Interior of the tomb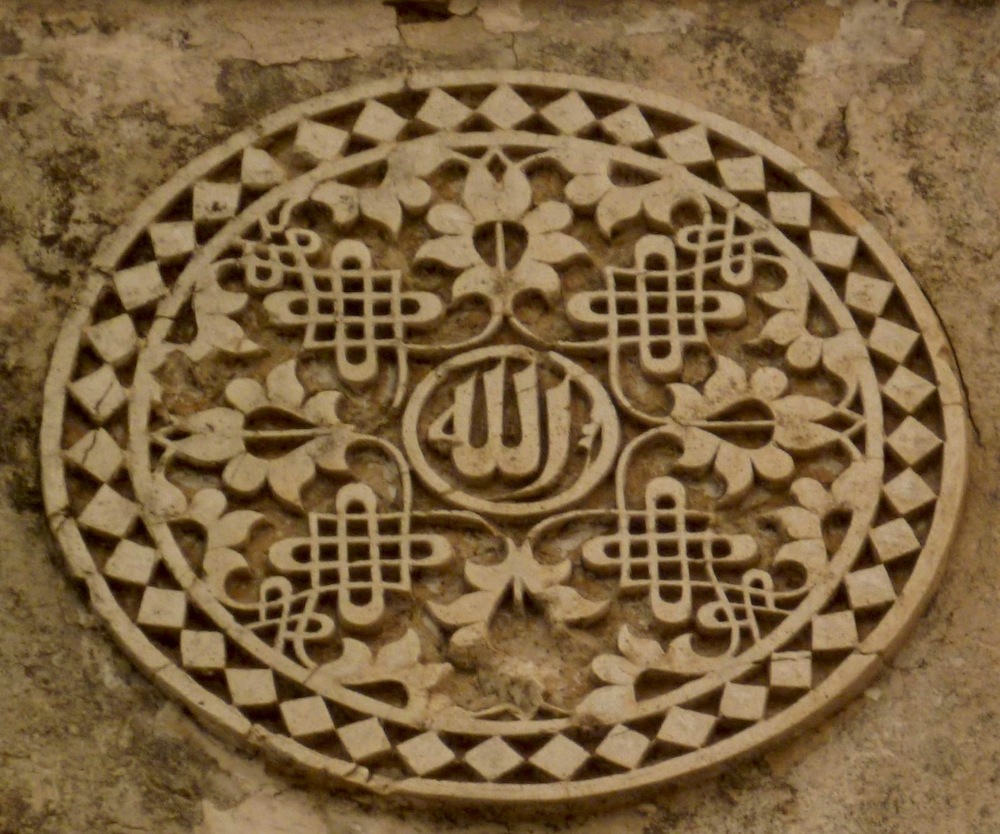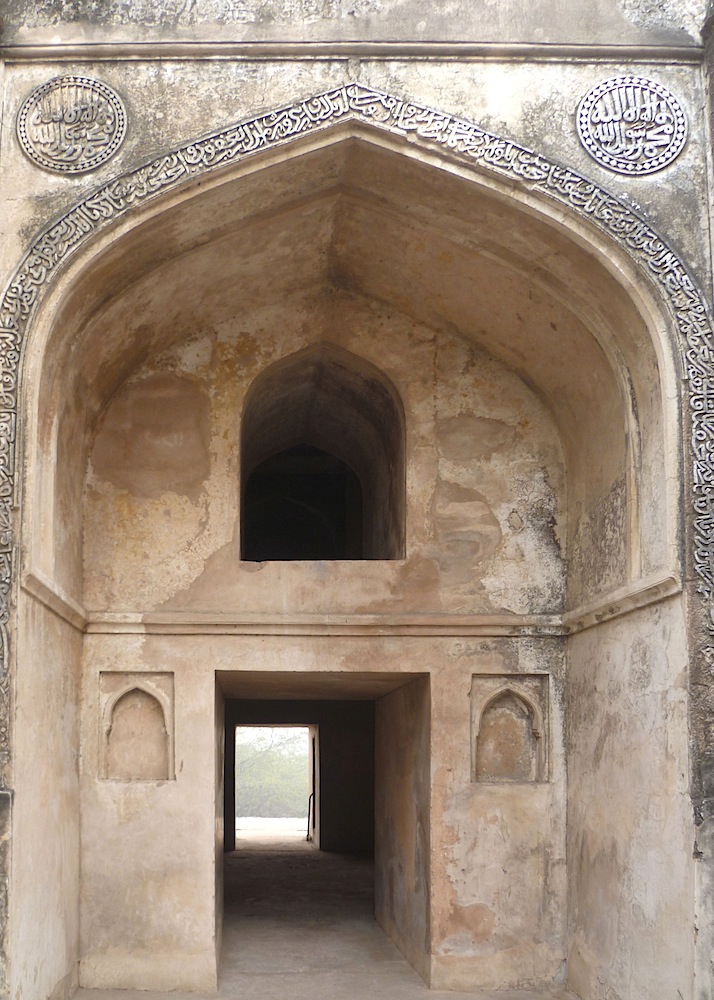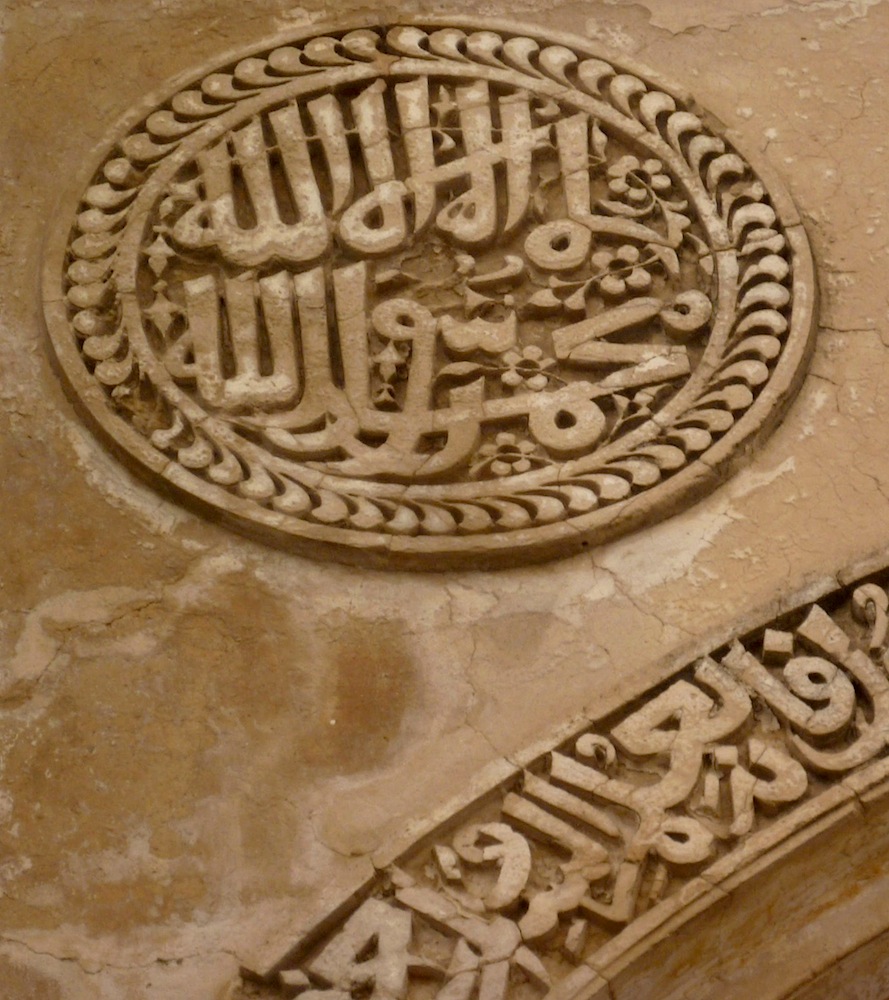 Left to right: (a) Medallion above one of the doorways, with a floral pattern and Islamic inscription. (b) One of the doorways, with a fine calligraphy border. (c) Another medallion.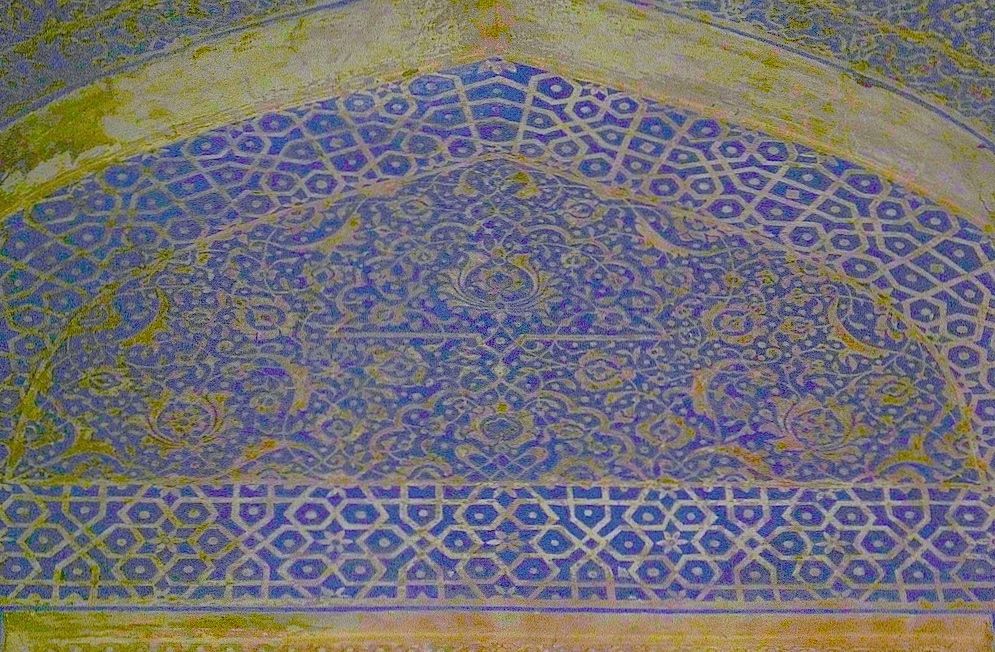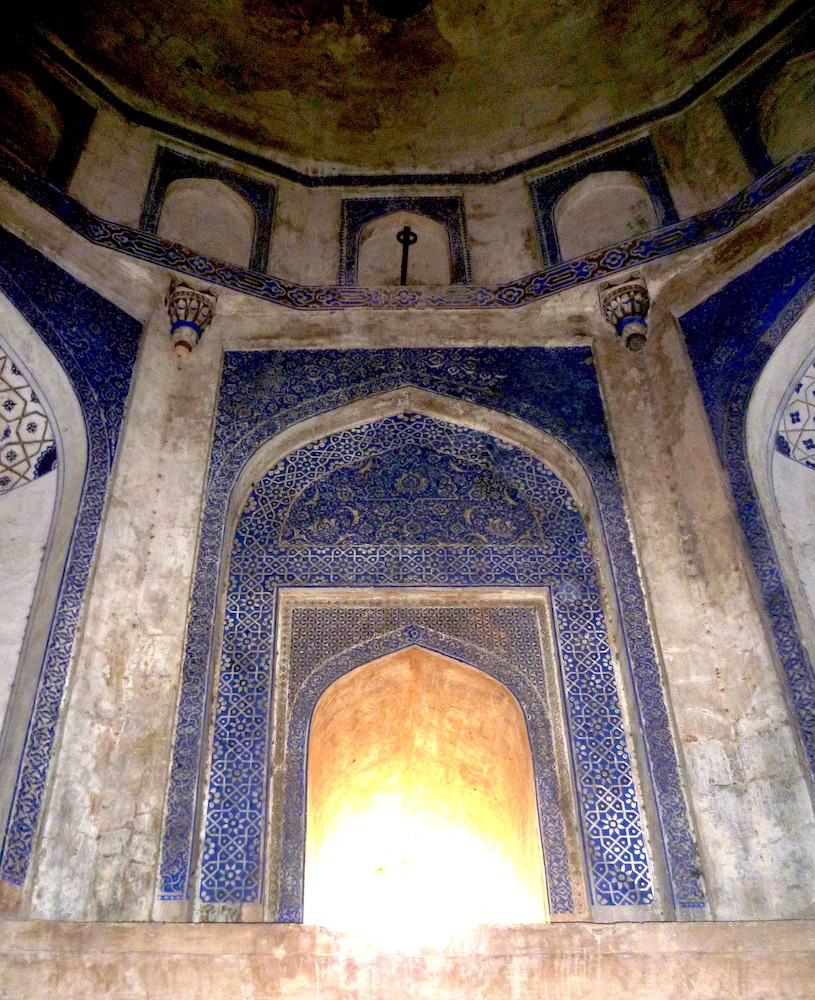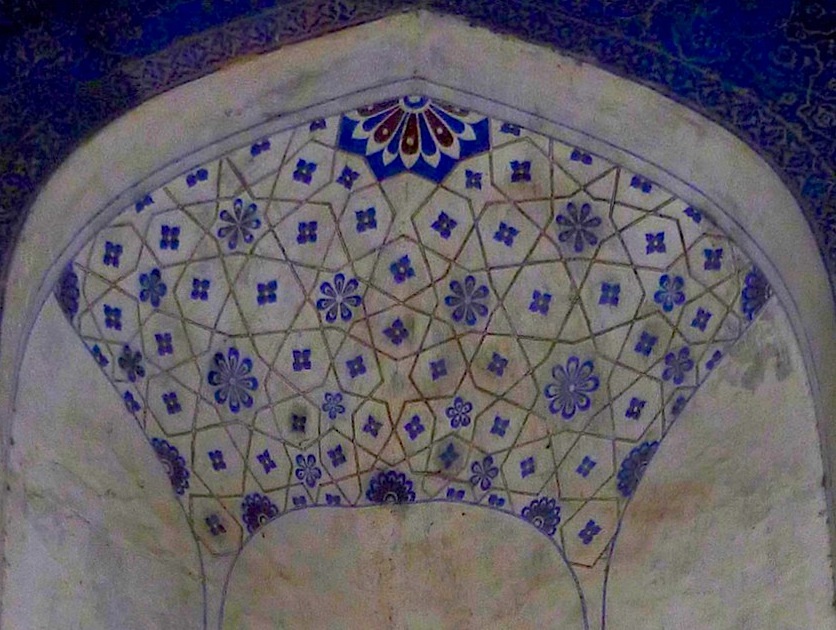 Remains of the intricately patterned and coloured internal decoration around and over the openings, on two levels.
A great admirer and collector of Indian artwork, Metcalfe had respected, and no doubt enjoyed, the structure at the heart of Dilkusha, and, while his additions certainly hid it beneath the shell of a rather exotic country house, they may also have helped to preserve it. Sahil Ahuja describes Muhammad Quli Khan's Tomb as we see it now:
Each side of the tomb is inset with an arched niche, alternate sides have an entrance built into the niche.... the entrances are surrounded by a profuse tile work in blue and yellow, while the non-entrance niches are surrounded by intricate stucco work mirroring complex floral patterns. On the inside, the base of the dome is marked by arched niches, all decorated in brilliant blue and red stucco work. Similar art work is used to embellish the arched windows, the recessed corners and the roof too, though much of the central artwork on the dome [see middle picture] is now gone and only the medallions remain.
No wonder that Metcalfe, a collector and patron of the arts, was struck by its beauty. Others also felt its charm, and he often lent the country retreat to young couples as a romantic location for their honeymoons. Indeed, Emily herself spent her own honeymoon in this "most enjoyable spot" in 1850, with her new husband Edward Bayley (Bayley 148).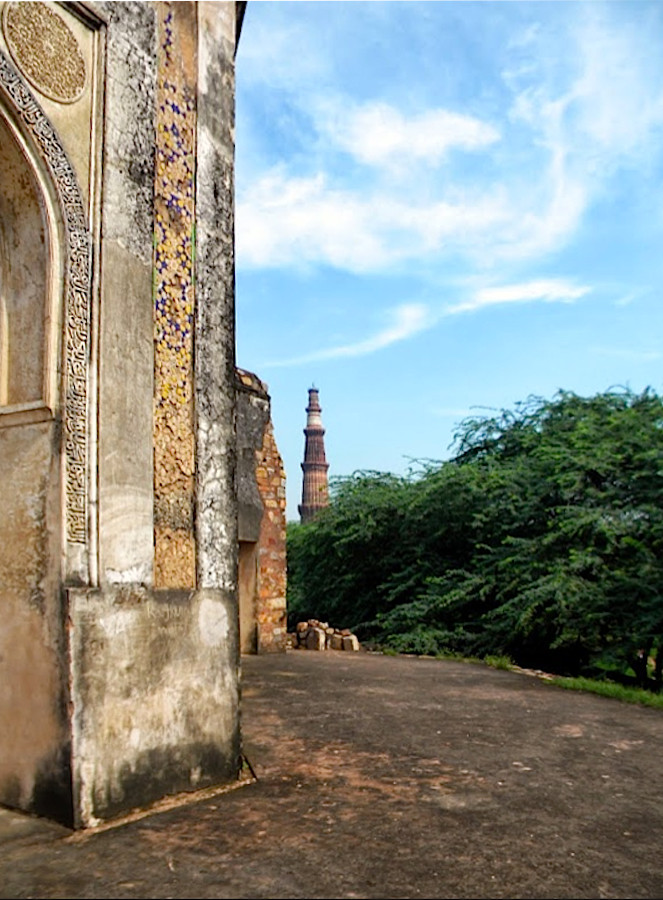 A fragment of Metcalfe's extension protruding on one side of the tomb (to the right), with the Qtb Minar in the background. The extension is partly hidden from this angle, but there is very little of it anyway.
It was a comfort to the family that while Metcalfe House was completely gutted during the Sepoy Rebellion, Dilkusha was left intact: "they say, it is alright, it has not been looted and the servants are all there," reported Edward Campbell, another of Metcalfe's sons-in-law (qtd. in Dalrymple 275). He was surprised, and Emily believed that the Emperor himself had had his eye on acquiring it, and had sent out a special guard to protect it. However, recent conservation has focussed on the tomb itself, and Metcalfe's additions, or what was left of them, have been stripped away by the Archaeological Survey of India (see Ahuja). Only a fragment, not at all prepossessing now, remains. This is perfectly understandable in context, and chimes with conservationists' aims everywhere, to restore and preserve historic structures as far as possible in their original form. But it does seem sad for those interested in early Victorian architecture and interior design, especially in the blending of eastern and western elements in the colonial situation. The illustrations in Metcalfe's Reminiscences, and the ruins of his structures in Dilkusha's vicinity, are all that are left to indicate how keen he was to integrate these elements, and how far he succeeded in doing so.
Related Material
Bibliography
Ahuja, Sahil. "Quli Khan's Tomb." India Heritage Hub. Web. 8 October 2014.
Bayley, Lady Emily. The Golden Calm: An English Lady's Life in Moghul Delhi. Exeter: Webb & Bower, 1980.
Dalrymple, William. The Last Mughal:The Fall of Delhi, 1857. London: Bloomsbury, 2006.
Davies, Philip. Splendours of the Raj: British Architecture in India 1660-1947. London: Penguin, 1987.
"Houses in Delhi in the 1840s." British Library. Web. 8 October 2014.
Metcalf, Thomas R. "Metcalfe, Sir Thomas Theophilus, fourth baronet (1795–1853)." Oxford Dictionary of National Biography. Online ed. Web. 8 October 2014.
Losty, Jeremiah P. "Depicting Delhi: Mazhar Ali Khan, Thomas Metcalfe and the Topographical School of Delhi Artists." In Princes and Painters in Mughal Delhi, 1707-1857. Ed. William Dalrymple and Yuthika Sharma. New York: Asia Society, 2012: 52-59. Online version. Web. 8 October 2014.
Morris, Jan, with Simon Winchester. Stones of Empire: The buildings of the Raj. Oxford: Oxford University Press, 1983.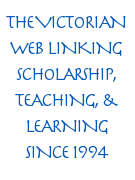 "Reminiscences of Imperial Dehlie." the-south-asian.com. Web. 8 October 2014.
Shorto, Sylvia. "A Tomb of One's Own." Ch. 8 in Colonial Modernities: Building, Dwelling and Architecture in British India and Ceylon. Ed. Peter Scriver and Vikramaditya Prkash. Abingdon, Oxon.: Routledge, 2007. 151-167.
"The Tomb of Muhammad Quli Khan." British Library Online Gallery. Web. 8 October 2014.
---
Last modified 15 October 2014