Henry Addington served as Prime Minister from 17 March 1801 to 10 May 1804. He was born on 30 May 1757. He was the eldest son and fourth of six children born to Dr Anthony Addington and Mary Hiley. Dr. Addington included among his patients George III and Pitt the Younger. It was he who prescribed a bottle of port daily, to cure Pitt's gout.
Addington was educated at Winchester school and Brasenose College, Oxford. He was awarded a B.A. in 1778 and an M.A. in 1780. In 1781 he married Ursula Mary Hammond who was the daughter of a businessman. From his marriage, Addington's financial future was secured since she brought an income of £1000 per year. The couple had eight children. Addington studied for the Bar, to which he was called on 11 May 1784. In the same year he became MP for Devizes in Wiltshire. He represented the constituency until his elevation to the House of Lords as Viscount Sidmouth on 12 January 1805.
Addington and Pitt the Younger were friends from childhood. It was at the instigation of Pitt that Addington was elected as Speaker of the House of Commons in 1789. The following year, the Speaker's salary was increased from £1,200 p.a. to £6,000 p.a., securing Addington's finances even further. Addington was Speaker during the French Wars until 1801 when he became Prime Minister. In 1799 he spoke on the Bill of Union with Ireland, detailing the problems such a union would bring. He supported union but opposed Catholic Emancipation. It is most unusual for the Speaker to take part in parliamentary debates; for Addington it was most unusual for him to speak at all so this event has a double significance. The Act of Union was passed in 1800. Pitt had promised that he would introduce Catholic Emancipation if the Act of Union was successful; George III refused to sanction Emancipation and Pitt resigned. Addington became PM, forming a weak ministry.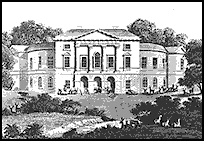 In 1801, George III presented the White Lodge in Richmond Part for life to Addington, who was created Viscount Sidmouth in 1805, the year in which White Lodge was given its own private gardens. Later the gardens were landscaped by Humphrey Repton.
Addington's government benefited from British victories at Copenhagen, Cairo, and Alexandria, and its popularity was further enhanced by the Peace of Amiens signed on 27 March with Napoleonic France. One of Addington's first measures after the peace was to cut the size of the army and navy, to save money. He repealed income tax but overhauled the whole tax system. Addington lost much support in July 1802 when he appointed his son to the sinecure of Clerk of the Pells, worth £3,000 p.a. However, a general election at much the same time strengthened his support in the Commons. Addington attempted to include Pitt in his cabinet but Pitt refused on the grounds that he would only re-enter government as PM in his own right.
In May 1803 the war against France was renewed and in parliament the split between Addington and Pitt became more obvious. Addington's popularity began to decline and in 1804 he resigned so that Pitt could resume office as PM. In 1805 Addington was elevated to the House of Lords as Viscount Sidmouth and resigned from the Cabinet after a disagreement with Pitt, who died in January 1806. Addington joined Lord Grenville's ministry as Lord Privy Seal and then Lord President of the Council. When Lord Grenville attempted to introduce legislation in 1807 that would allow Catholics in Ireland to hold military commissions up to the rank of Colonel, Addington resigned. His health broke down shortly afterwards and he did not resume public life until 1809.
In 1811 Addington's wife died, an event which devastated him. However, he accepted the post of Lord President of the Council in April 1812 and then became Liverpool's Home Secretary. Liverpool succeeded the assassinated Spencer Perceval as PM. As Home Secretary, Sidmouth pursued a policy of severity in an attempt to suppress manifestations of discontent and disaffection. In 1812, seventeen convicted Luddites were hanged at York despite pleas for leniency, which Sidmouth ignored.
In the years following the end of the French Wars, Britain suffered high prices, business failures, high unemployment, rural disturbances and distress. Addington maintained that it was not the role of government to intervene in such problems so he did nothing to alleviate the problems. There was a series of manifestations of discontent in the period 1811-20:
| | |
| --- | --- |
| Luddite attacks on mills | 1811-16 |
| Spa Fields riots | 2 December 1816 |
| The attack on the Prince Regent's carriage | 28 January 1817 |
| March of the Blanketeers | March 1817 |
| the Pentrich Rising: | June 1817 |
| The Peterloo Massacre | 16 August 1819 |
| The Cato Street Conspiracy | February 1820 |
| the Queen Caroline 'affair' | June/July 1820 |
However, rather than investigate the causes of so much discontent the government resorted to a policy of repression. To prevent the outbreak of revolution, which was the government's greatest fear, Sidmouth increased the summary powers of magistrates. Under the so-called 'Gag Acts' of 1817, Habeas Corpus was suspended and seditious meetings were prohibited. Sidmouth also was responsible for the Six Acts of 1819. He oversaw the events of the Cato Street conspiracy which resulted in the execution of Arthur Thistlewood and his colleagues. Sidmouth was also involved in the trial of Queen Caroline, a role that did him little good. He resigned from the Cabinet in 1824 having been Minister without Portfolio since 1822.
Sidmouth married Mary Anne Townsend in 1823 and in the summer of 1825 toured Belgium, Germany and France. In 1829 he made his last speech in the House of Lords, opposing Catholic Emancipation, legislation that was passed by Wellington's government. Sidmouth also voted against the Reform Bill in 1832. This marked the end of his public career: although he voted occasionally after this, he took part in no major events. His wife died in April 1844; Sidmouth had been failing in health for some years and by this time was almost blind. He died of influenza on 15 February 1844.
Recommended Reading
Fedorak, Charles John. Henry Addington Prime Minister 1801-1804 Peace, War and Parlimentary Politics. University of Akron Press Ohio 2002.
Pellew, G., The Life and Correspondence of the Rt. Hon. Henry Addington, first Viscount Sidmouth. 3 vols, London, 1847.
Zeigler, P. Addington. London, 1965.
---
Last modified 7 May 2002