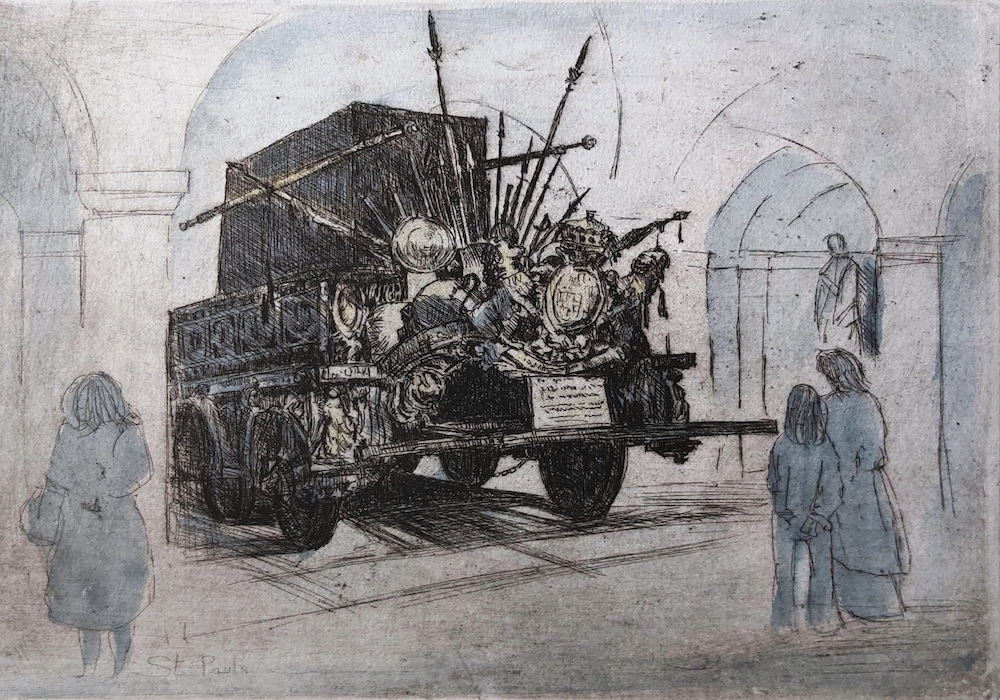 The funeral carriage as an object of curiosity in the crypt of St Paul's. [Click on the image to enlarge it.]
The Duke of Wellington's funeral carriage, depicted here in an etching by Michael Blaker, pre-1981. The carriage was an extraordinarily elaborate concoction. Designed "by committee," as Peter Sinnema puts it, with the involvement of Henry Cole, Richard Redgrave and the German architect Gottfried Semper, and approved by Prince Albert himself, it was an eleven-ton behemoth cast from bronze cannon taken at Waterloo and decorated with a show of "bewildering flourishes and details" (Sinnema 78). It had many critics, and was so unwieldy that it got stuck once on the way to St Paul's, and had to have its canopy removed before it could pass through Temple Bar, then transformed into a funeral arch, in its original place on the Strand.
Nevertheless, it was one of the wonders of the funeral day on 18 November 1852. The Queen herself wrote in her journal that night: "To attempt to describe the funeral procession would be impossible, & I will alone give utterance to my impressions & feelings." She continued, "At length, preceded by the Band of the Grenadier guards, it came, towering above everything, — very gorgeous, the sable horses draped with velvet so as hardly to appear to drag it, — & the red coffin, containing the dear honoured remains of England's Pride, so conspicuous, from it great height, as to be seen by everyone, from far."
The carriage was kept in the crypt of St Paul's itself until 1981. Michael Blaker has captured its "bewildering flourishes and details" brilliantly, not only through the bizarre object itself, but through the presence of a few bystanders. These people from another century are lightly picked out in blue, like the recesses of the crypt (where a more conventional memorial stands). They have paused to gaze, perhaps uncomprehendingly but certainly with some curiosity and astonishment, at the strange spectacle. The carriage has since moved to the family estate at Stratfield Saye in Hampshire, where it can still draw visitors today. – Jacqueline Banerjee
Photograph of this etching kindly provided by Catriona Blaker, who also pointed out the effect of the twentieth-century figures in it. You may reproduce it without prior permission for any scholarly or educational purpose as long as you (1) credit the artist and photographer and (2) link your document to this URL, or cite it in a print one. [Click on the image to enlarge it.]
Related Materials
Bibiography
Queen Victoria. Journal entry Thursday 18 November 1852. Queen Victoria's Journals. Web. 25 April 2021.
Sinnema, Peter W. The Wake of Wellington: Englishness in 1852. Athens: Ohio University Press, 2006. Review]
---
Created 25 April 2021