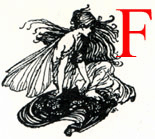 From 1844 to 1888 the chief "writer" of pantomime scenarios was E. L. Blanchard, whose annual Christmastide offerings became a standard feature of Drury Lane for over forty years and earned him the titles "The Prince of Openings" and "The King of Pantomime Writers." However, Blanchard himself referred to these seasonal offerings as "Annuals." He used the pen name "Francesco Frost," and, when in partnership with T. L. Greenwood, "The Brothers Grimm." His pantos graced the stages of such London theatres as the Marleybone, Sadler's Wells, the Surrey, the Princess's and Convent Garden. For the Theatre Royal, Drury Lane, alone he wrote 37 pantos, beginning with (December 1852). Typical of his openings was an allegorical debate between such figures as Antiquity and Improvement, and Ignorance and Education.
Just before the enactment of the 1843 Theatre Regulation Act, which permitted even London's "minor" theatres to stage "legitimate" drama (i. e., plays without music), burletta and pantomime, together with melodrama, were the dominant genres.
Related Materials
Reference
Crowquill, Alfred. "The Christmas Pantomimes." The Illustrated London News. 31 December 1842. Pp. 536-7.
Crowquill, Alfred. "Twelfth Night Characters." Supplement to The Illustrated London News. 31 December 1842. Pp. 548-9.
Frow, Gerald. "Oh, Yes It Is!" A History of Pantomime. London: BBC, 1985.
---
Last modified 25 January 2007