ir Arthur Sullivan was successful during the late nineteenth century as a popular composer of music ranging from symphony to hymn, and including chamber music and grand opera. He held positions as organist at London's St. Michael's Church, professor of composition at the Royal Academy of Music, and conductor of the London Philharmonic between 1885 and 1887, and achieved fame initially with music for a production of The Tempest, and for two operettas. David Thomson asserts that Sullivan, with the likes of Sterndale Bennet, Parry, Stanford, and Mackenzie, is representative of the period's emerging "particularly English school of music," which paralleled the renewed power of art and art criticism during the mid-Victorian era (Penguin's England in the Nineteenth Century, 117).
Although he is most remembered for composing music to the Savoy Operas, a famous collaboration with librettist Sir William S. Gilbert, Sullivan is regaining respect as a composer of work more serious than the operetta. Of the fourteen Savoy Operas, The Pirates of Penzance (1879), H.M.S. Pinafore (1878), and The Mikado (1885) are most commonly performed and remembered. Gilbert and Sullivan's operettas, perhaps more than any other vessel, have carried a sense of Victorian attitudes through the twentieth century, and are invaluable as a source of insight into both middle class entertainment of the period and the modes of political and social satire that such popular amusement adopted. There is no question that the anthemic nature of Sullivan's compositions for Gilbert carried satire to the widest possible audience, as songs gently mocking luminaries from Oscar Wilde to Disraeli and Gladstone echoed through opera houses, school theaters, and local pubs.
Oratorios like Light of the World (an allusion to William Holman Hunt's painting of the same title) and cantatas such as The Golden Legend remain significant, and--like Gilbert--Sullivan should continue, as during his lifetime, to be regarded as a genius outside of D'Oyly Carte's celebrated duo.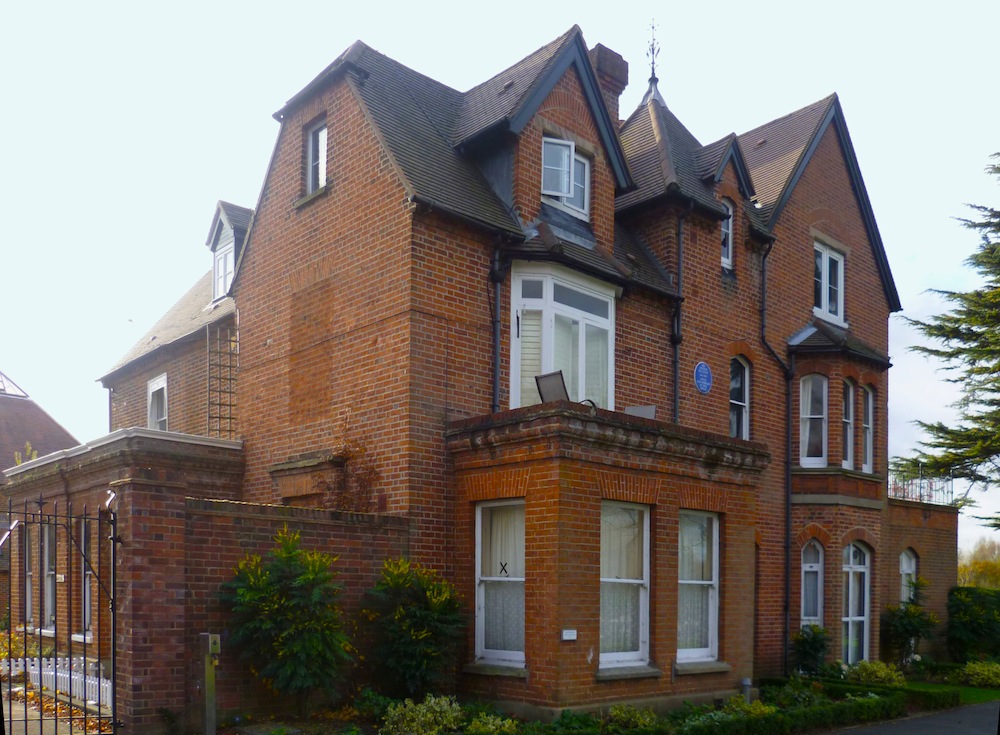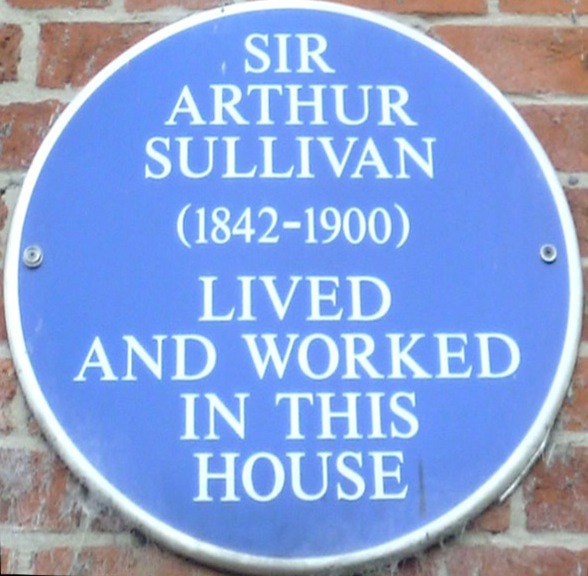 River House, Walton-on-Thames, Surrey, which Sir Arthur Sullivan rented in the 1890s. [Photographs by Jacqueline Bnaerjee. You may use these images without prior permission for any scholarly or educational purpose as long as you (1) credit the photographer and (2) link your document to this URL or cite the Victorian Web in a print one. Click on the images to enlarge them.]
Related Material
Sullivan's Ivanhoe. A Romantic Opera with libretto by Julian Sturgis is available on 3 CDs from Pearl/Pavilion Records Ltd, Sparrows Green, Wadhurst, E. Sussex, England.
Bibliography
Baily, Leslie. The Gilbert and Sullivan Book. London: Spring Books, 1996; orig. pub. London: Cassell. 1952, revd 1956.
Bradley, Ian, ed. The Complete Annotated Gilbert and Sullivan Oxford: Oxford University Press, 1996; revd edn, orig. pub. Harmondsworth: Penguin. 1982.
Brahms, Caryl.
Gilbert and Sullivan: Lost Chords and Discords
. London: Weidenfeld and Nicolson, 1975.
Cannadine, David. 'Gilbert and Sullivan: The Making and Un-Making of a British "Tradition"', Roy Porter (ed.), Myths of the English Cambridge: Polity Press: 1992. 12-32.
Gilbert, William Schwenck. The Story of the Mikado. London: Daniel O'Connor, 1921.
Williamson, Audrey. Gilbert and Sullivan Opera: A New Assessment. Rev. ed. London: Boyars, 1982; orig. pub. Rockliff, 1953.
Gilbert and Sullivan Archive (Boise State University, Idaho): http://diamond.boisestate.edu/gas
---
Last modified 23 February 2017