Biography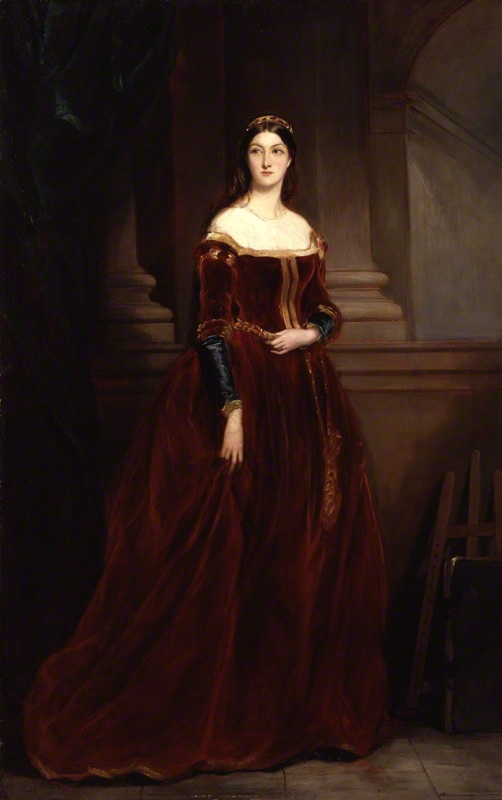 The beautiful Louisa Anne Beresford (née Stuart), Marchioness of Waterford (1818–1891), is seen on the left here, as painted by Sir Francis Grant in 1859-60 (NPG 3176. © National Portrait Gallery, London). She sat for other artists, including Sir George Hayter, G. F. Watts and the sculptor Boehm as well. [Click on the image to enlarge it.]
Louisa was born in Paris as the second daughter of Sir Charles Stuart, the British ambassador there, who in 1828 became Baron Stuart de Rothesay. Much of her childhood was spent in Paris. She was very close to her elder sister Charlotte, who would one day become the first Vicereine of India as the wife of Lord Canning (1817–1861). The two girls, educated at home, both became gifted artists, Louisa quickly exhibiting the talent and commitment that led to her spending "every spare moment with original compositions of figures" (Hare I: 151), something in which she always excelled. During their early years, one of the girls' playmates was Camille de Maussion, the future wife of the sculptor Baron Carlo Marochetti (see Hare I: 152).
The family returned to England in 1830, where five years later the girls were presented at court, and where, also in 1835, Charlotte married Charles Canning. In the following year her parents took Louisa on a tour to Rome and Naples (1836–7), where she spent much of her time copying the Old Masters in the art galleries. In 1842 she married Henry de la Poer Beresford, the rather racy third Marquess of Waterford (1811–1859), at the Chapel Royal in Whitehall, an unlikely match yet a happy one despite the fact that it was childless. The wedding itself was rather special: "Henry, Marquis of Waterford, to the Hon. Louisa Stuart, daughter of Baron Stuart de Rothsay; John, Archbishop of Armagh performing the ceremony. June 8, 1842" (it is listed in Sheppard 287; the bishop was Lord Waterford's uncle). They would visit Germany together, and she would visit Italy for a second time with Charlotte in 1858. Until the Marquess's death in a riding accident in 1859, the couple lived on his Waterford estate in Ireland, after which Louisa moved to Ford Castle, on his estate in Northumberland. After her mother's death in 1867, she spent the summers at her parents' estate, the splendid Gothic Revival Highcliffe Castle in Hampshire.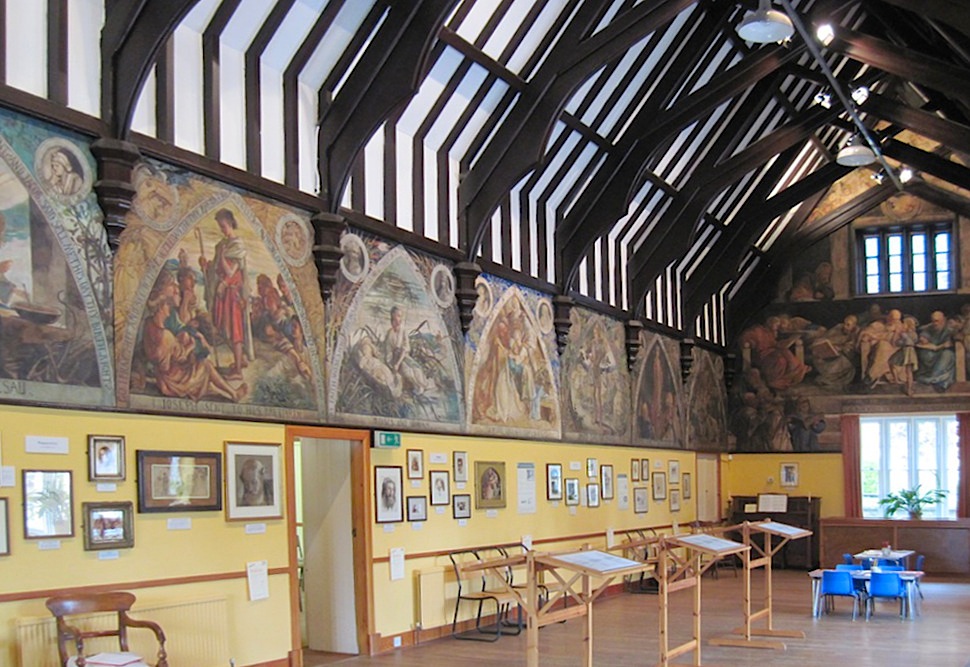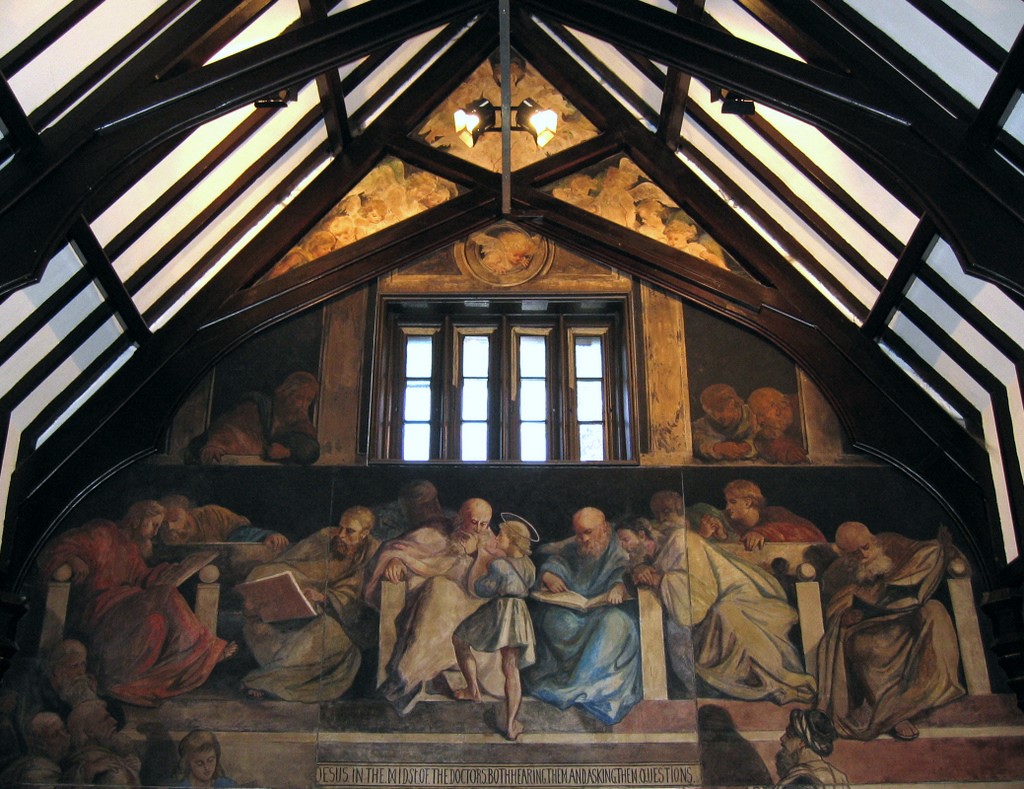 Views of what is now Lady Waterford Hall: left, by Martin Dawes (slightly modified); right, by Andrew Curtis, both on the geograph website, licensed for reuse under the Creative Commons Licence (CC-BY-SA). [Click on the images to enlarge them.]
According to a recent biographer, Charlotte Yeldham: "Three main interests dominated the marchioness's life: religion, philanthropy, and art." The former was most strikingly displayed in her efforts to help during the Irish potato famine, a difficult time when their own house had to be barricaded; but she also established two churches, a school and a textile factory, and created a model village at Ford. Temperance was another of her commitments. Throughout, however, she developed her artistic leanings. Her most ambitious work was on religious themes. In particular, she was engaged for over twenty years (1862-83) on a sequence of frescos for the school hall at Ford, showing Biblical scenes with life-size figures on the subject of childhood and education, a project that Watts considered to be her greatest achievement — and which, he acknowledged, influenced his own huge celebrated fresco in the Great Hall of Lincoln's Inn (see Brisby 17, 19, 20). Others have picked out her handling of the children here, modelled on local schoolchildren, for special praise, finding them to have been depicted "with great tenderness and charm" (Butler 161). Speaking more generally, Yeldham too finds "a 'hallowing' quality (the word is her own) even in her genre compositions, and pictures of children, due largely to monumentality of style."
Through her friendship with Ruskin, starting in the early 1850s, Beresford came to the attention of Rossetti, Millais and Watts, who all thought highly of her. Her work proved to be not just popular but "extremely popular" (Brisby 17), though her modest nature and continuing perception of herself as an amateur, not to mention the prevailing gender expectations, prevented her from promoting it as much she might have done. Certainly she sometimes felt unregarded: to her friend and fellow-artist Eleanor Boyle she reflected on New Year's Eve, 1879,
I am greatly discouraged about my art-work. Not a creature cares, or knows, or observes if I do a thing or not, and if it is done, it is passed over unseen. Not that praise signifies, but poor humanity needs encouragement, or one becomes too listless. A birch-rod even would be better. [qtd. in Hare III: 399]
Her frustration is palpable (see also Butler 161). Still, she had, belatedly, been exhibiting at the Dudley and Grosvenor galleries in the 1870s. In 1879 she visited Italy for a third time at the invitation of a friend, Lady Ossington, who had rented a villa near Florence, and delighted in the great works of art that she could see there, either again or for the first time. "Yesterday I was at S. Marco, which I had never seen before," she wrote to Eleanor, "and there are Fra Bartolommeos there which are quite enchanting" (Hare III: 395). She also contributed to the Royal Manchester Institution, the Royal Hibernian Academy, and the Society of Lady Artists in the 1880s. Yeldham tells us that she was a patron, and for several years an honorary member, of the Society of Lady Artists too. She was a member of the Dudley Gallery Art Society from 1889–90. In 1890, she was invited to take her portfolio to Osborne House, where the Queen accepted one of her works as a gift.
When Louisa died in 1891, Watts and his wife Mary designed the memorial for her grave at Ford. Perhaps her best epitaph is the description she once gave of Boyle, whom she saw as "a calm seeker after good, in whatever way she may find it" — words equally applicable to the speaker herself (see Hare III: 235). There have been a few retrospectives, most recently in 1983. But, as an artist, she is still not recognised enough. — Jacqueline Banerjee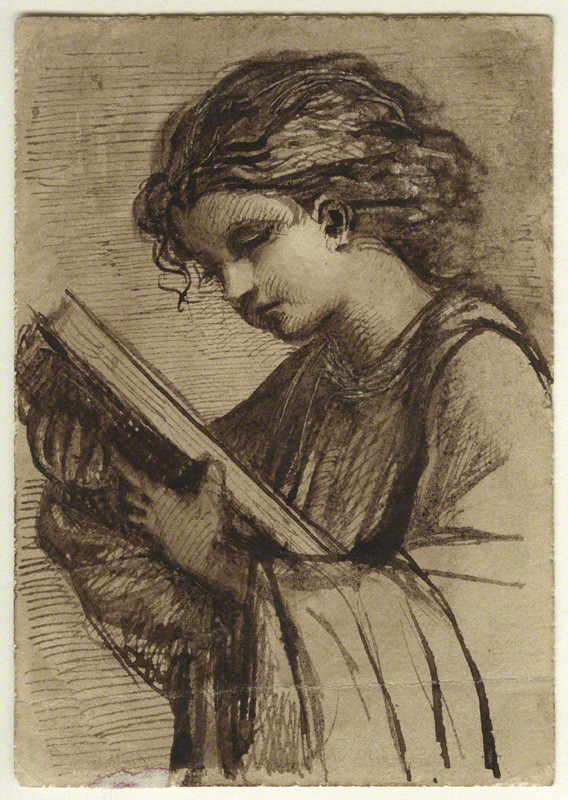 Works
Sources
Brisby, Claire. "Louisa, Marchioness of Waterford: A Feminist Intervention in the Perception of Art?" Woman's Art Journal. 19 / 2 (Autumn 1998-Winter 1999): 17-23. Accessed via JSTOR. Web. 17 August 2015.
Butler, Patricia. "A Victorian Watercolourist." Irish Arts Review. 157-62. Digitised in collaboration with JSTOR and available online here. (This gives some impressive examples of her artwork.) Web. 17 August 2015.
Hare, Augustus J. C. The Story of Two Noble Lives, Being Memorials of Charlotte, Countess Canning, and Louisa, Marchioness of Waterford. Vol. I. London: George Allen, 1893. Internet Archive. Contributed by Harvard University. Web. 17 August 2015.
_____. The Story of Two Noble Lives, Being Memorials of Charlotte, Countess Canning, and Louisa, Marchioness of Waterford. Vol. II. London: George Allen, 1893. Internet Archive. Contributed by Harvard University. Web. 17 August 2015.
_____. The Story of Two Noble Lives, Being Memorials of Charlotte, Countess Canning, and Louisa, Marchioness of Waterford. Vol. III. London: George Allen, 1893. Internet Archive. Contributed by Harvard University. Web. 17 August 2015.
Sheppard, Edgar. The Old Royal Palace of Whitehall. London & New York: Longmans, Green & Co., 1902. Internet Archive. Contributed by Cornell University Library. Web. 17 August 2015.
Yeldham, Charlotte. "Beresford [née Stuart], Louisa Anne, marchioness of Waterford (1818–1891), watercolour painter and philanthropist." Oxford Dictionary of National Biography. Online ed. Web. 18 August 2015.
---
Last modified 16 August 2015