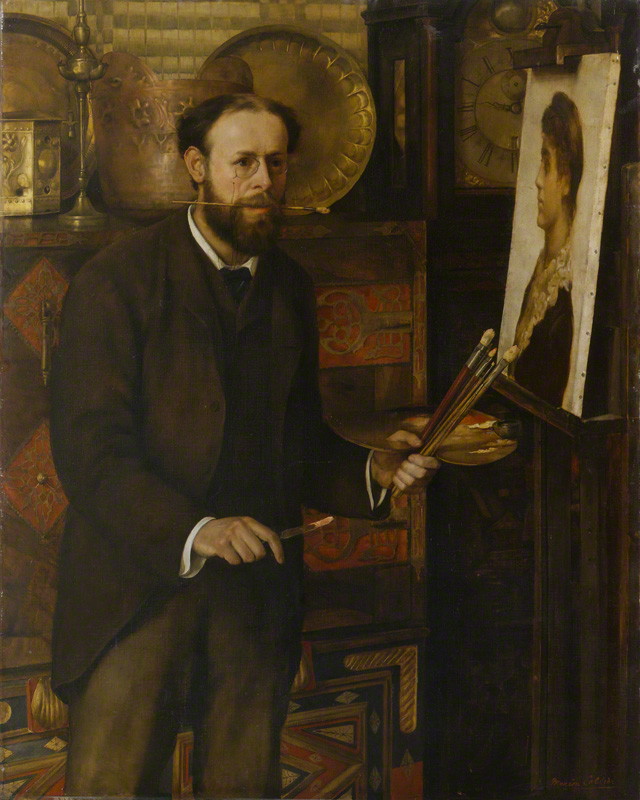 John Collier (1850–1934)
Marian (or Marion) Collier
1882-83
Oil on canvas
650 in. x 39 7/8 in. (1271 mm x 1080 mm) overall
Courtesy of the National Portrait Gallery (NPG 6811; purchased with help from the Art Fund, 2007)
Click on image to enlarge it
Commentary by Jan Marsh from The National Portrait Gallery Online
In 1884, the year after her portrait of John was shown at the Grosvenor, Marion Collier exhibited a portrait of her sister Nettie (RA 1884 [592]) and a neoclassical subject picture of two undraped and semi-draped female figures entitled By the tideless, dolorous midland sea (Grosvenor G., 1884 [222]), which was apparently bought by Arthur Lewis. By this date, however, her psychological condition was grievous and in 1887 she was examined by the celebrated neurologist J.-M. Charcot, specialist in nervous hysteria, who arranged for treatment in Paris. With her husband and two nurses she travelled to France, but died suddenly, from pneumonia, on 19 November at Suresnes, probably in the psychiatric clinic established there by Valentin Magnan.
Her obituary reads:
We regret to announce the death of the Hon. Mrs Collier, daughter of Professor Huxley and wife of the Hon. John Collier, the well-known artist. Mrs Collier, who was only 27 years of age, died at Suresnes, somewhat suddenly, of inflammation of the lungs, on Friday night last. She herself had remarkable talent as an artist. Her first picture, "The Sins of the Fathers" was favourably placed at the RA in 1879 [sic]. She was also an exhibitor in 1881, showing, in addition to a subject picture, a full-length portrait of her sister Miss Nettie Huxley. In another year her picture "By the Tideless Midland Sea" was one of the chief attractions at the Grosvenor Gallery, where Mrs Collier also exhibited some very charming child portraits.
See the NPG full catalogue entry for additional references and documentation. — George P. Landow
Bibliography
Cox, Devon. The Street of Wonderful Possibilities: Whistler, Wilde, and Sargent in Tite Street. London: Frances Lincoln, 2015.
---

Victorian
Web

Artists

John
Collier
Created 18 May 2016