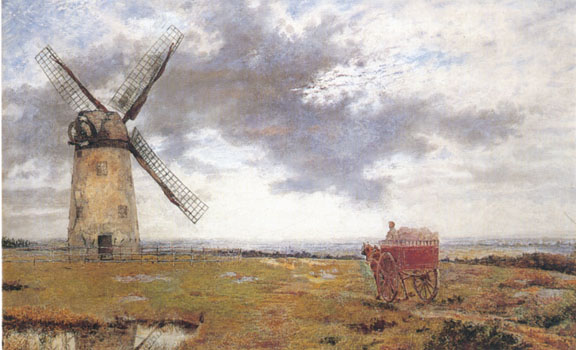 Wallasey Mill, Cheshire by William Davis, 1812-1873. Oil on canvas, 16 x 26 inches, 42 x 66 centimetres.
Commentary by Hilary Morgan and Peter Nahum
In this image of a man carting corn to an isolated windmill, Davis reveals his mastery of subjects that were unpretentious, even unpicturesque. As Marillier noted: "No man saw further than he into the opportunities of a quiet rural subject: a hedge, a stream, a drenched autumnal pasture, and flitting of light and shadow over an English sky, a farm with its sheltering trees and homely appurtenances. All this he felt keenly and thoroughly, and translated it into art, not only familiar and realistic, but touching, elevated, and on occasion, even grand" Here Davis suggests a vast expanse of space by his free use of glazes and the melting line of the horizon, broken only by mill and cart.
Davis was fascinated by both wind and watermills and they figure in many of his works. Another view of Wallasey Mill, presumably from a different aspect, called forth high praise from Madox Brown when it was exhibited at the Royal Academy in 1856: "There is a little landscape by Davis, of Liverpool, of some leafless trees and some ducks, which is perfection. I do not remember ever having seen such an English landscape; it is far too good to be understood and is on the floor".
References
Ford Madox Hueffer, Ford Madox Brown: A Record of his Life and Work, (Longmans, London 1896), page 125. The whereabouts of this work by Davis is unknown.
Morgan, Hilary, and Peter Nahum. Burne-Jones, the Pre-Raphaelites, and Their Century. London: Peter Nahum, 1989. Catalogue number 35.
H.C. Marillier, The Liverpool School of Painters, John Murray, London 1904. pp. 109-110.
George Birbeck Hill, editor, Letters of Dante Gabriel Rossetti to William Allingham, (Unwin, London 1897), page 122.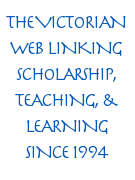 Peter Nahum Ltd, London has most generously given its permission to use in the Victorian Web information, images, and text from its catalogues, and this generosity has led to the creation of hundreds of the site's most valuable documents on painting, drawing, and sculpture. The copyright on text and images from their catalogues remains, of course, with Peter Nahum Ltd.
Readers should consult the website of Peter Nahum at the Leicester Galleries to obtain information about recent exhibitions and to order their catalogues. [GPL]
---
Last modified 27 December 2001