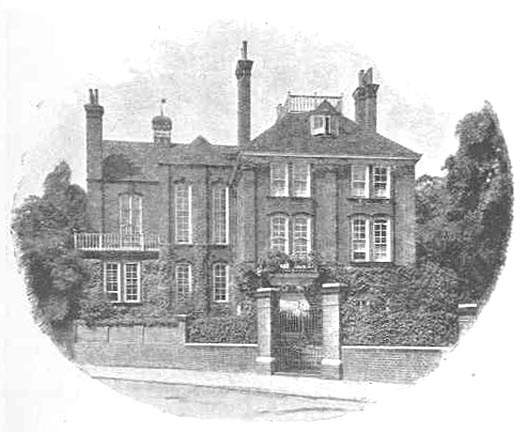 The House and Studio of Luke Fildes, R. A. [Photograph. c. 1895]
David Croal Thomson in his 1895 reminiscence about Fildes' (pronounced to rhyme with "childs," and uttered as one syllable) points out that the artist's home, in Melbury Road, Holland Park (Greater London), was located within just a few minutes' walk of the President of the Royal Academy, and such other well-known artists as Marcus Stone, G. F. Watts, Val Prinsep, and Colin Hunter. He recalls how in his studio, one flight up from the main floor, he painted "The Doctor" by erecting an entire cottage interior, and only at the last employed models. Here, too, in November 1893, the artist just having finished his celebrated portrait of the Princess of Wales, a cinder shooting from the stove that he used to heat the atelier caused a curtain to catch fire. At luncheon below, meanwhile, Fildes was suddenly alerted to the growing conflagration by an observant servant. He responded instantly in order to save the portrait; despite being driven back by the flames several times, he and his gardener combated the blaze, beating down the flames, pouring upon the drapery copious quantities of water provided by terrified domestic servants, and throwing the curtains out a window. When the local police and firefighters arrived ten minutes later, with two engines and a quantity of hose, the pertinacious Fildes had already vanquished the blaze [Thomson, p. 29 ].
Bibliography
Thomson, David Croal. The Art Annual, 1895: The Life and Work of Luke Fildes, R. A. With numerous illustrations. London: The Art Journal Office (294, City Road, and 26, Ivy Lane), Christmas 1895.
---
Last modified 15 July 2005