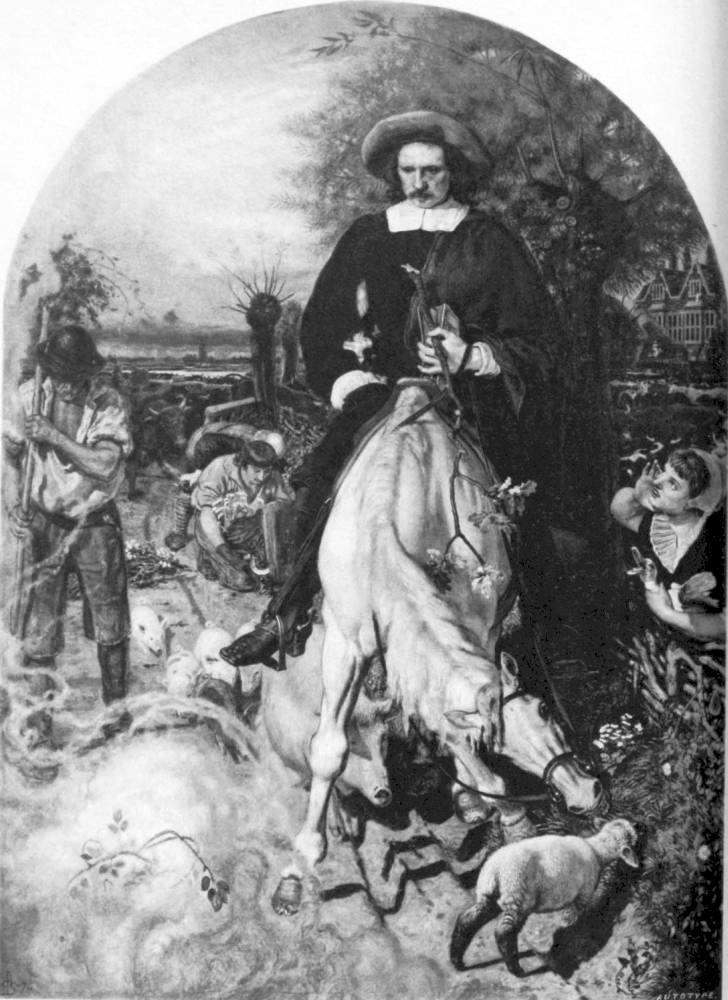 Cromwell on His Farm. Ford Madox Brown (1821-1893). 1873-74. Oil on canvas, 143 cm x 104.3 cm. Source: Ford, facing p.291. Commentary and formatting by Jacqueline Banerjee. [You may use this image without prior permission for any scholarly or educational purpose as long as you (1) credit the source and (2) link your document to this URL in a web document or cite the Victorian Web in a print document. Click on this image and the one below for larger pictures.]
The lengthy description of the painting in Ford Madox Ford's biography of Brown is quoted from someone identified as Mr Forbes Robertson , senior, but is described as having been conveyed by Brown himself:
On a white horse, which grazes leisurely by the roadside before us, sits a stalwart man of saturnine visage, in the prime of lusty manhood.
He is attired in the sober costume worn by thoughtful men in the early part of Charles I's reign, is booted in buff, and his beaver is slouched. His coat is dark brown, and his cloak is sage green in colour. On his brow there is a palpable wart, and on the scant white bands which adorn his neck is a red spot as of blood. Before him burns a heap of weeds and stubble, which those two labourers have grubbed from the hedges they have been trimming, and it is the flames thereof that have arrested the attention of their master, and on which he now gazes so earnestly yet so absently.
In vain may the buxom wench, sent by her mistress, who stands with her two children by the garden terrace in front of the goodly manor-house yonder to the right, raise her voice above the lowing of cattle, the grunting of pigs, and the quacking duck which she holds in her lusty grasp, to tell the master that dinner waits.
He hears, and heeds her no more than the little lamb does that nibbles contentedly the herbage by the horse's nose, or than the pig that fancies something good is going on in her neighbourhood, and comes scampering up, with her squeaking litter, among the very horse's feet.
By the consenting fall of the lines of the mouth and the weird speculation in those eyes, he of the white horse sits evidently spell-bound; and that which fixes him is no fairy dance, no pleasing phantasy, but the soul-sobering vision of the prophet or seer.
We have seen where we are in time: but where are we in place, and who is he?
The level landscape, then, which lies so sunny before us, with its dog-roses, chamomile, and marsh-mallow, with its pollard willows throwing their stumpy shadows on the luxuriant pasturage, with its flat, Dutch-like horizon, is the Fen country of Old England.
We are in Huntingdonshire, and yonder in the distance rises the famous tower of its capital. That is the Black Ouse beyond the meadows, which, with winding equivocation, loiters lazily towards the Wash.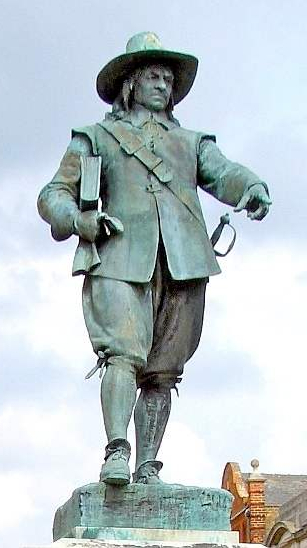 Bronze statue of Cromwell in the Market Place of St Ives, Huntingdonshire, by Frederick Pomeroy, unveiled 1901. Brown followed Rossetti's advice, showing Cromwell without his tall, broad-brimmed hat, wearing a "slouch beaver hat" instead (see Treuherz 232).
Could we turn our heads away from the dreamer of day-dreams and look a few hundred yards to the right, we should see the town of St. Ives.
As it is, we are standing on the lands of the Manor of Sleep Hall; all these, to the river side, are its meadows, used, as we see, for grazing purposes, and yonder lady, with her two children, is its mistress. She is the daughter of Sir James Bourchier, and was married at St. Giles's Church, Cripplegate, some nine or ten years ago. Her husband is the melancholy man before us on the white horse, and his name is Oliver Cromwell.
He has not been long back from Parliament, and it will be ten or eleven years before he sits there again. In the meanwhile his notions about kingcraft have been sadly shaken, and he has made up his mind to devote himself to the interests of his family and of his grazing farm, and, above all, of his soul. Accordingly, he associates only with such earnest neighbours as Hampden and Pym, Lords Brook, Say, and Montague.
"Living neither in any considerable height nor yet in obscurity, I did endeavour," said he afterwards in a famous speech in Parliament, "to discharge the duty of an honest man."
Oliver Cromwell, as we see him here, is supposed by the artist to be returning from a neighbourly visit, and, on his homeward road, to have opened his Bible [actually, it is the Book of Common Prayer, according to Teurherz 230] at these passages :
"Lord, how long ? Wilt thou hide Thyself for ever?"
"And shall Thy wrath burn like fire?"
Pondering on the texts [both inscribed at the top of the frame, one in each corner], he comes all at once on the burning stubble, and the concrete fact, so palpable to his outward eyes, answers readily to the vision within, and the man lapses, in the saddle where he sits, into a religious trance.... (290-92)
According to Julian Treuherz, there is a look of the artist himself in Cromwell's face, suggesting that Brown identified with him to a significant extent. Indeed, it was "a very personal conception of Cromwell" (Treuherz 230); Brown did say later that he too had suffered a great deal from "imaginary nervousness" (qtd. in Treuherz 230). But what comes across most is the artist's admiration for the great man, who towers above his surroundings, and is oblivious to them. On the other hand, there is much of Brown's artistic personality in these surroundings, too. It does seem that, having originally engaged so thoroughly with his hero, the artist has then turned his focus and sympathies to the world he inhabits, so that both aspects of the picture spring almost startlingly to life from his brush (see Bendiner 43).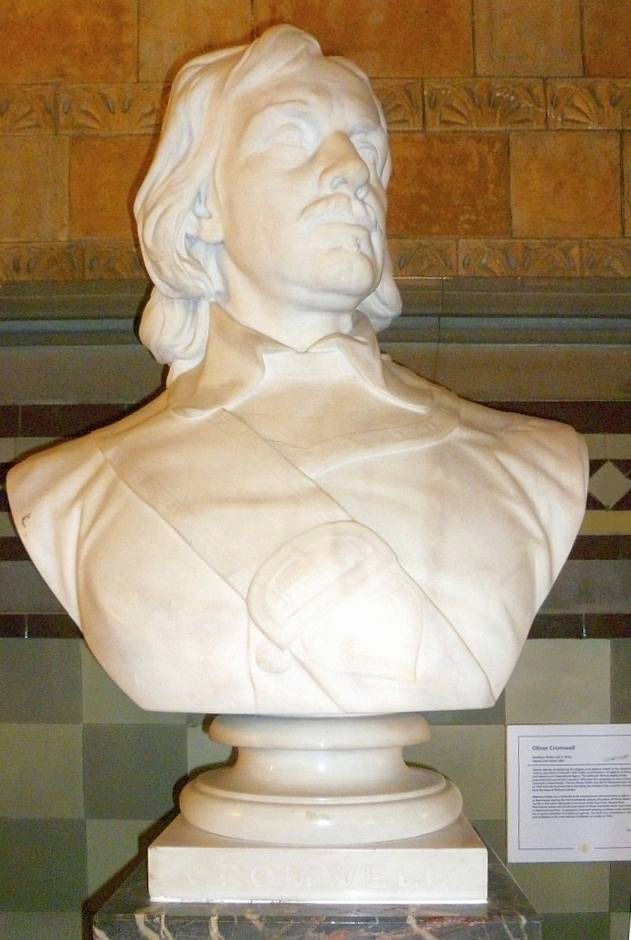 Marble bust of Cromwell in Manchester Town Hall, by Matthew Noble (1861). A bronze statue of Cromwell, also by Noble (1875), stands on a tall rough-cut granite pedestal in Wythenshawe Park, on the southern outskirts of the city.
Brown had sketched the subject as early as 1856-57, but it was finally commissioned by William Brockbank of Manchester, and first exhibited in that city. Manchester had a history of radicalism and Cromwell was a particular favourite there. So for this finished picture, like Brown's Town Hall Murals, was a product of the Manchester connection.
.
Bibliography
Bendiner, Kenneth. "Ford Madox Brown's Humour." Ford Madox Brown: Pre-Raphaelite Pioneer, by Julian Treuherz, with contributions by Kenneth Bendiner and Angela Thirlwell. London: Philip Wilson, 2011. 37-45. Print.
Ford, Ford Madox. Ford Madox Brown: A Record of His Life and Work. London: Longmans, 1896. Internet Archive. Web. 4 May 2012.
Treuherz, Julian, with contributions by Kenneth Bendiner and Angela Thirlwell. Ford Madox Brown: Pre-Raphaelite Pioneer. London: Philip Wilson, 2011. Print.
---
Last modified 4 May 2012