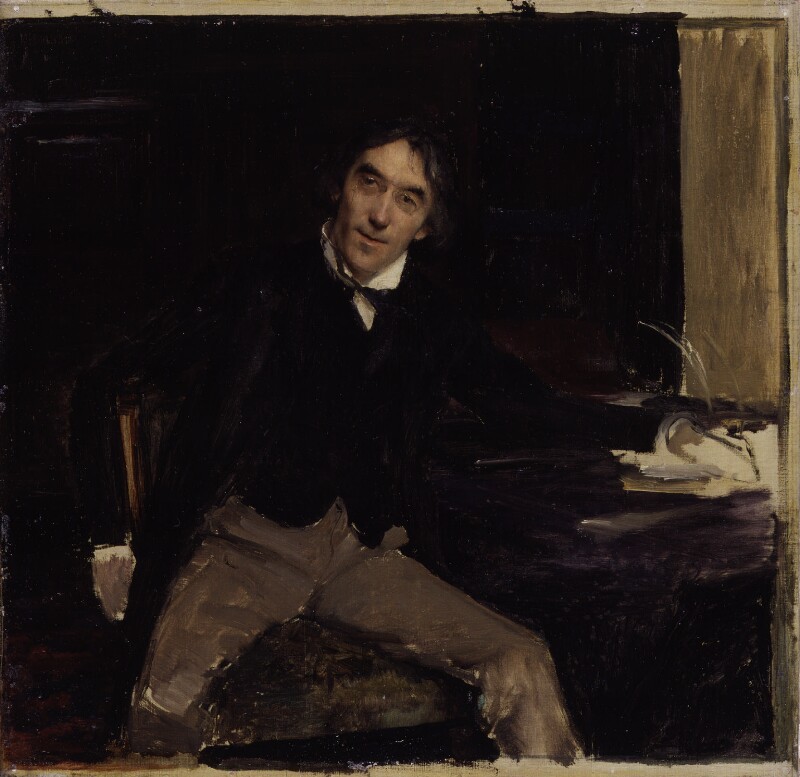 Sir Henry Irving, by Jules Bastien-Lepage (1848-1884). 1880. Oil on canvas. 18 1/8 in. x 18 3/4 in. (460 mm x 475 mm). © National Portrait Gallery, London (please consult the gallery's website for terms of reuse). Primary Collection; NPG 1560. Given to the gallery by Dame Ellen Alice Terry, 1910. Image download, text and formatting by Jacqueline Banerjee. [Click on the image to enlarge it.]
William Storm writes, "As an impression of a figure caught in motion, the Bastien-Lepage portrait is singular in capturing, at once, both the private Irving and his public performance style" (419). Storm feels that, in capturing the sitter's complex personality, the portrait "stands apart among the other Irving portraits, notably from the more conventional paintings of Whistler, Sargent, and Millais" (419), although he also believes much of its success comes from its being incomplete: Irving himself had not liked it, and the artist had left it unfinished. But Storm was not alone in valuing the canvas that has come down to us. He quotes Henry Arthur Jones, an early twentieth-century biographer of Irving, who had reached a similar conclusion: "Handsome, easy, thoughtful, spirited, natural; without any assertion of tragic depths and powers; with a hint of a little raffish, subtle, intellectual comedy and humour, and an engaging offer of good fellowship, Bastien-Lepage's sketch is an authentic memorandum of the earlier Irving" (qtd. in Storm 419). The very fact that this portrait is in the gallery's primary collection, and on show there 9n Room 28 at the time of writing), speaks of the esteem in which it is held. Irving, of course, has a special place in the gallery's affections: a statue of him by Sir Thomas Brock stands beside it in its own grounds, looking towards London's theatre-land.
Related Material
Bibliography
Storm, William. "Impression Henry Irving: The Performance in the Portrait by Jules Bastien-Lepage." Victorian Studies 46/3 (2004): 399-423.
---
Created 12 March 2020