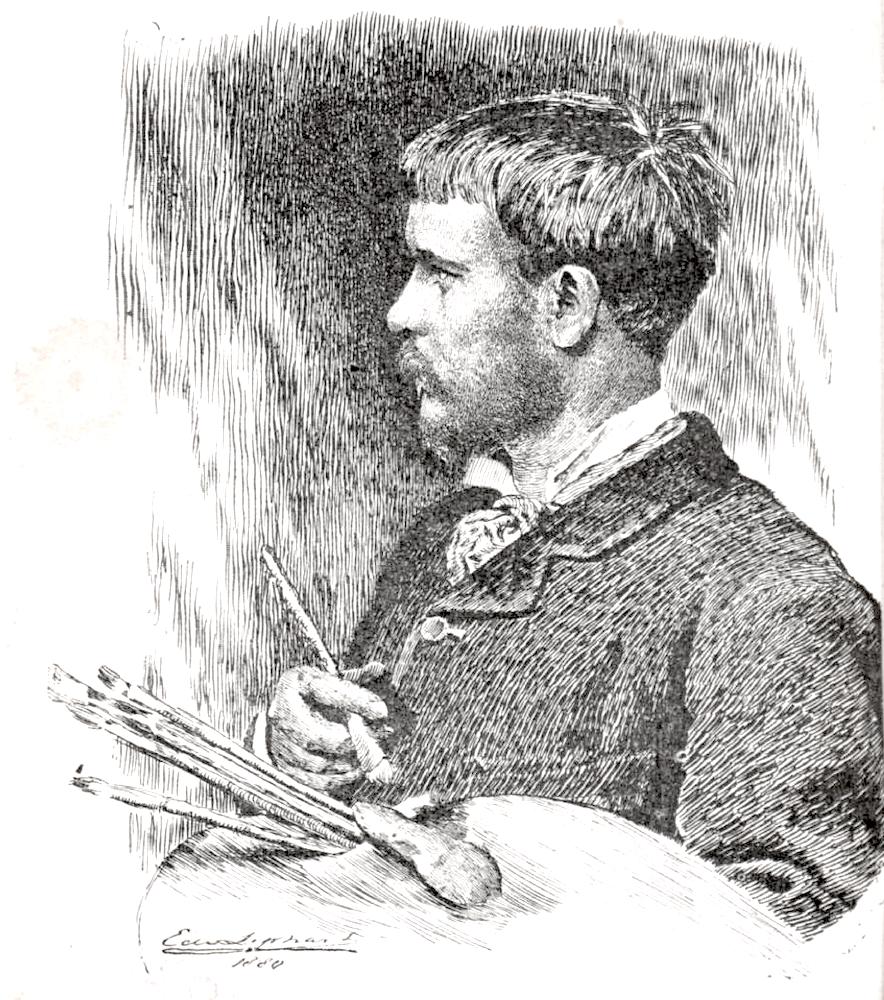 Source: Theuriet, frontispiece.
He is chiefly remembered today for his rural subjects, which were frequently exhibited at the Grosvenor Gallery and elsewhere. Many British artists greatly admired these works.... North of the border in Scotland, Bastien-Lepage was a crucial influence upon James Guthrie (1859-1930).... while in England George Clausen (1852-1944) was Bastien-Lepage's most devoted disciple. — Lambourne 332
Disregarding the polemics that have historically surrounded his reputation, Bastien-Lepage's paintings are compelling and magnetic in their own right. Undiminished since his death, his work has always drawn empathetic audiences – whether exhibited in Continental Europe, Great Britain, or the United States. — William S. Feldman
Biography
Paintings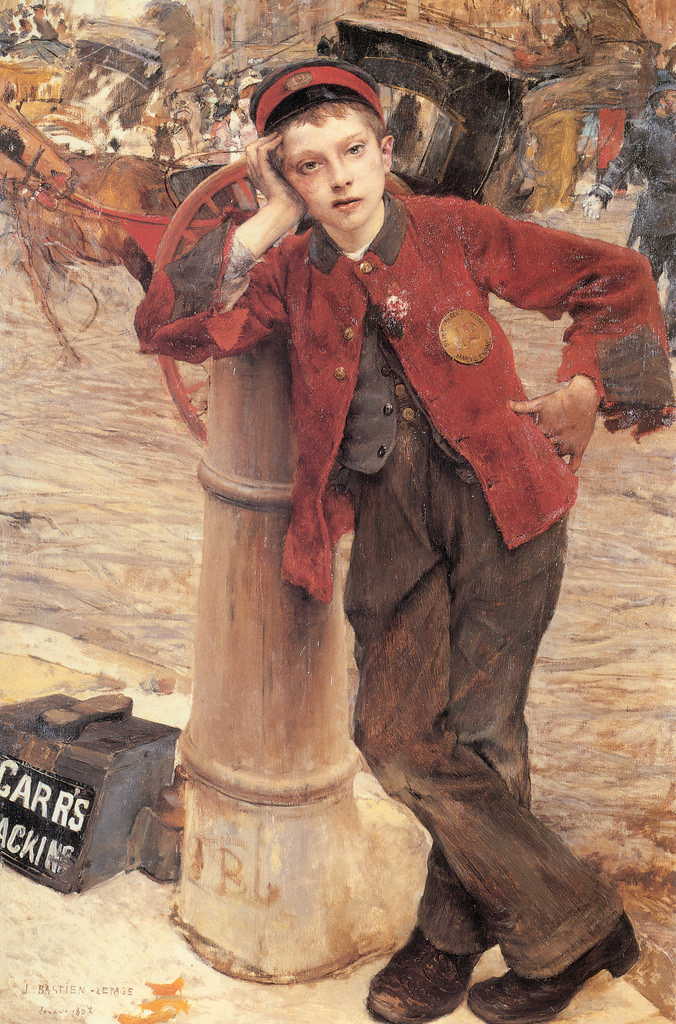 Watercolours, sketches etc
Bibliography
Aubrun, Marie-Madeleine. Jules Bastien-Lepage, 1848-1884: Catalogue Raisonné, 1985. [Very limited view on Google Books.]
Cartwright, Julia. Jules Bastien-Lepage. London: Seely & Co, 1894. Internet Archive. Contributed by Harold B. Lee Library, Brigham Young University.
Feldman, William S. "Jules Bastien-Lepage: a new perspective." Art Journal 20. NGV (National Gallery of Victoria).
Lambourne, Lionel. Victorian Painting. London and New York: Phaidon, 1999.
McConkey, Keith. The Bouguereau of the Naturalists: Bastien Lepage and British Art. Art History. 1/3 (1978): 371-382.
_____. Catalogue Note. Jules Bastien-Lepage: Le Petit Ramoneur (Damvillers). Sotheby's.
_____. "From Grez to Glasgow: French Naturalist Influence in Scottish Painting." Scottish Art Review 15 (November 1982): 16-24, 29-34.
_____. "Listening to the Voices: A Study of Some Aspects of Jules Bastien-Lepage's Joan of Arc Listening to the Voices." Arts Magazine 56 (January 1982): 156~160.
_____. "Pauvre Fauvette or Petite Folle: A Study of Jules Bastien-Lepage's Pauvre Fauvette." Arts Magazine 55 (January 1981): 140-43.
Nord, Philip. Impressionists and Politics: Art and Democracy in the Nineteenth Century. London: Routledge, 2000.
Storm, William. "Impression Henry Irving: The Performance in the Portrait by Jules Bastien-Lepage." Victorian Studies 46/3 (2004): 399-423.
Theuriet, André. Jules Bastien-Lepage: L'Homme et L'Artiste. Paris: Charpentier, 1885. Internet Archive. Contributed by bnfgallica, europeanlibraries.
_____, with essays by George Clausen, Walter Sickert and Mathilde Blind. Jules Bastien-Lepage: A Memoir. London: T. Fisher Unwin, 1892. Internet Archive. Contributed by University of California Libraries.
---
Created 12 March 2020