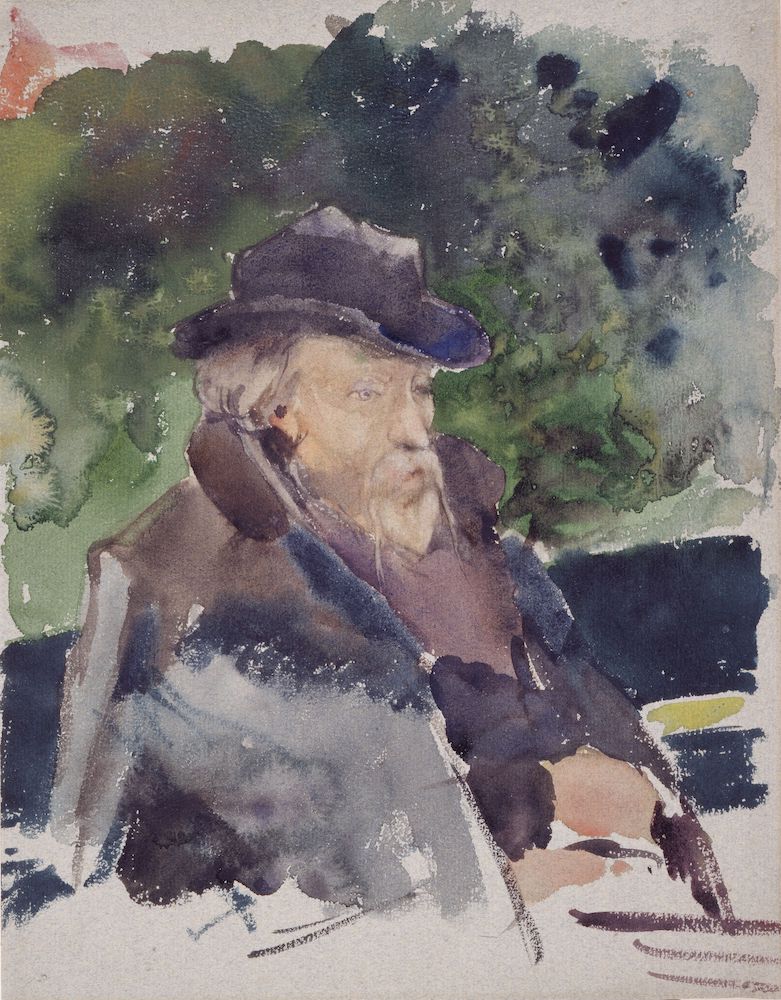 Sketch of Edward Burne-Jones in a Boat, Walton-on-Thames
Jules Bastien-Lepage (1848-1884)
c.1880
Watercolour
Birmingham Museum and Art Gallery
Ref. no. 1961P51
Image download, text and formatting by Jacqueline Banerjee.
Work in the public domain. [Click on the image to enlarge it.]
For his part, "Bastien-Lepage's contacts with British painters were frequent during these last years of his life," writes William Feldman. In 1879 he painted the actress Sarah Bernhardt's portrait to much acclaim, and then, probably on the strength of that success, was invited to paint the Prince of Wales. Next came the plan for him to paint the actor Henry Irving. This was conceived "on the evening of 3rd July 1880, when Bastien-Lepage and Bernhardt were entertained by Irving himself and Ellen Terry" (McConkey 372). Moving in such circles, with sketchbook ever at the ready, Bastien-Lepage evidently accompanied Burne-Jones on a boating trip, probably when both were visiting Ashley Cottage, the home of Sir George and Lady Lewis in Walton-on-Thames. Lady Lewis entertained many of the artists of the day, and Burne-Jones was particularly close to her.
The result of such contacts was that Bastien-Lepage himself was influenced by Pre-Raphaelite art in his later works, while his own paintings made a great impact on contemporary English artists. The impact is usually seen in terms of his naturalism, but his ability to capture the essence of his subject — seen even, or especially, in this unfinished portrait. This supports the cautiously advanced view that "Bastien-Lepage was among the French painters most responsible for bringing certain impressionist affinities to Britain" (Storm 415).
Related Material
Bibliography
Aubrun, Marie-Madeleine. Jules Bastien-Lepage, 1848-1884: Catalogue Raisonné, 1985. [Very limited view on Google Books.] Web. 12 March 2020.
Burne-Jones, Georgiana. Memorials of Edward Burne-Jones, Vol. II. London: Macmillan, 1904. Internet Archive. Contributed by Brigham Young University. Web. 12 March 2020.
Feldman, William S. "Jules Bastien-Lepage: a new perspective." Art Journal 20. NGV (National Gallery of Victoria): Web. 12 March 2020.
McConkey, Keith. The Bouguereau of the Naturalists: Bastien Lepage and British Art. Art History. 1/3 (1978): 371-382.
Storm, William. "Impression Henry Irving: The Performance in the Portrait by Jules Bastien-Lepage." Victorian Studies 46/3 (2004): 399-423.
---

Victorian
Web

Visual
Arts

French
Artists

Bastien-
Lepage

Next
Created 12 March 2020