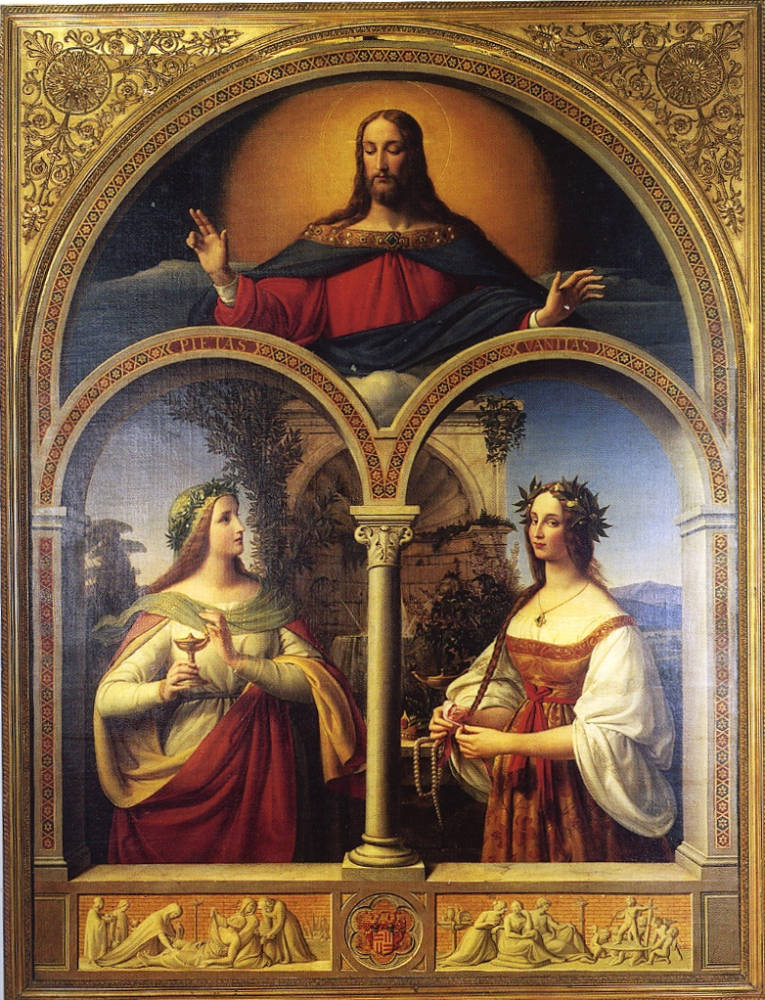 Pietas und Vanitas: Parabel der klugen und törichten Jungfrauen
Wilhelm von Schadow
1841
Oil on canvas
194 x 144 cm.
Städelsches Kunstinstitut
Frankfurt
Click on image to enlarge it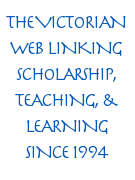 Commentary from Cordula Grewe's Painting the Sacred in the Age of Romanticism
Schadow's figures are yet another variation on the allegorical pair first embodied by Sulamith and Maria. . . . Painted at the height of the artist's institutional career, it exemplified his trademark "naturalist idealism," which fused study of the live model with emulation of the High Renaissance. Consequently, the emphatic archaism of Sulamith and Maria . . . [has] yielded to a softer cinquecentesco idiom. The two women, now stately standing figures, appear behind an ornate Romanesque arcade reminiscent of an Italian palace. The illusionism of the architectural frame produces a stage atmosphere, an impression deepened by the proplike character of the background, where a thickly overgrown fountain blocks the view into the distance and blurs the spatial situation. The luscious, overabundant vegetation conjures up an enchanted garden, and the viewer almost hears the gurgling of the clear water that springs from ornamental lion heads. Only at the very right, behind the shoulder of Vanitas, does a small vista open up onto a valley, where an early Christian church has nestled into the flood plain. While the arcade clearly separates the two women, the continuous background counteracts this separation and, uniting their spheres, initiates a vexing play between sameness and difference.
The women's appearance amplifies the play between similarity and disparity, for an undeniable family resemblance undermines the proclamation of dichotomy stated in golden letters on the arches, PIETAS, VANITAS. What differentiates them is. . . the actions imputed to them in smaller scenes beneath the main figures, actions weighed by the Judge of the World in the tympanum above. But these vignettes not only reveal the women's characters, but their attributes as well. Both women have oil lamps. The one of Piety is burning, the flame carefully protected by the virtue's cupped hand; her vain sister, in contrast, has carelessly deposited her lamp on the rim of a fountain, its flame about to die. Placed amidst a lavish still life of gold, rubies and pearls, the ancient object is no more than yet another precious ornament. However, the Last Judgment looms large above this ostentatious celebration of luxury, which thus takes on darker connotations, transforming into a solemn memento mori. The warning seems only apposite in light of the women's true identities, as revealed by the burning and extinguished lamps: these are two of the Wise and Foolish Virgins. [102]
References
Grewe, Cordula. Painting the Sacred in the Age of Romanticism. Farnham, Surrey: Ashgate Publishing, 2009.
Witemeyer, High. George Eliot and the Visual Arts. New Haven: Yale University Press, 1979. [especially chapter 6.]
---

Victorian
Web

Artists

The
Nazarenes

Wilhelm
von Schadow

Next
Created 1 August 2001

last modified 19 June 2016