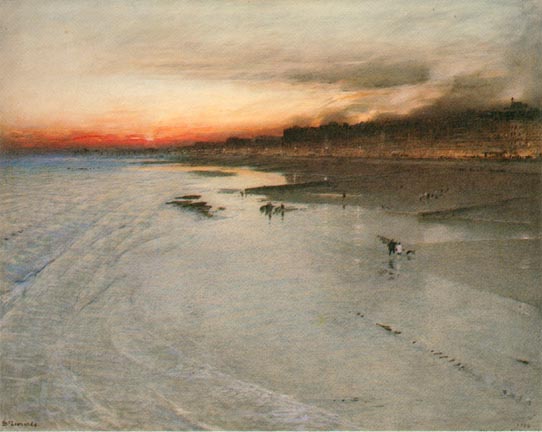 St. Leonards by Albert Goodwin, RWS, 1845-1932. RA 1900. Signed, inscribed and dated 1908. Water colour: 17 1/2 x 22 inches.
Commentary by Christopher Newall
St. Leonard's demonstrates the level of technical and visual sophistication that Albert Goodwin achieved. His objective in the water colour is to give a sense of aerial perspective; both his purpose and his solution owe much to his study of Turner. No compositional support is required to allow the viewer to feel the expanse of wet sand that forms the vast triangular foreground to the drawing. The modulation of colour within this area, combined with a density of glistening texture, allows the eye to perceive the area as a flat expanse on the basis of abstract visual information.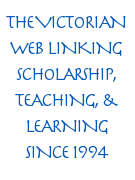 Peter Nahum Ltd, London has most generously given its permission to use in the Victorian Web information, images, and text from its catalogues, and this generosity has led to the creation of hundreds of the site's most valuable documents on painting, drawing, and sculpture. The copyright on text and images from their catalogues remains, of course, with Peter Nahum Ltd.
Readers should consult the website of Peter Nahum at the Leicester Galleries to obtain information about recent exhibitions and to order their catalogues. [GPL]
References
Newall, Christopher. A Celebration of British and European Painting of the 19th and 20th Centuries. London: Peter Nahum, nd [1999?]. Pp. 54-55.
Smith, Hammond. Albert Goodwin. London: 1977.
---
Created 13 August 2001; last modified 23 December 2014