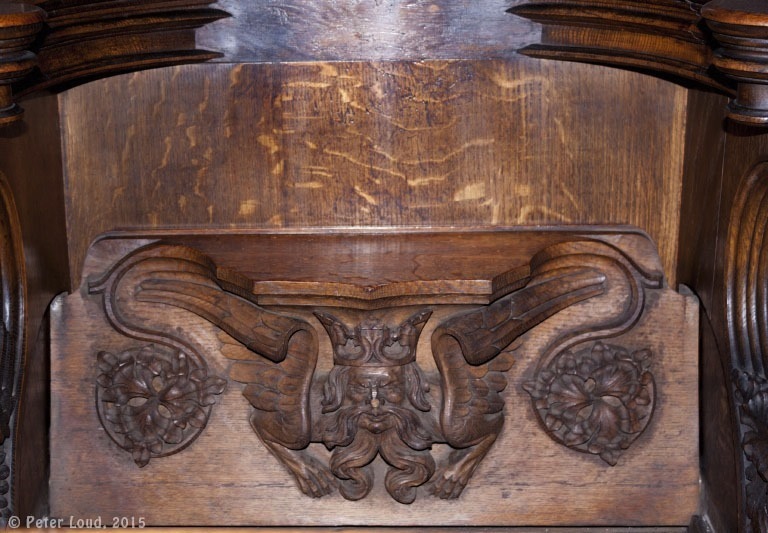 One of many fascinating and often intriguing misericords by Ralph Hedley (1848-1913) in St Nicholas Cathedral, Newcastle. This seat is nearest the altar on the south side of the aisle, and the image shows how the misericord is to be found on the underside of the folding seat. [Click on this and the following image to enlarge them.]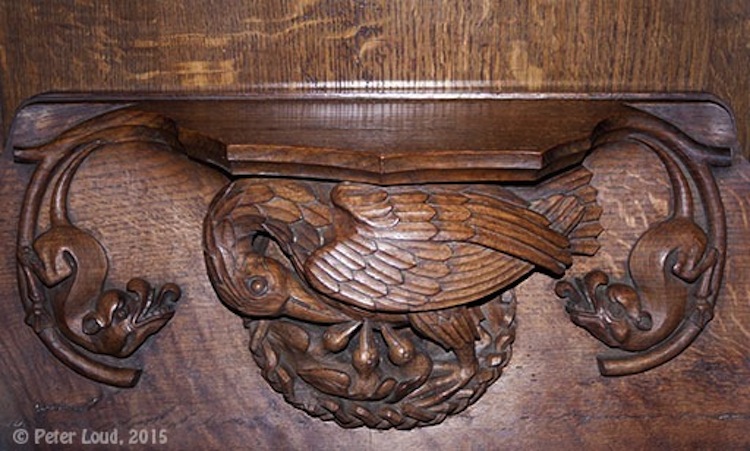 This seat is on the north side of the aisle and is the tenth from the altar. The image shows how the carvings are based upon medieval bestiaries and represent aspects of early Christianity. The theme here is a standard one from medieval bestiaries, of a pelican piercing its breast to produce blood to feed its young. In this case it seems that other creatures too (at the side) want to feed on the blood. It represents Jesus on the cross giving his own blood for the benefit of mankind.
Photographs, captions and text kindly contributed by Peter Loud. You can see many more of Hedley's marvellous late nineteenth-century misericords on Peter Loud's own site by clicking here. Please note that none of these images may be be used on social media, websites or elsewhere without previous written agreement — Jacqueline Banerjee.
Related Material
Choir stalls (shows some carvings at the ends of the stalls)
Sources
Braidwood, Elizabeth. "The Medieval Pelican." Web. 1 September 2015.
"Pelican." The Medieval Bestiary. Web. 1 September 2015.
---
Created 15 September 2015