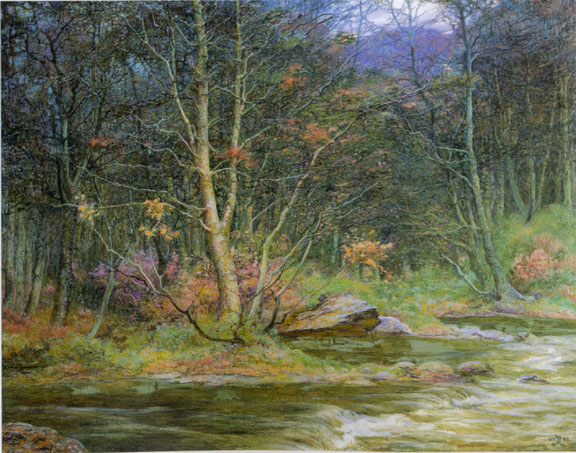 A Woodland Rivulet by Edward Steel Harper, 1878-1951. Signed with monogram and dated 1916; inscribed on labels on the backboard: "Edward Steel Harper A Woodland Rivulet, painted 1915-16, fin. July 3rd 1916, add. Oct 31 1916, 55 Moor Pool Avenue, Harbours, B'ham." 23 1/2 x 29 1/2 inches, 59.5 x 75 centimetres
Commentary by Sally Burgess
In the second half of the nineteenth century, the Royal Birmingham School of Art became the envy of the world. Its teachings were centred on the Arts and Crafts movement, the very epitome of an apprenticeship to Morris & Co. William Morris himself came to lecture at the school three times during 1879 and 1880. Artists were encouraged to work in many media, from wall painting, miniatures, enamel and stained glass to embroidery, wood and metalwork. Edward Robert Taylor, the school's Headmaster at the turn of the century, boasted: "We were the first school, to begin to link the processes with design -- that is, we allowed students an opportunity of working in other materials than paper or clay" [see Crawford, pp. 27-39]. From 1881, the school had begun to elect Associates on the model of the Royal Academy. The first intake included Walter Langley, the founder of the Newlyn School and in 1885, Sir Edward Coley Burne-Jones was reclaimed by his native city, accepting the post of President.
Edward Steel Harper was a product of the School's tradition; one of three children who became professional artists. He was elected a member of the Royal Birmingham School in 1915. Not only was he an accomplished landscape painter, but also a skilled craftsman in both wood and metal. This subtle and complex wooded landscape, painted with the PreRaphaelite technique of pure glazes, is contained within a handcrafted arts and crafts copper frame beaten by the artist. As so many Birmingham School students before him, Harper has combined the skills of different media.
Peter Nahum Ltd, London has most generously given its permission to use in the Victorian Web information, images, and text from its catalogues, and this generosity has led to the creation of hundreds of the site's most valuable documents on painting, drawing, and sculpture. The copyright on text and images from their catalogues remains, of course, with Peter Nahum Ltd.
Readers should consult the website of Peter Nahum at the Leicester Galleries to obtain information about recent exhibitions and to order their catalogues. [GPL]