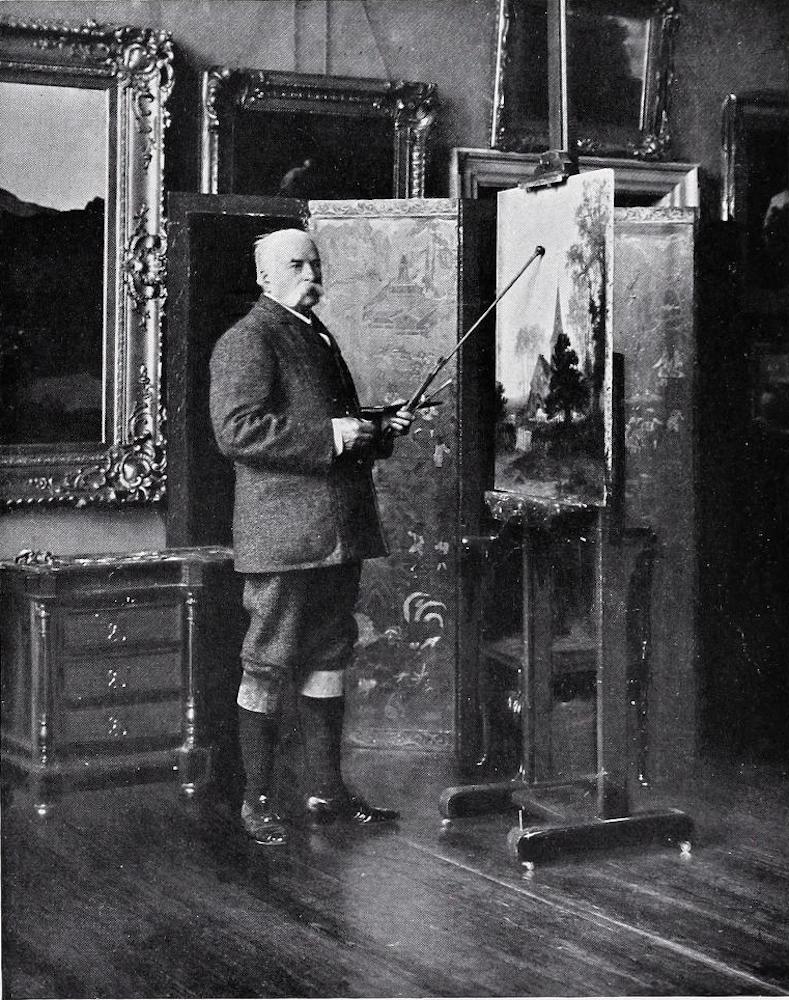 Leader in his studio. Source: Lusk 25.
Benjamin Williams Leader (1831-1923) was a popular and prolific Victorian landscape painter. He was born in Worcester, the third child of Ernest Leader Williams (1802–1879) and his wife, Sarah Whiting (1801–1888). An ironmonger and civil engineer by profession, his father also painted landscapes, and on one occasion hosted Constable on his visit to deliver some lectures in Worcester (see Wood 12). So there was no shortage of inspiration for his artistically gifted son. Later on, Leader would use his father's middle name as his surname to avoid confusion with as many as eleven other, unrelated, artists named Williams (Lusk 16; the landscape artist Edward Williams (1782–1855) alone had six sons who also became landscape painters).
After his schooling in Worcester, Leader spent several years in his father's office. This turned out to be a useful training in careful draughtsmanship, but it was not enough to satisfy him, and he began taking evening classes at the Worcester School of Design, eventually entering the Royal Academy Schools in 1854. By the end of the decade, a visit to Scotland had helped to confirm him in his love of landscape-painting in which foreground detail is set against a sweeping background. Rebecca Virag writes, "A favourite method of composition adopted by Leader, and noted early in his career, was to place dark masses of trees as silhouettes against an evening sky, with the sunlight still glowing upon distant hills" (152). This kind of searching after effect seems superficial beside the profound contemplation of nature encouraged by Ruskin, but it was an effective formula, and even Ruskin himself commented favourably on one of the paintings he exhibited in 1857 (A Stream from the Hills, see Dafforne 45). In the 1860s, Leader began to make a name for himself by painting the scenery of Wales, especially North Wales. He also loved painting in the gentler surroundings of the Surrey Hills, where he would eventually make his home.
From the mid-1860s, Leader's work shows a new influence. Visiting Paris in 1865, he saw his own work, Autumn's Last Gleam admired at the Paris Salon, but also found much to admire in the work of his French contemporaries. Tim Barringer explains that "while there he copied a landscape by Jean-Baptiste-Camille Corot. From about this time (and perhaps as a result of this French influence), he began to broaden his style, adopting freer and more visible brushwork and often aiming for more dramatic effects of lighting." This combination was noted at the time by James Dafforne in the Art Journal of 1871: Dafforne commented aptly on the "happy medium" in Leader's work "between excess of detail and over-elaboration on the one hand, and dash of execution on the other" (47).
In 1881 Leader achieved his greatest success so far with a painting that nicely illustrates his mature style, February Fill Dyke. This was the first of his paintings to be engraved for commercial circulation, apart from those that had earlier appeared in the Art Journal. Ruth Wood sees it as a pivotal work for another reason — that it shows "how Leader has mastered the effects of light reflected from water" (61).
On the strength of this painting, and another sunset scene exhibited at this time, In the Evening Shall There Be Light (which later won a gold medal at the Paris Exposition Universelle of 1889), Leader was at last elected Associate of the Royal Academy in 1883. His reputation secure, he now entered the period of his greatest success. Both private buyers and agents responded to the "synthesis of Pre-Raphaelite rigour and Francophile freedom of gesture" that Barringer finds in his best work. Paintings listed in his account books sometimes sold for large sums: for example, he records that he sold his Evening on the Severn for £700 in 1883, a great deal in those days (Accounts).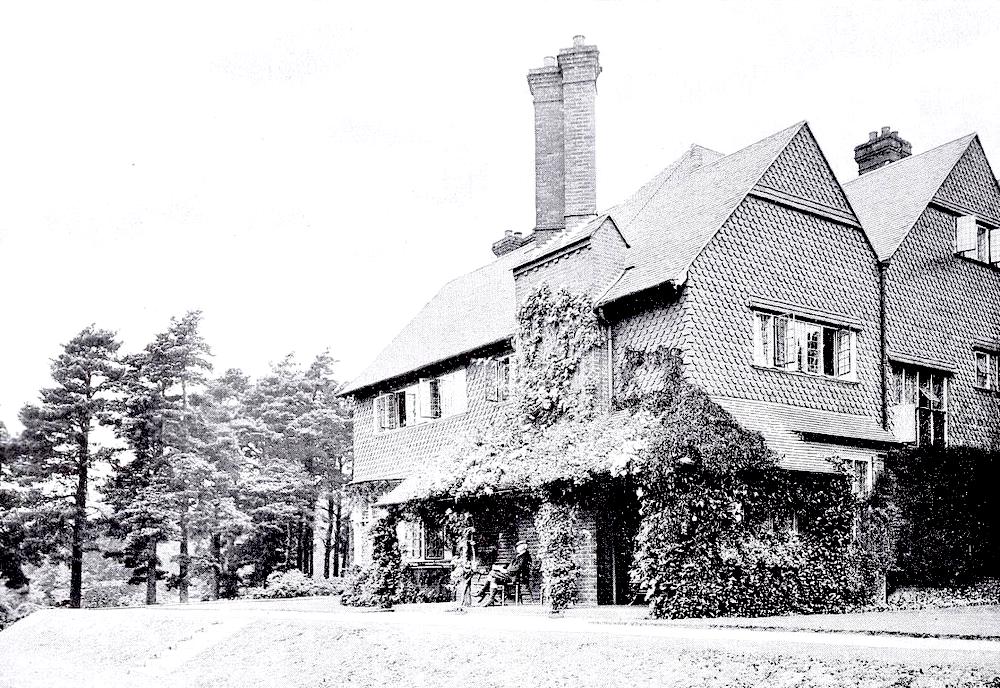 Burrows Cross House. Source: Lusk 28.
In 1889, Leader was able to move his family — his wife Mary Eastlake (1853-1938, the grand-niece of Sir Charles Locke Eastlake, and an artist in her own right), and their children so far — to Surrey from Worcestershire. Here they lived in Burrows Cross House, Shere, the fine house originally designed by Richard Norman Shaw for the artist Frank Holl. Shaw extended it for them — though divided since then, the house is still a listed building. Leader had done well for himself, and his work was appreciated in Europe and North America as well as at home: when he won the Gold Medal in Paris, the French government made him a Knight of the Legion of Honour (Wood 77). That was in 1889, and in 1898, surely belatedly, he became a full member of the Royal Academy. This is what prompted Lewis Lusk's monograph on him in the Art Journal's 1901 Christmas Art Annual, listed below.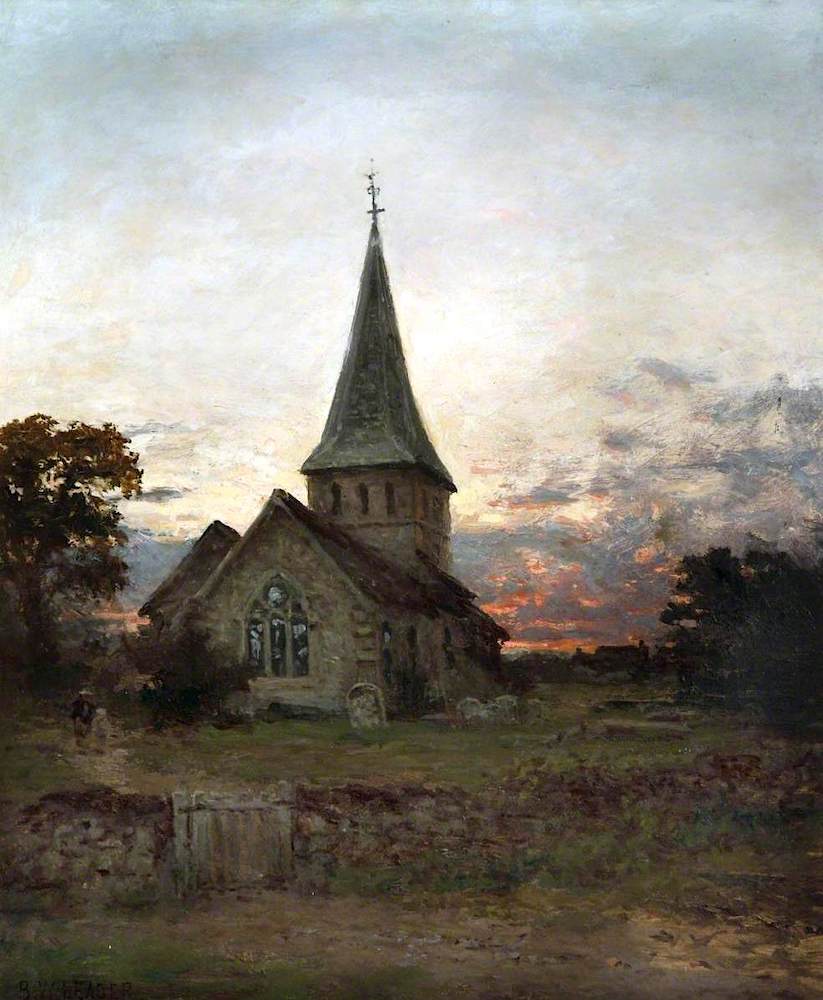 Shere Church, Surry, one of Leader's later paintings (dated c.1890-1923).
Unfortunately, Leader could not escape sorrow: he and his wife lost their youngest daughter Margaret, born in 1896 after their move to Surrey, at just fourteen; and the elder of their two sons, named Benjamin after his father, was killed in action in the First World War (see Wood 106). But Leader continued painting until his late eighties, dying at the ripe old age of 92. He was buried with Margaret in the churchyard of the picturesque old church of St James's, Shere, where his wife and two of their daughters joined him much later (his wife was considerably younger than he was). His reputation had faded by then, perhaps unfairly so, but the best of his works now fetch six-figure sums at auctions.
Bibliography
Barringer, Tim. "Leader, Benjamin Williams [formerly Benjamin Williams] (1831–1923), landscape painter." Oxford Dictionary of National Biography. Online ed. Web. 4 September 2020.
"Benjamin Williams Leader (1831-1923)." Rehs Galleries, Inc. Web. 4 September 2020.
Dafforne, James. "British Artists, Their Style and Character, with engraved illustrations. No. XCVII. Benjamin Williams Leader."The Art Journal Vol. 33 (1871): 45-47. Internet Archive,/span>. Web. 4 September 2020.
Leader, Benjamin Williams. Accounts. Accessed via his Biography on the Internet Archive Wayback Machine. © Ben Stagg, this includes much interesting material about the artist and his family. Web. 4 September 2020.
Lewis, Frank. Benjamin Williams Leader, R.A., 1831-1923. London: Frank Lewis Publishers, 1971.
Lusk, Lewis. "B. W. Leader, RA." The Art Journal (an attached monograph). Internet Archive. Vol. 63 (1901). Contributed by the Getty Research Institute. Web. 4 September 2020.
Virag, Rebecca. "Benjamin Williams Leader (1831-1923)." Art in the Age of Queen Victoria: Treasures from the Royal Academy of Arts Permanent Collection. Ed. Helen Valentine. London: The Royal Academy of Arts, 1999. 152.
Wood, Ruth. Benjamin Williams Leader, R.A., 1831-1923: His Life and PaintingsBenjamin Williams Leader, R.A., 1831-1923. Woodbridge, Suffolk: Antique Collectors Club, 1998.
---
Created 5 September 2020