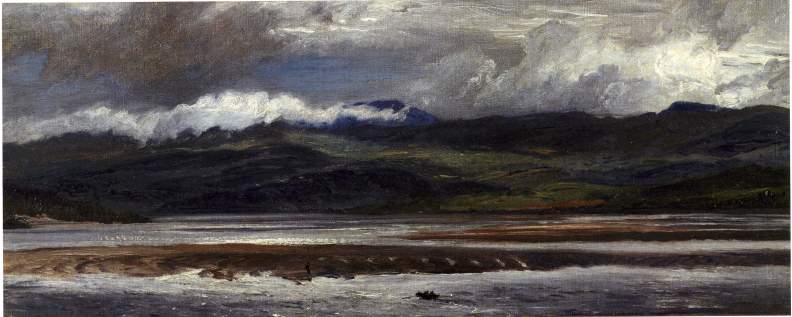 After Rain by Henry Moore RA RWS, 1831-1895. Signed and dated 1872, labelled verso with title and inscribed in pencil "Traeth Mawr. Oil on canvas, 7 3/4 x 19 3/4 inches.
In late 1872 Moore rented a cottage near Porthmadog in Snowdonia in North Wales where he spent time sketching and exploring. The majority of his Royal Academy exhibits of the following year are of subjects in this area. One of these, and the sketch for it (similar to this one), were described by his biographer [Frank MacLean] as "a wonderful tour de force in cloud and light painting, and in the sketch (which was made on the spot, and is as fresh and vigorous as ever) one has an even better chance of realising the unususal power Moore had of rendering by a simple scheme and perfectly direct painting these grand effects of nature."
This sketch shows a view of Snowdon across the Traeth Mawr (Welsh for big sands) on the Glaslyn Estuary. With its shifting sand and powerful tides this is a dangerous place to be and in the sketch a stranded figure is being picked up by boat. This sketch is likely to be a study for Crossing the Bar, exhibited at the Royal Academy in 1873, though we can find no illustration of the finished work. — Rupert Maas, p. 18.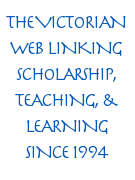 Bibliography
Catalogue. London: The Maas Gallery, 2008. Catalogue no. 13
MacLean, Frank. Henry Moore RA. Ed. James A. Manson. London: The Walter Scott Publishing Co. Ltd., 1905.
The Maas Gallery, 15a Clifford Street, London W1S 4JZ has most generously given its permission to use in the Victorian Web information, images, and text from its catalogues, and this generosity has led to the creation of many valuable documents on painting and drawing. The copyright on text and images from their catalogues remains, of course, with the Gallery. Readers should consult their website to obtain information about recent exhibitions and to order their catalogues. [GPL]
---
Created 5 July 2008
Last modified 5 )ctober 2022