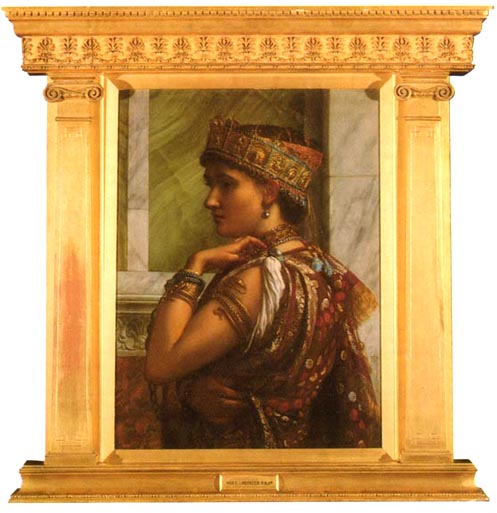 Zenobia Captive
Sir Edward John Poynter Bt PRA RWS (1839-1919)
Signed with monogram and dated 1878
Oil on canvas
28 x 21 inches.
Exhibited: The Royal Academy, 1878, no. 43
Commentary by Christopher Newall
Zenobia was the second wife of Odaenathus, king of Palmyra. Under Odaenathus, and subsequently Zenobia, Palmyra, which was a wealthy oasis between Syria and Babylon, gained a brief independence from the Eastern Roman Empire to which it had been annexed in about 17 A.D. In the middle years of the Third Century A.D. Zenobia gained power from her husband whose death she may have been responsible for. She proceeded to make enormous territorial gains at the expense of the Romans; at one point she had conquered Syria, Egypt and much of Asia Minor. In 271 Zenobia declared her son the Emperor Augustus. This was too much for the true Emperor Aurelian who consequently marched against her. Zenobia's previous conquests fell easily to the Romans and her army suffered defeats at Antioch and Emesa. Finally Palmyra was invaded and Zenobia and her sons captured. She was taken to Rome to be exhibited at Aurelian's triumphal celebrations, following which she was granted a pension and a villa by the Romans. In contemporary accounts Zenobia was praised for her beauty and her dignified acceptance of defeat; more critical historians have judged her as ruthless and unprincipalled in her personal ambition.
Poynter has depicted Zenobia in the former role, as a semi-oriental warrior-princess defeated by the might of the Roman Empire but worthy of the Romans' respect as an adversary. Poynter delights in confirming her as a romantic heroine. As a choice of subject she reflects Poynter's strong interest in the history of the Eastern Roman world and its subject states.
References
Newall, Christopher. A Celebration of British and European Painting of the 19th and 20th Centuries. London: Peter Nahum, nd [1999?]. Pp. 28-30.
Peter Nahum Ltd, London has most generously given its permission to use in the Victorian Web information, images, and text from its catalogues, and this generosity has led to the creation of hundreds of the site's most valuable documents on painting, drawing, and sculpture. The copyright on text and images from their catalogues remains, of course, with Peter Nahum Ltd.
Readers should consult the website of Peter Nahum at the Leicester Galleries to obtain information about recent exhibitions and to order their catalogues. [GPL]
---

Victorian
Web

Visual
Arts

Edward J.
Poynter

Paintings

Next
Last modified 1 August 2001