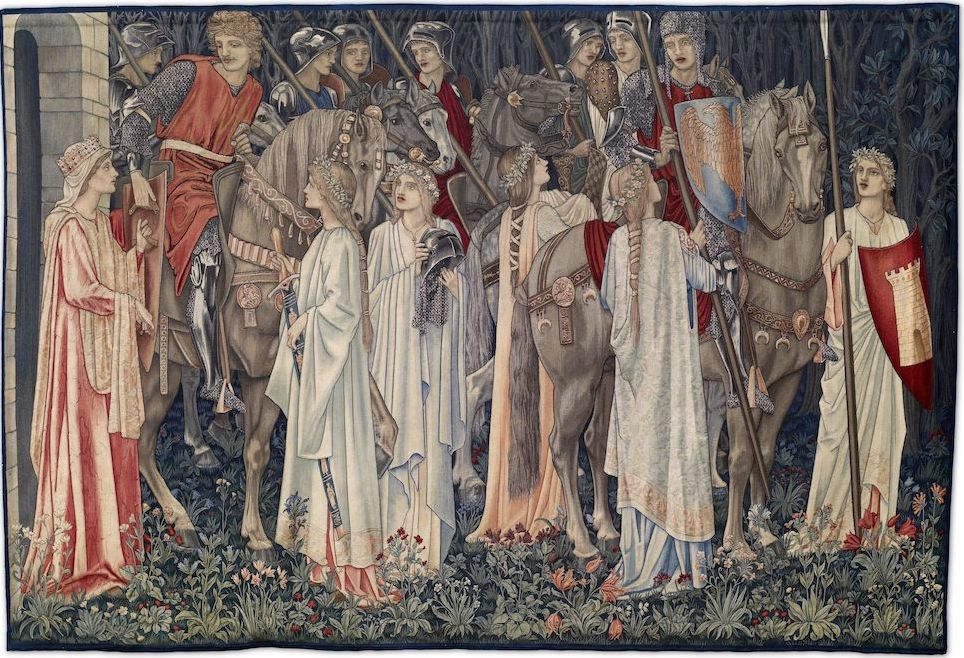 The Arming and Departure of the Knights, woven tapestry designed by Edward Burne-Jones, William Morris and John Henry Dearle, manufactured by Morris & Co. (1891-4).
The William Morris Gallery is pleased to announce "The Legend of King Arthur: A Pre-Raphaelite Love Story." The exhibition will explore the legend of King Arthur within the Victorian imagination, presenting the story through the eyes of Pre-Raphaelite artists including Dante Gabriel Rossetti, Arthur Hughes, John William Waterhouse and William Morris alongside female Pre-Raphaelite artists Eleanor Fortescue-Brickdale Elizabeth Siddal and Evelyn de Morgan. The exhibition will be accompanied by a specially commissioned installation by contemporary artist Joy Gregory exploring international myths and legends. The exhibition is curated by Natalie Rigby, Falmouth Art Gallery and this is its first stop on a nationwide tour of locations associated with King Arthur.
"The Legend of King Arthur: A Pre-Raphaelite Love Story" will explore the Arthurian stories, as told in Thomas Malory's Le Morte d'Arthur (1485), through a series of works including paintings, tapestries and drawings. The legend of King Arthur was recorded by various authors from the ninth century onwards – often with conflicting accounts – before Malory compiled the stories into a single work. The exhibition will present the cast of characters from Malory's stories, including Arthur's wife Guinevere, the magical advisor Merlin and a host of knights including Sir Tristram, Sir Lancelot and Sir Gareth.
The Arthurian legends fell into obscurity at the end of the Middle Ages before being rediscovered during a period of reawakened interest in medievalism in Victorian England, initially by poets such as Walter Scott and Alfred Tennyson and later by artists including Dante Gabriel Rossetti, Arthur Hughes and John William Waterhouse. William Morris and Edward Burne-Jones read Arthurian stories obsessively while studying together at Oxford University in 1855 and the legends informed Morris's earliest poetry and became the basis for murals the pair painted for the Oxford Union Library in 1857. Throughout their careers many of the Pre-Raphaelites repeatedly returned to the legend as a source of artistic inspiration and on display will be works from across a range of periods and variety of mediums that demonstrate this enduring fascination with the stories of King Arthur. Tennyson's cycle of poems, Idylls of the King (1859), was drawn heavily from Malory's version of the Arthurian legend and inspired many of the works that will be on display. Waterhouse's heavily annotated personal copy of Tennyson's poems will also be on display for the first time, revealing initial sketches for paintings such as his acclaimed The Lady of Shalott (1888).
The exhibition will explore each strand of the legend, beginning with Merlin as depicted through Arthur Hughes' painting The Rift with the Lute (1861-2) and Herbert Alfred Bone's drawing The Head of King Arthur (1879). On display will be multiple depictions Elaine of Astolat, who died of her unrequited love for Sir Lancelot, and is the subject of Tennyson's poem The Lady of Shalott, first published in 1833. These depictions will include works by William Holman Hunt, Hughes and Waterhouse, alongside those by female Pre-Raphaelite artists Evelyn de Morgan and Lizzie Siddal. De Morgan had a successful career as a painter associated with the later phase of the Pre-Raphaelite movement, she often sold her pieces to support the work of her husband, the ceramicist William De Morgan. Siddal was married to Rossetti and best known as a frequent model for many Pre-Raphaelite works, including for John Everett Millais' celebrated Ophelia. On display will be De Morgan's Study of Armour (1919) and Siddal's drawing The Lady of Shalott (1853), alongside a photograph by pioneering nineteenth-century photographer Julia Margaret Cameron, Lancelot and Elaine (1875), in which a cloaked man (Charles Hay Cameron, Cameron's husband) rows a boat bearing the body of Elaine (unknown sitter) down the river to King Arthur's castle, Camelot.
The story of the knight Sir Tristram will be represented by Morris' 1858 painting La Belle Iseult, the only completed easel painting Morris produced, and the story of Lancelot and his wife Guinevere by Rossetti's intricate pen drawing Sir Launcelot in the Queens Chamber (1857). Two large-scale tapestries depicting King Arthur's Knights' quest for the Holy Grail designed by Burne-Jones and woven by Morris & Co. will also be on display. Arming and Departure of the Knights and Attainment of the Holy Grail (1891-4) were created as part of a series of six tapestries on the subject, commissioned by William Knox D'Arcy for Stanmore Hall. Attainment of the Holy Grail is the largest in the series and, at over seven meters wide, took three men over two years to weave by hand.
The exhibition will also demonstrate how the legend of King Arthur continued to inspire artists into the late nineteenth and early twentieth century. On show will be three works by Eleanor Fortescue-Brickdale, including Gareth and Lynnette and Mordred the Boy Listening at the Door (both 1909-11). The latter work depicts Mordred, one of Arthur's least loyal knights, at the moment he overhears that he is Arthur's son. Following this he conspires to become High King himself and goes on to betray and gravely wound Arthur, leading to his death. Society Portrait painter John Collier also depicts a key scene in the series of events that would lead to the downfall of Arthur's kingdom in his c.1897 painting Queen Guinevere's Maying. Based on Tennyson's Idylls of the King, the work shows Guinevere during a May Day parade in which Mordred attempts to spy on her.
To coincide with the exhibition, the William Morris Gallery has commissioned London-based contemporary artist Joy Gregory (b. 1959) to create an installation exploring international myths and legends. Gregory will work with a local ESOL (English Speakers of Other Languages) group to gather stories from around the world that she will use as a starting point to create an embroidered textile work exploring the place of storytelling within cultural memory.
"The Legend of King Arthur: A Pre-Raphaelite Love Story" has been curated by Natalie Rigby, Falmouth Art Gallery. Following its debut at the William Morris Gallery, the exhibition will tour to Tullie House, Carlisle in February 2023 before finishing its run at Falmouth Art Gallery in Cornwall in June 2023. Each exhibition venue will showcase slightly different exhibits according to their links with the artists and the Arthurian legend. The William Morris Gallery, representing the Southeast where the round table was built and Excalibur is encased as the "Sword in the Stone," is also located close to the fictional "Astolat," a place associated with Elaine, the Lily Maid of Astolat, and her unrequited love for Lancelot whose story inspired Tennyson's the "Lady of Shalott." This local association is reflected in the gallery's multiple depictions of Lancelot and Elaine as painted by William Holman Hunt, Arthur Hughes, John William Waterhouse, and Lizzie Siddal.
A fully illustrated book of essays by internationally recognised Arthurian specialists exploring the legend and its influence on the Victorian period accompanies the exhibition.
This exhibition has been kindly supported by Visit Cornwall, Visit England and Cornwall Museums Partnership. This exhibition was made possible with Art Fund support.
Opening hours: Tuesday to Sunday, 10am – 5pm; Admission free (suggested £5 donation).
---
Created 22 October 2022