Introduction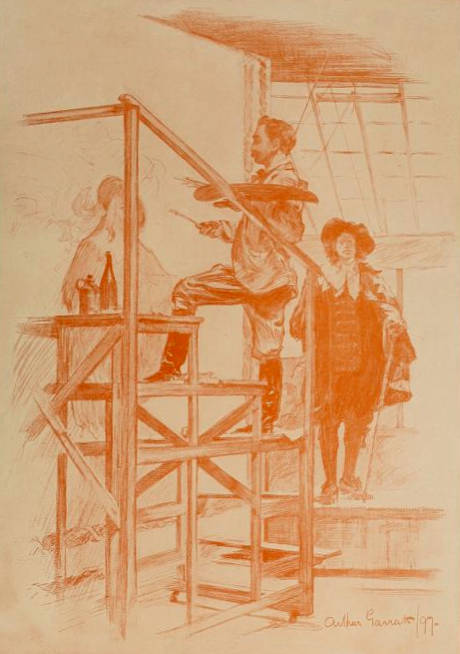 Mr. Solomon J. Solomon, A.R.A, at work upon his 'Charles I' for the Royal Exchange
The whole course of training through which he went was well calculated to develop his instinctive tendency towards idealism in subject and manner, and to foster that love of sumptuous arrangement which inspires every canvas he produces. He made his first serious steps in the difficult path of art just twenty years ago, when, at the age of sixteen, he entered Heatherley's School of Art, the studio which has seen the earliest attempts of many another important artist. After about a year's work there at drawing from the antique and from life, he passed into the Royal Academy schools, where he remained as a student for a period of three years. . . .
As far as his own inclinations go, he is certainly a decorative painter. The importance of studied line composition, the value of well considered placing of colour masses, and the momentous effect of a thoughtfully schemed pictorial pattern are matters which he fully recognises. He treats these essentials of design as the very foundation of his art, and gives to them an amount of thought which he does not willingly bestow upon the working out of the episodes that he makes his nominal motives. A dramatic painter in the ordinary sense he certainly is not, and the smaller emotions of the genre painter happily do not appeal to him. The passions which he depicts are physical rather than subtly intellectual, the passions which affect the body and not the face. They produce situations full of stress and movement, or poses which are expressive of conscious intention to be picturesque, not the casual juxtapositions into which human beings are thrown by the unforeseen accidents of existence. His people live a life of deliberate arrangement of themselves, and are more concerned with the intention to demonstrate their physical charms than with the wish to play effectively little comedies which are made up chiefly of small by-play. — A. L. Baldry
Works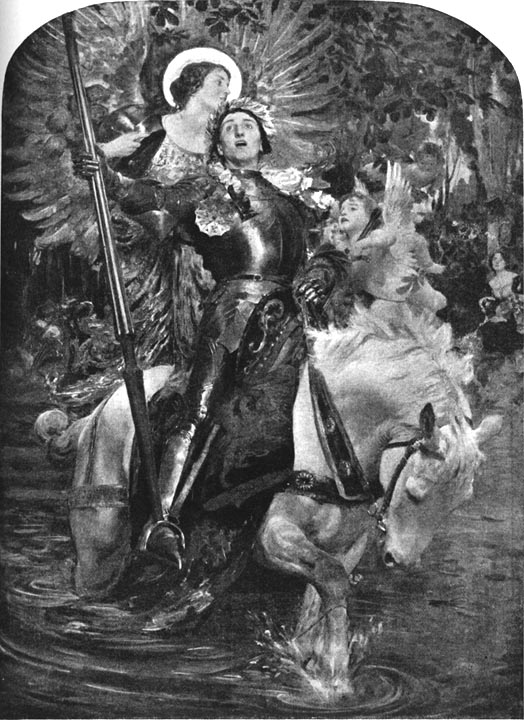 Other painters in the Solomon family
Bibliography
Baldry, A. Lys. "The Work of Solomon J. Solomon." The Studio. 8 (June 1896): 1-11.
The Emergence of Jewish Artists in Nineteenth-Century Europe. Exhibition Catalogue. Ed. Susan Tumarkin Goodman. London: Merrell; New York: Jewish Museum, 2001.
Gossman, Lionel. From Expulsion to Emancipation: Jews in England 1290-1858. A Victorian Web Foundation book. 2020. (complete text).
---
Last modified 27 July 2020