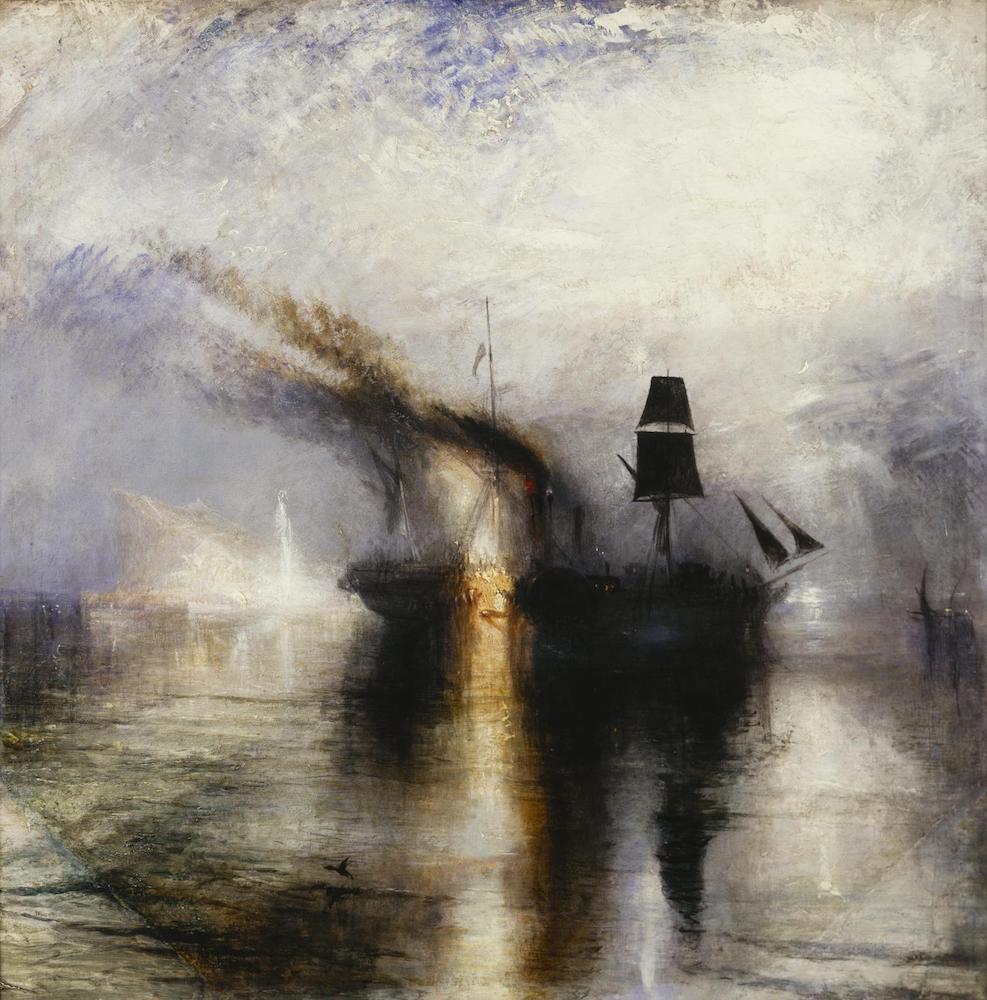 Peace — Burial at Sea by Joseph Mallord William Turner (1775-1851). Exhibited 1842. Oil on canvas. Support: 870 x 867 mm; framed: 1110 x 1108 x 120 mm. Collection: Tate, accepted by the nation as part of the Turner Bequest in 1856. Reference: N00528. Image kindly made available by the gallery under the Creative Commons CC-BY-NC-ND (3.0 Unported) licence. Commentary by Jacqueline Banerjee.
The painting has an unexpectedly personal resonance. As the gallery label of 2010 explains, it "shows the burial at sea of Turner's friend, the artist David Wilkie." Like other artists of the period, Wilkie had travelled to the Holy Land in the quest for authenticity in his Biblical paintings, reaching Jerusalem in February 1841, and leaving in April. However, he fell ill on the return voyage and was buried at sea off the coast of Gibraltar. With lighthouse and land not too far off, then, and another vessel nearby, the ship's flag has been lowered, and the body is being let down into the water by the flare of torches. The ship's sails are outlined sharply against an evening sky. A small seabird takes off from the sea in the foreground, a little towards the left, like a soul winging to heaven.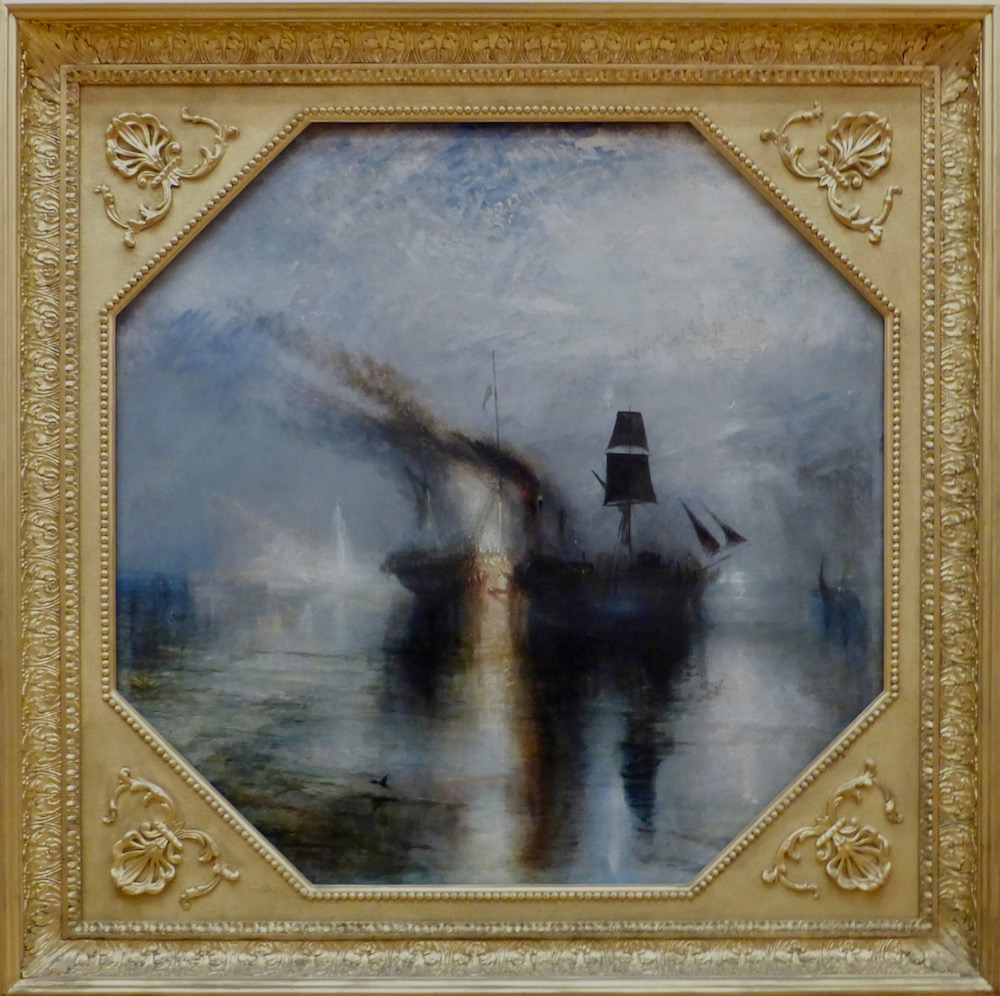 Left: Close-up of the lowering of the body. Right: The painting in its frame at Tate Britain, hanging next to War. The Exile and the Rock Limpet in an identical but slightly smaller frame. [Photographs by JB]
Turner experimented with painting pairs of scenes that play off each other, expressing contrasting feelings. This tribute to Wilkie was exhibited in 1842 alongside another very different but equally thought-provoking seascape: War. The Exile and the Rock Limpet [see both together on the Tate gallery wall], which depicts Napoleon in exile against a fiery sunset. The gallery label quoted above makes the useful point that "[t]he cool palette and saturated blacks [of Peace] create a striking contrast to its pair ... and convey the calm of Wilkie's dignified death, compared to Napoleon's disgrace," adding that the two works both represent "abstract concepts, via tone and colour," rather than attempting to recreate the "actual events."
Contemporary critics complained that the works were inadequately finished, but both paintings are much better appreciated now. As for this one, Simon Heffer praises it for its "stillness, calm and dignity," adding, "Turner's achievement is to take a moment of sadness and loss and convey an impression of it as something of extreme beauty: he creates a sense of euphemism for death."
Bibliography
Gallery Label. Tate. Web. 1 December 2018.
Heffer, Simon. "Hinterland." The Daily Telegraph, Review Section: 10. 1 December 2018.
Miles, Hamish. "Wilkie, Sir David (1785–1841), painter of genre, historical subjects, and portraits." Oxford Dictionary of National Biography. Online ed. Web. 1 December 2018.
---
Last modified 6 December 2018.