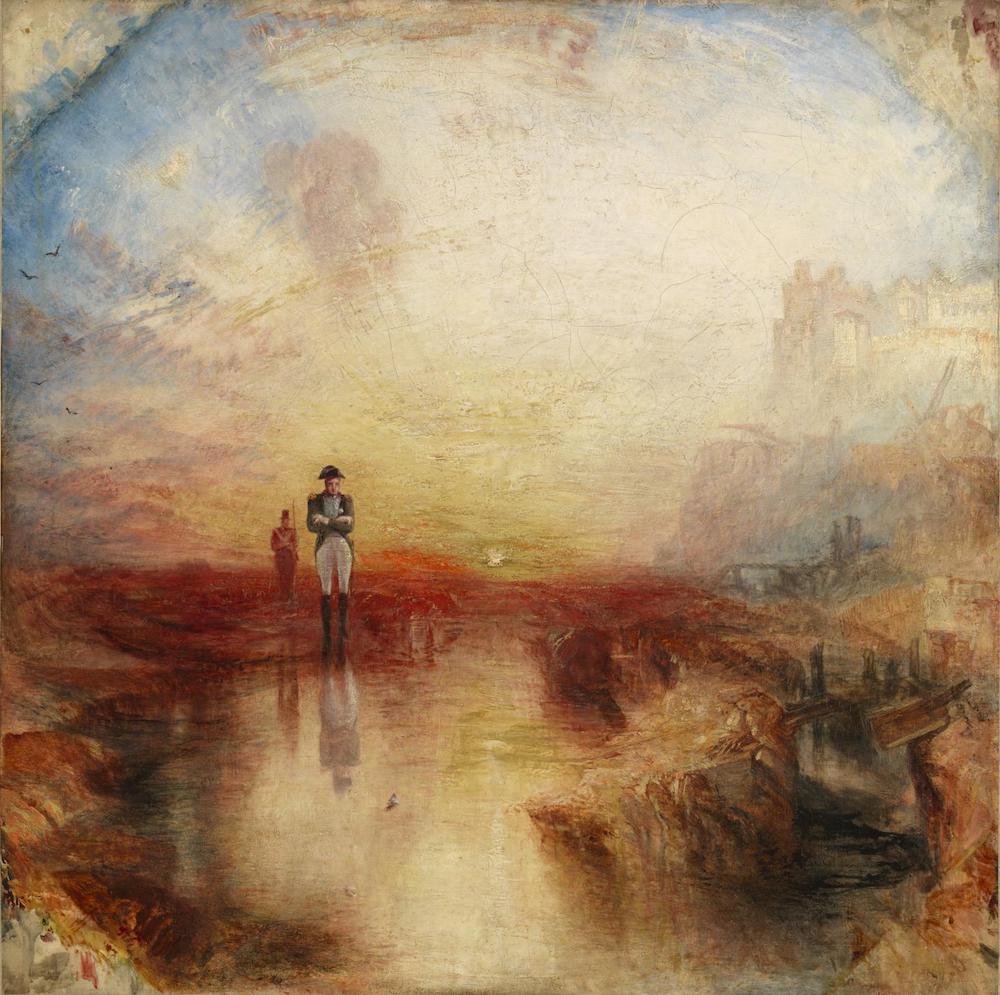 War. The Exile and the Rock Limpet by Joseph Mallord William Turner (1775-1851). Exhibited 1842. Oil on canvas. Support: 794 x 794 mm; frame: 1030 x 1025 x 120 mm. Collection: Tate, accepted by the nation as part of the Turner Bequest in 1856. Reference: N00529. Image kindly made available by the gallery under the Creative Commons CC-BY-NC-ND (3.0 Unported) licence. Commentary by Jacqueline Banerjee.
This remarkable painting was presented in 1842 as one of a pair with another equally striking work, Peace — Burial at Sea [see both together on the Tate gallery wall]. Its immediate inspiration was the repatriation of Napoleon's remains to France at the end of 1841, but it looks further back than that to show the fallen leader in exile on the island of St Helena. He is standing on the shore, contemplating a tiny limpet in the rock-pool in front of him, as suggested by the unusual subtitle. According to an early commentary, "Napoleon is supposed to see in the limpet a resemblance to a tent, and to feel that the limpet could join its comrades while power and liberty were denied to him" ("Turner and Ruskin," 68).
While Napoleon's predicament stands out in the painting, he is neither glorified nor vilified. He is not even shown centre stage. The main subject here is the vast fiery background of the sunset, suggesting the bloodshed and horror of the battlefield, where a solitary soldier remains standing almost like Napoleon's second shadow — with his own shadow too, as if these shadows go back endlessly. Like so many others, Turner had been to see the battlefield at Waterloo. There and on his various travels on the Continent he had witnessed for himself the havoc wrought by war. Man seems unable to free himself from his ambitions and the violence to which they lead. Yet the painting is filled with light. Ultimately, as Simon Heffer says, both this work and its counterpart, Peace, convey "the eternal truth that life goes on."
Bibliography
Gallery Label. Tate. Web. 1 December 2018.
Heffer, Simon. "Hinterland." The Daily Telegraph, Review Section: 10. 1 December 2018.
"Mr Ruskin on Turner." Literary Gazette. 17 January 1857: 67-68.
---
Last modified 6 December 2018