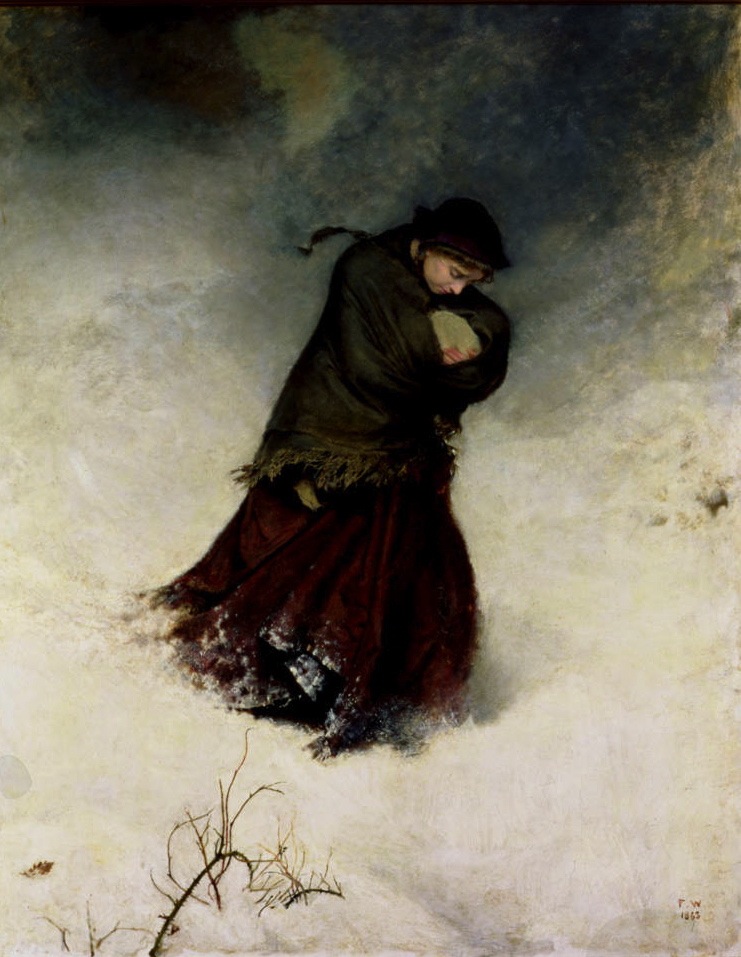 Works in oil illustrated on this site
Works in watercolor illustrated on this site
Walker's Other Exhibited Works not illustrated on this site (from J. G. Marks)
1864

Spring

,

Garden Scene

, Sketch (My Front Garden)," "Sketch for

Denis Duval

,

Dennis's Valet

(Summer Exhibition of the Old Water Colour Society)
1865

Autumn

(Summer Exhibition) and

Moss Bank Near Torquay

, (Winter Exhibition)
1866

The Bouquet

, (Summer Exhibition), "No. 352,

The Street, Cookham

, No. 385. (

The Seamstress)

, "No. 413 (

The Spring of Life

) (all in the Winter Exhibition)
1867

Fisherman and Boy

(Summer Exhibition, Old Water Colour Society),

A Vacarme ('Village on a Cliff

) (Summer Exhibition), "No. 336 (

The Violet Field

) (Winter Exhibition)
1868:

Well-Sinkers

, No. 228 (

The First Swallow

),

The Bedroom Window

, "The Fates and

Stream in Inverness-shire

(all in the Summer Exhibition of the Old Water Colour Society),

Lilies

,

The Gondola

,

Mushrooms and Fungi

(Winter Exhibition)
1869:

A Lady in the Garden, Perthshire

(Winter Exhibition, Old Water Colour Society)
1870: large oil painting

The Plough

(Royal Academy), the water colour

Wayfarers

(Summer Exhibition, Old Water Colour Society), "No. 334 (The Ferry),

An Amateur

,

A Sketch (pen-and-ink, Vagrants

),

Let Us Drink to the Health of the Village (Village on the Cliff

) (all in the Winter Exhibition of the Old Water Colour Society)
1871

At The Bar

(Royal Academy), "A Girl at a Stile
1872:

The Escape

(Summer Exhibition, Old Water Colour Society),

A Fishmonger's Shop

(Winter Exhibition), the small oil painting

At the Bar

, (Dudley Gallery),
1873

The Village

(Summer Exhibition, Old Water Colour Society)
1874

The Rainbow

(Winter Exhibition, Old Water Colour Society)
1875

The Right of Way

(Royal Academy) an
Bibliography
Black, Clementina. Frederick Walker. New York: Dutton; London: Duckworth, 1902.
Dickens, Charles. Hard Times and Pictures from Italy. One vol. London: Chapman and Hall,1868.
Hammerton, J. A. The Dickens Picture-Book. London: Educational Book [1910].
Marks, John George. Life and Letters of Frederick Walker, A. R. A. London and New York: Macmillan, 1896.
Milton, Steve. "Frederick Walker." [This site apparently no longer extant;]
Sources used in 2001 that are apparently no longer extant: 3 articles entitled "Frederick Walker" at www.spartacus.schoolnet.co.uk; www.speel.demon.co.uk; and Geocities.com
---
Last modified 30 July 2018