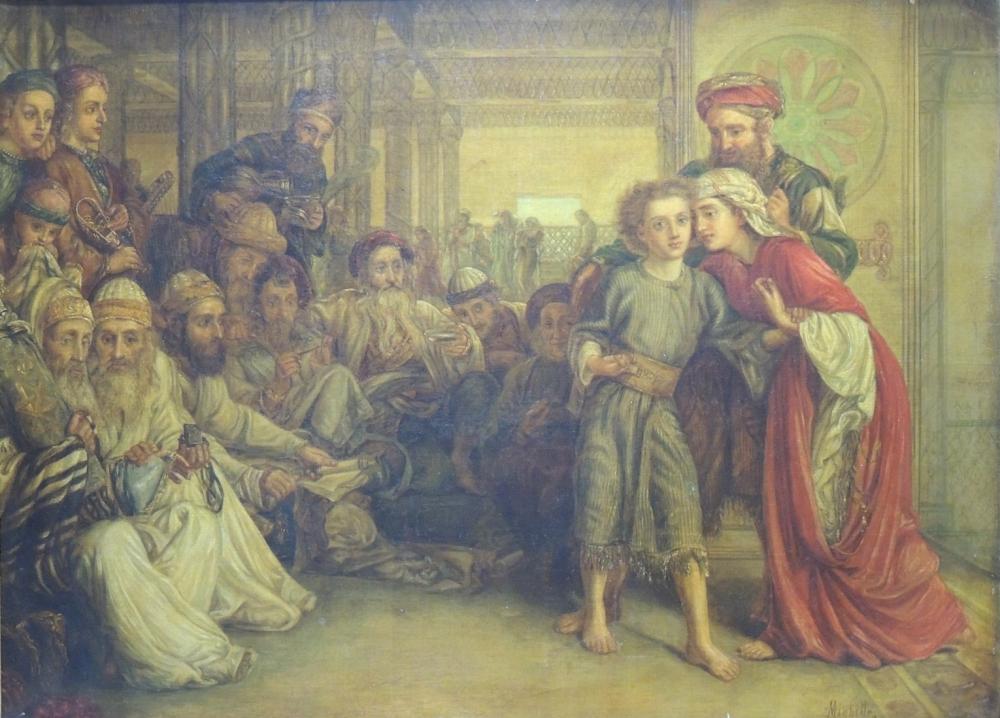 Copy of The Finding of the Saviour in the Temple by Mihitte [?] Collection of John Rowe. [Click on image to enlarge it.]
This canvas omits the following details in The Finding of the Saviour in the Temple: (a) the blind man and the cornerstone of the temple. (b) doves flying in the temple, (c) sacrificial lamb, (d) the elaborate symbolic disk near Jesus with Hebrew and Latin texts, (e) chandeliers. In addition, the Mary, Joseph, and Jesus have different color robes. For his major works Hunt painted smaller versions of major pictures as preliminary studies, canvases for the engravers to follow (he made much of his money from engraved reproductions of his most famous work), and sometimes to get extra money he'd work up the earlier study and sell. John Rowe, the present owner, asks if this could be a preliminary study. If anyone has information, please contact the webmaster.
I believe for several reasons that the canvas is an incomplete copy by the person who signed it "Minhitte": First, it omits the major symbolic elements of the painting, including the reference to the cornerstone rejected by the builders — the specific Bible text Ruskin used to explain Tintoretto's Annunciation in Modern Painters II that Hunt claimed inspired him, Millais, and Rossetti to create the Pre-Raphaelite's defining symbolic realism. Since thus image, among other things, served as a both a tribute to Ruskin and a means of currying favor with the influential critic, it seems unlikely, though not impossible, that Hunt would have omitted this from an early study. Second, I don't believe Hunt sketched his figures on the canvas before painting. Third, the colors seem all wrong, even after color correction (see link below), almost certainly because whoever painted this work did not paint it on a white ground, wet or dry — Hunt's characteristically difficult method. On the other hand, the faces of all the major figures seem quite close to the paintings known to be by Hunt, but that's what one might expect of a decent copyist. Does anyone have any information? — George P. Landow.
Frame and details
The version in Birmingham City Museums and Art Gallery
References
Landow, George P. Discussions of composition and iconography of The Finding of the Saviour in the Temple in Replete with Meaning
The Pre-Raphaelites. London: Tate Gallery/Allen Tate, 1984.
---
Last modified 14 March 2014