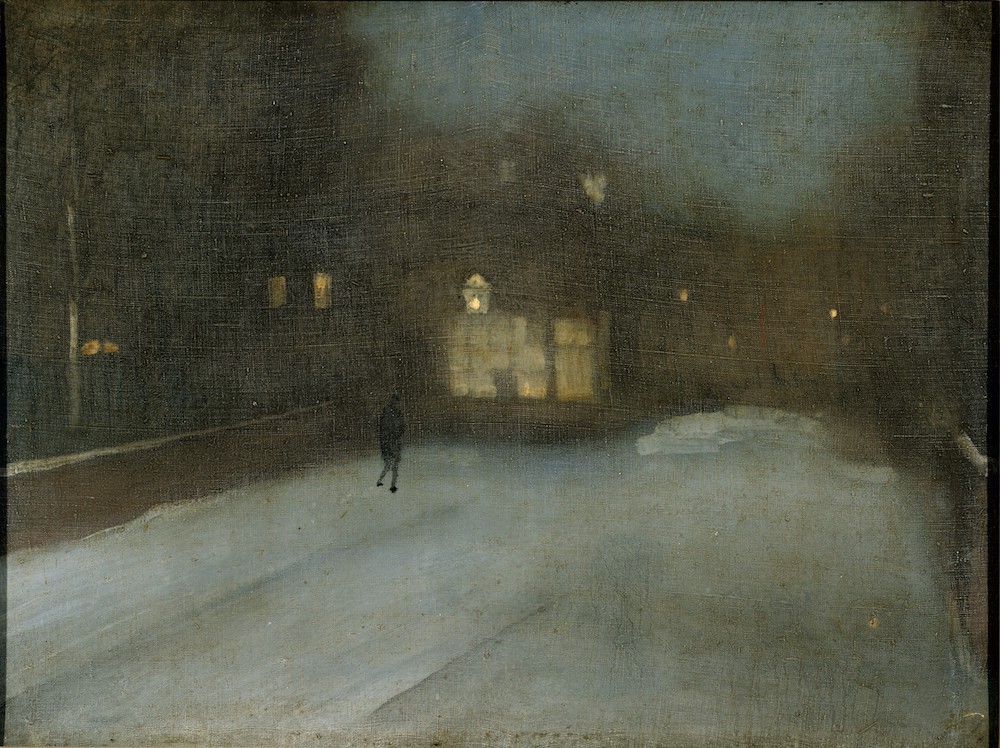 Nocturne in Grey and Gold: Chelsea, by James Abbot McNeill Whistler (1834–1903). 1876. Oil on canvas. Size: 47 x 62.2 cm (18 1/2 x 24 1/2 in.) framed: 72.7 x 88.3 x 6.4 cm (28 5/8 x 34 3/4 x 2 1/2 in.). Collection: Harvard Art Museums/Fogg Museum, Bequest of Grenville L. Winthrop. Accession Number: 1943.172. Part of the Google Art Project.
Jospeh Pennell explains that "every Nocturne represents a different effect rendered in a different fashion," and that "[t]he painting of the Nocturnes continued for many years, and in many places. But the greater number were painted when he lived at No. 2 Lindsey Row, many from his own windows, while few took him beyond Chelsea and Battersea or Westminster" (166). Pennell also quotes Whistler himself on this particular painting:
My picture of a Harmony in Grey and Gold [one of the painting's former titles] is an illustration of my meaning — a snow scene with a single black figure and a lighted tavern. I care nothing for the past, present, or future of tlie black figure, placed there because the black was wanted at that spot. All that I know is that my combination of grey and gold is the basis of the picture. [167]
To this, Pennell adds, "Subject, sentiment, meaning were for him in the night itself — the night in all its loveliness and mystery. There is no doubt that he carried tradition further and made greater advance in the Nocturnes than in any of his paintings" (167). — Jacqueline Banerjee.
Related Material
Bibliography
Harvard Art Museums. Web. 2 December 2020.
Pennell, Elizabeth Robins and Joseph. Life of James McNeill Whistler. Vol. 1. Philadelphia: Lippincott / London: Heinemann, 1908. Contributed by Whitney Museum of American Art, Frances Mulhall Achilles Library. Web. 2 December 2020.
---
Created 3 December 2020