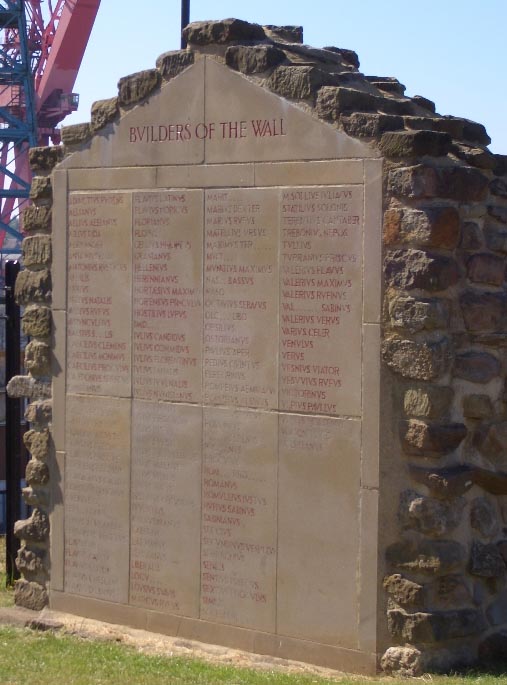 Monument to the Roman Builders of Hadrian's Wall at Wallsend
Photograph 2006 by Jacqueline Banerjee
[This image may be used without prior permission for any scholarly or educational purpose.]
Hadrian's Wall has a special relevance to Victorian studies because a Victorian, John Collingwood Bruce (1805-92), the proprietor of a school in a Newcastle and a keen antiquary, first drew the general public's attention to the importance of these remains by putting together the various findings about it in The Roman Wall (1851) and The Wallet Book of the Roman Wall (1861). Collingwood began the fashion for making pilgrimages to the wall and walking or cycling the length of it.
Bruce's works, like Tennyson's revival of the Arthurian legends and Hughes' book on the White Horse in Berkshire, were but one part of a widespread European antiquarian movement in the eighteenth and nineteenth centuries that sought to recover each nation's roots. By the Victorian period such researches into ballads, quaint customs, fairytales, legends, and mythology, explicitly involved nationalism, particularly in regions such as what is present-day Germany that shared a common language but not yet a commmon government.
British fascination with Roman antiquities, which began hundreds of years before the nineteenth century, took on special importance during Victorian England, when writers, painters, and politicians increasingly saw the United Kingdom as the successor to the Roman Empire. Works as different as Conrad's Heart of Darkness and Alma-Tadema's A Coign of Vantage connect ancient Roman to contemporary British times — Conrad by pointing out that the England was once a country of primitive tribes conquered by Rome and Alma-Tadema by populating his Roman scenes with people who look suspiciously like English men and women. [JB and [GPL].
Related Material
Sources
The Macmillan Encyclopedia, London: Macmillan, 1986.
Oxford dictionary of national biography: in association with the British Academy: from the earliest times to the year 2000. Ed. H.C.G. Matthew and Brian Harrison. New York: Oxford UP, 2004.
Wood, Christopher. Olympian Dreamers: Victorian Classical Painters. London: Constable, 1983.
---

Victorian
Web

Social
History

Places

Northumbria

Next
Last modified 19 July 2019